BEST OF K-POP: STAN K-POP, IT'S NEVER TOO LATE
Photo by Rainbow Bridge World (RBW), Inc., Album Concept Photo
K-pop music did not come this far out into the world for the Asian race to be unjustifiably hated on. Over the past decade, the Hallyu wave, which tagged along Chinese, Japanese, Taiwanese, and Thai entertainment, has opened so many doors to diverse culture appreciation and harmony. It's time we speak up and keep these doors open. One of the many easy ways is to let the love for music overpower hatred and misjudgment. Let's get into it!
WHEE IN (MAMAMOO) – WATER COLOR
After the rain, comes a rainbow painted by the one and only Whee In! The powerhouse vocalist from iconic girl group Mamamoo, just dropped her first solo mini-album "Redd." Miss Whee in, you yourself and your music are all works of art. "Water Color" is a chill R&B track with elements of synth pop, simply structured and very catchy! The way she plays with notes, be a Mamamoo hit or a solo single, is always so intriguing, sexy, and fun. The power doesn't only come in her vocals but in the narrative of the lyrics about self-love and expression. Streaming is going strong with almost two million views overnight!
SUPERM – WE DO
Super multi talented SuperM has returned to collaborate with insurance company Prudential Corporation Asia to promote the importance of staying fit and healthy during the pandemic… But how? By bringing funk and disco back! It's an exciting dance track suited for all ages to shake hips along to. The lyrics are in full English language, so you might as well sing and rap along too! This project is all-out for positivity and wellness, so add this right now to your work-out/Zumba playlist. Yes, I'm talking to you fans too, put your phones or whatever gadgets down and get dancing!
SHINEE – ATLANTIS
SHINee just went from "Don't Call Me" to "my love goes deep" and I am confused, but I am loving it. K-pop Royalty, SHINee has now expanded their empire by conquering Atlantis. SM Entertainment, are you hiding land in the ocean? Because co-label artist BOA, also had a super hit "Atlantis Princess" in 2003. Anyways, the theatricality, the choreography, the MV sets and cinematography, are all so amusing like an actual Disney music video. The shift from rhythmic guitar and synths to heavy beats is already moving, adding their powerful vocals on top is a real ride. Well thank you boys, Shawols are refreshed and staying hydrated!
STAYC – ASAP
Ooh la la, StayC is back with "ASAP"! This must be the cutest girl group comeback so far this year. Their old-school 2010-ish K-pop feels are so enjoyable, and no one is complaining. I am absorbed and in love with their bubblegum sound! The distinct vocals of each member fit the song so well, vocal and rap. The melody is addictive and the post-chorus dance choreography is so *uwu*! After "So Bad", StayC left a very chic and intimidating image for a rookie girl group. But now, my heart is just melting for these girls. I want to hear more, ASAP!
ONLYONEOF – LIBIDO
The 7-member boy group OnlyOneOf has been a hot topic these past few days, I mean literally hot. From the title itself, you can tell the steamy vibe they're pulling off. The K-pop community has split opinions about the rated-19+ choreography and concept of sexuality, but digging deeper into the meaning behind it all is mind-opening. The song is about a boy who suppresses his "libido," emotions, and energy until it gets stronger and influences his behavior. The indie-type film aesthetic of the music video is artistic and stimulating. Let's appreciate how these boys are so brave to break boundaries.
AMBER LIU – NEON (FT. PENIEL OF BTOB)
Speaking of breaking boundaries and norms, we have one of the most iconic girl-crushes you could ever have in K-pop, Amber Liu. Her boyish fashion and hairdo ever since the active days of SM girl group F(x) has always been sensational. Right now, the free-spirited artist is glowing while promoting solo music. With her latest single "Neon," she is unbound to shake people's hearts like how she used to "shake that bass!" The track is a bright mixture of electro house, synth-pop and a bit of disco. Featuring her buddy rapper, Peniel from BTOB, the song is a feel-good bop and the MV is all fun and laughter!
BAE173 – LOVED YOU
If you were left alone on earth with someone you hate, but once loved and to you has changed, what would you do? That is the question here in BAE173's "Loved You." The nine-member rookie boy group has also leveled up their game from a cutesy image to fiercer one. And they have brought back the rockish idol-pop music with a nice touch! This reminds me of Infinite's "Be Mine" and G-Dragon's "Crooked." If you notice, they focus more on the dramatic elements in the music video, rather than the dance choreography. Kudos to their amazing acting skills! Well the choreography happens to be mesmerizing as well in music show promotions.
MOON SUJIN – THE MOON (FT. TAEIL OF NCT)
Uniquely deep-voiced singer Moon Sujin shares a special live number with NCT vocalist Taeil, titled "The Moon." The jazzy R&B track has a slow tempo and nice feel which is perfect for a romantic night of champagne at home or under the moon. The lyrics are even nicer reminding us that during these times, we may not be together physically, but we are all under the same shining moon. The singer-songwriter is not just an ulzzang (cute face), but a talented performer known for her radio cover of Ari's "Almost is Never Enough" and band version of BTS' "Dynamite."
DAVICHI – JUST HUG ME
The pop-ballad queens of Korea, Davichi, just made their epic comeback. The duo has been popular since the early 2010s for their flexibility to do both ballad and pop, belting off high notes like no one else in the industry can. Haeri and Minkyu are up against IU, the Brave Girls and Justin Bieber on real-time Korean streaming charts with "Just Hug Me." I think I've mentioned this before, but Koreans just love ballads or anything heart-breaking. The song is about a depressed couple going through a breakup. Yet the exact moment they meet again, the feelings from when they first fell in love with each other are felt again.
 
THE8 (SEVENTEEN) – SIDE BY SIDE
Boyfriend attendance check! I'm with this babe, The8 (aka Minghao) from Seventeen. Right after Spider-man Hoshi, The8 released a boppin solo track, "Side by Side," and it is nothing like Ariana's. The lovey-dovey R&B track is definitely his appealing style. He plays a young man asking out a girl who is playing hard to get (girl, if I were you, I'd be crying!) My insides won't stop fluttering! Spoiler alert? He's got a cameo trio treat for you and it is to live for! The8's shine, his swag and charisma will really bring him places in the future. He is the definition of "performer."
---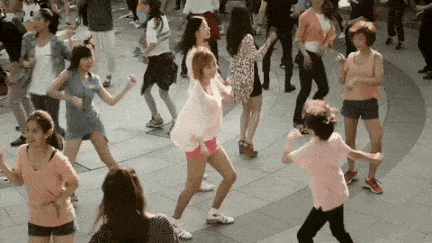 GIF by Michael Colensom originally from Wonder Girls, JYP Entertainment
If you're looking to learn about and support Asian culture in 2021, K-pop can be a great place to start! To learn more about #StopAsianHate, click here. We can't live without music, and we can't live without each other. Check back next Thursday for more exciting music from Day6, Nu'est and Apink! Annyeong, chingus.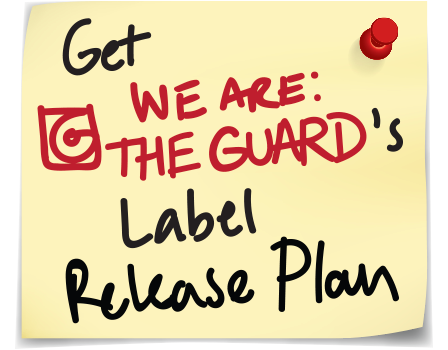 Hannah Lee is a Hallyu enthusiast from K-music to K-drama to K-food and even K-fashion. By day she takes her architectural apprenticeship, but by night she fangirls till sunrise. According to her latest MBTI test, Hannah is a perfectionist who has a lot of miscellaneous thoughts and is lazy... but passionate!