THE MOST THRILLING TRACKS IN THIS WEEK'S BEST NEW K-POP
Photo by THE BOYZ, Creative Commons Attribution license
Supposedly without the pandemic, this week should be the most thrilling as we celebrate International Youth Day. So I want to dedicate this week's Best New K-pop to you, chingu (friend). I appreciate you! The fact that you're scrolling through We Are: The Guard with me right now says alot about the cool person you are, plus your incredible taste in music. Channel the rhythm of your week with the latest Korean hits, party-haja (let's party)!
THE BOYZ - THRILL RIDE
I will state facts here: The Boyz prepared the most and "Thrill Ride" is the climax track of this summer's K-pop. Eleven boyz dancing in sunglasses and robes, drinks, ATVs and neon lights, the party concept is wild! They played with a nursery-like melody on a hip-hop beat, added in super fun choreography, thus creating the most entertaining 3 minutes and 20 seconds this year. When the bridge slows down to some steamy R&B, you will melt from their wrecking vocals and visuals. This is their golden era. The Boyz' whole ride from their 2017 debut and uprising on Kingdom has been a thrilling one. Daebak (amazing)!
ONF - POPPING
I don't know if I've watched too much Marvel but my head spins whenever cinematography crosses over with K-pop. I guess not only The Boyz, but ONF went all out and futuristic with "Popping!'' I can't fully grasp the theory of what's going on, but six men experience an outer space explosion, and as their lives flash before their eyes, they see their school boy days when they danced and played around. I guess the message is, as they sing, "Seasons change, this air gets colder, our heart inside is always summer." Let's make the most of our youth with this track!
TEN (NCT) - PAINT ME NAKED
On the week of International Youth, we have the perfect international star from Bangkok… Ten is in the house, yo! "Paint Me Naked" is lit. The Thai singer sings about a free-spirited love in this pop-rock, dance track with full english lyrics. Other than his bright smile, flexible moves and unreachable notes, I gotta say that the highlight of this production is his fashion statement. He wears every vibrant color on the rainbow, slaying 90s hip hop and rockstar fits, including some daring pieces that flex his artistic personality. I've found my newest bias in NCT!
SUNMI - YOU CAN'T SIT WITH US
Queen of eccentricity and retro aesthetics is back with a Mean Girl-ish summer hit. The instant you hear Sunmi's signature half-breath vocals, you will stan her for life. But in "You can't sit with us," you'll fall for her badass rap skills! Either she's hidden this secret talent since 2007, or she's fully developed her superstar potential to do anything! What more? The music video happens to be action-filled as well, as the Wonder Girl fights off zombies. With 34 million views on YouTube, this is one of her biggest comebacks so far since "Gashina."
HYO - SECOND (FEAT. BIBI)
Not just a Wonder Girl, but the K-pop dancing queen from Girls Generation is also back in the spotlight. Kim Hyoyeon, who now goes by Hyo, tried out a cute and sexy bohemian concept for "Second." The party dance track gives off western pop vibes and is a total earworm! Plus, you can tell she arranged the cool choreography for fans to easily follow along. I love how she partnered up with one of the most unique and talented female rappers today, Bibi, who's got the Nicki vibes and has actually written for JYP and Twice.
HYORIN, DASOM - SUMMER OR SUMMER
Before they disbanded in 2017, Sistar were literally the iconic queens of summer with "Loving U," "Touch My Body," "Shake It," and way too many more. With Hyorin and Dasom reuniting, I swear your summer is about to be blessed. "Summer or Summer" is an upbeat, tropical, jazzy-pop song with crunchy kicks and exciting saxophone melodies. Both are singing, dancing, rapping, and slaying visuals in hot girl summer bods, defining perfection at its finest. You can tell they really had fun. BESTIE GOALS!
KIM WOOJIN - READY NOW
Kim Woojin is back on track and we should be proud to witness this moment in K-pop. As the former Stray Kids vocalist clears his name and shares his journey- despite the bumps in his career- I really think we should support his genuine aspirations. "Ready Now" is an inspiring dream-pop track with alternative and artistic vibes. Personally, I'm so happy to see Woojin belt his heart out with such powerful vocals. His talent needs to be heard. "The painful times, I will end this gloriously, 'cause I'm ready, it's the end."
HA SUNG WOON - STRAWBERRY GUM (FEAT. DON MILLS)
Playing a janitor who transforms into the chic man he is, funny and talented, Ha Sungwoon is the man of every gender's dream. "Strawberry Gum" is this week's funkiest track! The chill disco vibes and mansion party give off Bruno Mars-feels, and I ain't complaining. The rhythm guitar plays a fun melody to support his unique and charming vocals. With Don Mills serving bars, it's like Sungwoon is this sweet ice cream and Don Mill is the cherry on top! If you're into cocktails and dancing, this is your song.
THUNDER - 5 SECONDS BEFORE EXPLOSION (FEAT. YOON SEOBIN)
Cheondung aka Thunder is back! The dongsaeng (younger sibling) of Sandara Park was quite the talk of the town in the 2010s as MBLAQ's charismatic all-rounder and visual. This comeback in the music scene is a total surprise and refresher. Featuring Yoon Seobin from Produce X 101, the collaboration mixes old school and youthful feels. The summer jazz track has that nostalgic vibe as they sing about remembering love while being the last people on earth. I love how Thunder's light and Seobin's warm tones are so playful yet relaxing.
BDC - MOONWALKER
Dreamy trio BDC's moon saga continues in "Moonwalker," a hardcore mix of pop, ballad and EDM. And of course, they didn't leave out Michael Jackson's legendary backslides and kick! Kudos to the camera work which swiftly pans so well with their moves. As ever, NDC's vocals are ethereal and their visuals in this performance video alone are out of this world. There's no other perfect way to wrap off this week's round-up than with this energizing bop to get you dancing.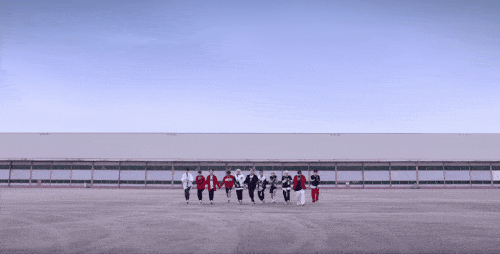 I hope you enjoyed bringing out the youth in you with this week's Best New K-pop. Remember, I appreciate you and so should you. Continue to treat yourself with some really good music. Next week, we have Red Velvet, TXT and CIX! Till then, annyeong!
Hannah Lee is a Hallyu enthusiast from K-music to K-drama to K-food and even K-fashion. By day she takes her architectural apprenticeship, but by night she fangirls till sunrise. According to her latest MBTI test, Hannah is a perfectionist who has a lot of miscellaneous thoughts and is lazy... but passionate!