NEW INDIE MUSIC - WEEK 8
Hey, everybody, and welcome to the latest edition of We Are: The Guard's New Indie Music. That's right, while you've been enjoying your time off this President Cardi B Day, the team and I have been busy filtering through the blogosphere in search of all of the best indie songs. What can we say?! Music never sleeps, and neither do we. Feel free to thank us by leaving us a slice of cherry pie and giving us a follow on Spotify. Here are the top indie tracks of the week from TR/ST, Lewis Capaldi, Panda Bear, These New Puritans, Rex Orange County, and more.
-
NAFETS (FEAT. CHESTER WATSON) – MY FRIENDS
This is the future of rap-rock right here. Maryland-via-Los Angeles artist Nafets is breathing brand new life into the love-hate genre on the Chester Watson-featuring "My Friends," which will leave you covered in goosebumps as fields of distortion bleed out over Nafets and Chester's eerie bars.
ANNA OF THE NORTH – LEANING ON MYSELF
It's been a minute since we last heard from Anna of the North, but the Norwegian auteur is back and sounding bolder than ever on "Leaning on Myself." Written after what Anna describes as "one big breakdown," it's an empowering ode to cutting out toxic people and embracing self-care, with the meaningful lyrics coming matched with a vibrant power-pop production that hints at the start of a brand new chapter for Anna of the North.
TR/ST – GONE
Coinciding with the announcement of The Destroyer, a two-part album, the first part of which will be released in April, TR/ST has shared "Gone." The song hears Robert Alfons taking his shiny industrial stylings in more of a pop-oriented direction, with TR/ST using "Gone" as to chance to really showcase his masterly ear for melody (am I the only one who hears Adele's "Set Fire to the Rain?!").
JULIA JACKLIN – PRESSURE TO PARTY
Dating after a breakup is hard enough, let alone when you're surrounded by people telling you that you need to "get back out there," but Julia Jacklin wants everyone to know that she'll cry into a tub of ice-cream over her ex for as long as she wants to, thank you very much, on "Pressure to Party." "This song is just my three-minute scream, saying I'm going to do what I need to do, when I need to do it," writes Julia of the kick-ass jangle-pop gem, which is taken from her forthcoming sophomore album Crushing, due out this Friday.
LEWIS CAPALDI – SOMEONE YOU LOVED
That moment when you come for the devastatingly beautiful music of Lewis Capaldi, but stay for the devastatingly beautiful acting of Peter Capaldi aka Doctor effing Who... MY EMOTIONS!!!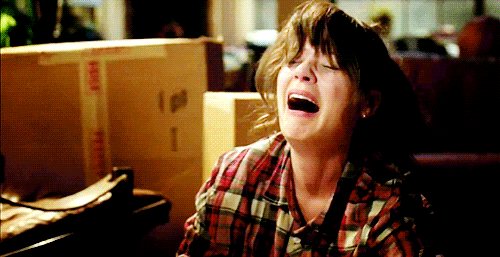 BARRIE – CLOVERS
Brooklyn's Barrie are the definition of dreamy. With spring almost us, the quintet are providing us with the ultimate soundtrack for lying in endlessly vibrant fields of wildflowers on "Clovers," a sublime, otherworldly listen that comes ahead of Barrie's debut album Happy to Be Here, due out in May.
ELOHIM – TV
Purveyor of neurotic-pop bops Elohim follows up the release of last month's "Buckets" with another feverish banger this February. "I keep the TV on to drown out the sound/My mind is way too loud/My mind's way too loud," sings El on "TV," a glitched-out head rush of a song that Elohim says that she wrote about her tendency to escape from her negative thoughts by retreating into a world of channel surfing and commercial breaks.
PANDA BEAR – BUOYS
"Panda Bear" and "stripped down" is a combination of words that I never expected to see in the same sentence together, but the Animal Collective member is most definitely embracing more of a minimalist sound on his sixth album Buoys. Just take the title track, a back-to-basics rendering of Noah Lennox's psych-pop vision that hears his dazed-and-confused vocal harmonies coming set against acoustic guitars, fizzing firework drums, and very little else.
THESE NEW PURITANS – ANTI-GRAVITY
Following on from the release of "Inside the Rose" a fortnight ago, These New Puritans are back this week with another moody slow-burner. The Essex-via-Berlin-via-London duo reveal that "Anti-Gravity" was inspired by the William Blake quote "The imagination is not a state, it's human existence itself," with Jack and George Barnett's ominous vocals looming like shadow puppets over gloomy gothic-rock rhythms.
REX ORANGE COUNTY – NEW HOUSE
Valentine's Day may be over for another year, but Rex Orange County is keeping it soppy on his first single since 2017's "Loving Is Easy." "I can see us in a house next year/You'll be making your mind up/You can figure out what goes where," sings Alexander O'Connor on "New House," a heart-melting, Randy Newman-tinged ode to domestic bliss that genuinely had me going "aw" throughout its three-minute duration.
-
Until next week, don't forget to follow We Are: The Guard's Best Indie Daily! and Weekly Chart on Spotify for more. x
Jess Grant is a frustrated writer hailing from London, England. When she isn't tasked with disentangling her thoughts from her brain and putting them on paper, Jess can generally be found listening to The Beatles, or cooking vegetarian food.