NEW INDIE MUSIC - WEEK 11
Happy SXSW, y'all! That's right, it's that time of year when the who's who in the music industry descend on the city of Austin, Texas, to unashamedly gorge on unlimited new artists, craft beer, and most importantly, big-ass breakfast tacos. Before the team and I head out to find our nearest food truck and check out our first live performance, however, we're back this Monday morning with We Are: The Guard's New Indie Music. Featuring The National, Nick Murphy, Hozier, and more, this playlist has something for errybody!
-
THE NATIONAL – YOU HAD YOUR SOUL WITH YOU
Coinciding with the announcement that they're set to release their eighth album I Am Easy to Find in May, The National have unveiled the lead single "You Had Your Soul With You." The song is notable in that it finds frontman Matt Berninger sharing vocal duties with David Bowie collaborator Gail Ann Dorsey, with Matt turning his typically inward-looking gaze outward over a backdrop of dizzying, unfurling art-rock.
DES ROCS – DEAD RINGER
It's kind of crazy that people say that rock-and-roll is dead when there are artists out there like Des Rocs. The New York artist has all of the heart and soul power of Robert Plants of old on "Dead Ringer," a fuzzy banger that oozes with sweat and comes complete with a gospel-like chorus that you can imagine a whole stadium chanting along to in the not-so-distant future.
NICK MURPHY – SANITY
Three years on from announcing that he was reverting to making music under his real name, Chet Faker's transition to Nick Murphy finally feels complete on "Sanity." Taken from his forthcoming sophomore album Run Fast Sleep Naked, due out in April, it's a bright offering quite unlike anything that the Australian artist has put his syrupy vocals to before, with Nick heard embarking on a journey of self-discovery over an off-kilter piano jaunt.
RAYGUN CARVER – SAVAGE
And now for a song that was submitted to us through Fluence (feel free to submit music to us here). Port Angeles musician Raygun Carver is making quite the dramatic entrance with "Savage." It's an apocalyptic symphony that grows in size and scope over its six-and-a-half-minute duration, with Raygun presiding over the cinematic, dystopian swirl like some all-knowing narrator.
A R I Z O N A – FIND SOMEONE
"We wanted to find a fun way to portray an alternate take on a song like 'Find Someone' with the music video. The idea is: if someone or something is not good for you in your life, there are many simple ways and places to find happiness. In the case of our video, that 'someone' who can always be there to love you better and turn your day around very well might be your puppy! Or chicken... or turtle... or goat... or baby bunny... or... well you get the idea."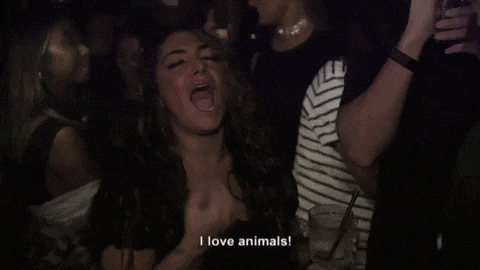 HOZIER – TO NOISE MAKING (SING)
Hozier celebrates the act of singing and the joys that it brings on the rhapsodic Wasteland, Baby! cut "To Noise Making (Sing)." It doesn't matter how talented or confident you are, the Dublin troubadour encourages you to give it a go regardless on the Prince-referencing gospel offering, which hears Hozier crooning in the pre-chorus: "You don't have to sing it right/But who could call you wrong?/To put your emptiness to melody/Your awful heart to song."
MANSIONAIR – ALIBI
If you're still sleeping on Mansionair, wake the hell up. The Sydney trio are making some of the most forward-thinking indie-electronic music this side of the millennium. Case in point: "Alibi." Featured on Mansionair's recent debut album Shadowboxer, this three-and-a-half-minute cut strikingly showcases the band's club-oriented sound as filtered through the lens of a lucid dream.
K.FLAY – BAD VIBES
K.Flay isn't here for your sad-boy bullshit on her latest single. "You've got a new tattoo/Dead on arrival typed out plainly/You only like bad news/Sleep in your coffin like a baby," sings the Los Angeles wrecking ball on "Bad Vibes," a killer electronic-rock ripper that hears K.Flay taking aim at those who seem to view negative energy as a fundamental part of their personal branding.
REIGNWOLF – OVER & OVER
If Des Rocs isn't enough to convince you that rock-and-roll isn't dead, allow me to introduce you to Reignwolf. The Seattle artist is living, breathing proof that electronic guitars and raw fury still have a place in music in 2019, with Reignwolf cranking up the amplification on "Over & Over," a gritty juggernaut that'll have you thrashing all of the way to the office this Monday morning.
ORI – BLACK BOOK
One artist that We Are: The Guard is definitely planning on catching at this year's SXSW is ORI. Okay, okay, so we admit that we're a little late to the game what considering that "Black Book" came out in 2017, but that doesn't mean that this song or any of ORI's tracks are any less of a must-listen, with the Jerusalem producer having totally transfixed us with his haunting, immersive soundscapes as built from loops of skeletal beats and ghostly vocal samples.
-
Until next week, why not follow We Are: The Guard's Best Indie Daily! and Weekly Chart on Spotify for more music?! x
Photo by Christin Hume on Unsplash
Jess Grant is a frustrated writer hailing from London, England. When she isn't tasked with disentangling her thoughts from her brain and putting them on paper, Jess can generally be found listening to The Beatles, or cooking vegetarian food.