6 NEW INDIE POP SONGS FOR YOUR WORK FROM HOME PLAYLIST THIS WEEK
Hello world! If you're here, you're probably looking to discover some new indie pop songs. Well you're in luck. This week is short and sweet, or in other words, all killer no filler. Let's go!
THINK - SOPHIA GRIPARI
LA-based singer-songwriter Sophia Gripari's "Think" is one of our favorite indie pop releases of the week. With a driving baseline, sticky melodies, and clear vocals, she once again delivers all of the things we know and love about her music. It's been a big week for Gripari, as her song "Hate You But I Don't" just hit a million streams. Give "Think" a spin and you'll be early to the party for an artist on the path to big things.
DRIVERS LICENSE - OLIVIA RODRIGO
Listen- I know what you're thinking. "Everyone's posting about this song." Yes, that is true. BUT that's only true because it really is just that good. Olivia Rodrigo's voice and lyricism are beyond impressive, so impressive that she's shattered streaming records.
STUCK IN MY HEAD - BLÜ EYES
We were lucky enough to stumble upon BLÜ EYES on TikTok, and were immediately impressed with her songwriting and production! After over a million views on snippet of an original song, she shared the full version with the world yesterday! "Stuck in my head" is beautiful, honest, and relatable. BLÜ EYES skillfully puts words to the anxieties we all face daily in this crazy version of the world. We couldn't be more excited to see what she does next!
CLOSE TO YOU - DAYGLOW
Dayglow has not had a traditional rise to fame. Over a year after its release, Dayglow's "Can I Call You Tonight?" caught a massive second wind on TikTok, streaming services, and alternative radio. He now brings us a new single, "Close To You," where he displays a new mature sonic identity, while still embracing the excitement and energy that fans love from his music. To put it simply, "Close To You" is a synth pop banger.
SO SLY (ALTERNATE VERSION) - NIGHTLY
Indie pop band Nightly has shared an alternate version of their song "so sly," and it's awesome. While we love the original, this new version just feels cool. It's mysterious, features ramped up bass and production, and heavier emphasis on the vocal in the first verse. In case you missed night, love you, here's a reason to pick it back it up!
COME IN CLOSER - RHYE
"Come in Closer" by Rhye is appropriately named. It draws you in from the first few words. With an interesting voice, unexpected elements in the production and instrumentation, "Come in Closer" is truly something special.
RAW THOUGHTS - BABY QUEEN
Baby Queen caught the attention of the world with brutal honesty, and she's done it again on today's release, "Raw Thoughts." She wrote the song in 2018 and felt that it was the first piece of music to define the "Baby Queen sound." After a crazy night out and inevitable hangover, she penned the song. "The song came out like word vomit the next day. I was partly thrilled, partly coming down and partly ashamed of myself for what felt like a betrayal of innocence. 'Raw Thoughts' is an amalgamation of every feeling. It's euphoria bleeding into my deep sadness. It sounds like the moment everything changes, because without my knowing it at the time, it was. This song felt like the only way to start 2021."
Looking for more new music? We've got ya! In addition to our Weekly Indie A&R Chart Playlist, we just launched a TikTok Hits playlist too! Check it out here: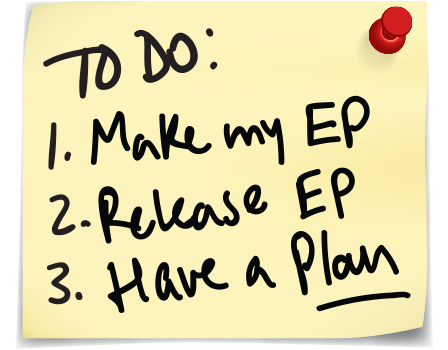 Arielle Tindel is from Cleveland, Ohio. She recently graduated from Berklee College of Music with degrees in Music Business Marketing and Songwriting. In her free time, Arielle can be found gardening or playing bass.