NEW INDIE POP FOR CLOUDY DAYS
by Mary Ruth McLeay
9/25/22
Photo by Harmalholtra, Creative Commons Attribution-Share Alike 4.0 International License
Feeling moody? It poured rain last night outside my apartment window and it's been cloudy all day! Fall is really upon us, there's a bite in the air. So here are some songs full of awe-striking lyrics and echoey guitars to match the mood.
NICK HAKIM - VERTIGO
Something about Nick Hakim's new song "Vertigo," makes me feel as if I'm underwater. The guitar is plucky and haunted and the background vocals are deep and distorted. The production feels a bit like spinning out, as Nick sings about it. In contrast, Nick's vocals are smooth and pretty.
MONTELL FISH - HOTEL
This grungy new song from Montell Fish feels like it could fit right into an episode of Euphoria. The distorted guitar and tough drum beat make for the best feeling of drama and intensity. Montell was recently announced as Spotify's Artist to Watch, so you'll wanna give this one a listen.
DEHD - EGGSHELLS
Dehd's new song has the most satisfying combination of an emo feeling while still being upbeat. The "walk along" and ooh's are encouraging but not too in your face. The outro is almost mind-boggling, as it fades down with otherworldly guitar distortion.
WHITNEY - LOST CONTROL
"Don't you know? I gave you my heart and you let me go." Whitney, a Chicago-based duo, write about love gone wrong over a cool beat and a synthy melody that will make you wonder if you didn't already know. It is a matter-of-fact approach to a break-up song that will make you shrug your shoulders with indifference about that break-up.
SURE SURE - 123
Sure Sure provided an unpredictable masterpiece with "123." I'm constantly unsure on where things may go next, as the song transitions into playing octaves up a vintage-sounding piano over a groovy baseline. It opens with an old movie-sounding voice asking "Can't you just pitch up your voice?" Sure Sure is proving to be one of the most innovative indie bands around.
ADAM MELCHOR - I'M READY
Adam Melchor's new song "I'm Ready" will make you fall in love with love songs all over again. He confesses how he professed his love for his muse in the back of a dive bar and is spilling his drink throughout the whole song. He plucks at an acoustic guitar, while the sweetest melodies echo out behind him. When it comes to comforting, acoustic bops, Adam has it on lock.
BACKSEAT (ALL I GOT) - SAM MACPHERSON
I first heard Sam MacPherson's gut-punch of a song on Tik Tok and felt immediately attacked by the lyrics. Just Sam, with an electric guitar and the words across the bottom screen, I saw the whole song's story happen before my eyes. This is one of those songs that is so visual it catches your attention immediately. It's true… nobody breaks up in the backseat.
MILOE - ELASTIC
Miloe's "Elastic" has layered vocals and a flute sound, along with super cool cover art, so of course it's perfect for a cloudy day. Miloe grew up in the Democratic Republic of Congo with musical parents, giving him a unique take on the current indie pop sound. The dainty melodies and rhythmic drive of the drums make the song infectious.
All these new indie pop jams are ready to add and will fit in perfectly on your cloudy day playlist. Let the lush synths and smooth vocals be the soundtrack while you snuggle up in a sweater and light a new candle. There's always room for new music!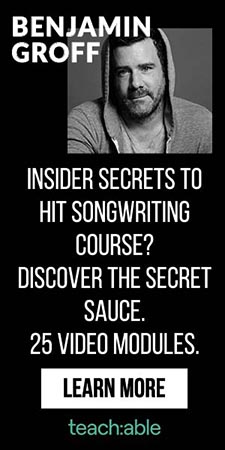 Mary Ruth is a Nebraska-native currently studying Songwriting and Music Business at Berklee College of Music. Right now, she's probably reading about the Beatles, creating her new aesthetic (with a corresponding playlist, of course), or explaining what Taylor's Version means to someone who didn't ask.