OP/ED: KANYE WEST'S SUNDAY SERVICE IS OUR BEATLES' ROOFTOP CONCERT
I've been calling Kanye West the John Lennon of our generation for as long as I can remember. They both are divisive, but decidedly brilliant song-writers who pushed the boundaries of what a pop song can be, amassing more hits than they even know what to do with and marrying an icon that everyone and their asshole brother has an annoying opinion about. Hell, John Lennon called the Beatles more popular than Jesus, but Kanye took it one step further by calling himself God (see "I Am God" or the entirety of Yeezus for reference).
Sure, many of you might think this is giving Kanye more credit that he deserves, but I don't and this is my article not yours. 
So, first, let's familiarize ourselves with the Beatles . You might know them as that band your least-music savvy friend says is their favorite. They toured America only twice (in 1964 and 1966) before hanging up the old instruments never to play again, after a fateful double-show in L.A, and San Francisco IN THE SAME NIGHT. Fast forward two-and-a-half years and the fab four show up on the rooftop of Apple records (while recording Let It Be) for a forty-two-minute show impeccably filmed (and possibly coordinated) by filmmaker Michael Lindsay-Hogg.
It was an impromptu show, a beautiful, once in a lifetime experience for those citizens of London lucky enough to catch the performance.
Here's a clip from the show:
Alas, time has evolved everything over the past 40 years, and the connectivity of the Internet has made this kind of moment in time impossible. If the hottest artist in the world, who had peaked and perhaps turned reclusive (never to perform live again?), decided to put on a show just for the hell of it, word would spread like wildfire via Twitter and Text Messages and the performance would end up getting shut down way before the forty-two-minute mark. 
So the question remained, up until this past April: How do you go about making something special and exclusive in 2019 terms? Well, according to Kanye, it's to only show up at one of the two Coachellas.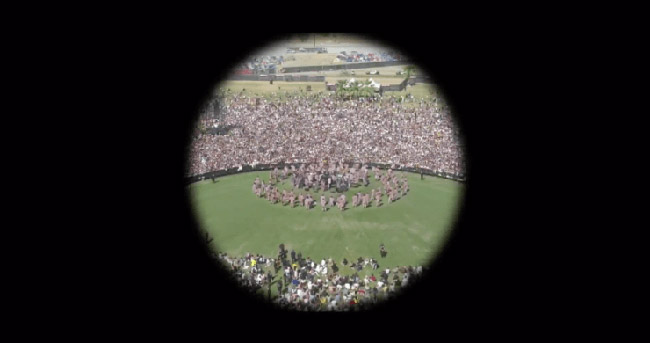 Coachella-goers have been claiming that Weekend One is the better weekend for years, only to get schooled this year by what Weekend Two people have known this whole time: while the first weekend might be a bigger party, the second weekend is for the heads.
When Kanye West announced that his Sunday Service, a 50+ person choir, sermon-like reconstruction of his most spiritual songs, would be performing only on the second weekend of the festival, he basically announced the 2019 equivalent to the Beatles rooftop performance: except one that 100,000 people could attend instead of the handful of people lucky enough to pass by that day.
More than 50,000 people attended Kanye West's Sunday Service in what could be considered the least intimate, most intimate show of all time. This was just for the people who woke up before 9 AM on the third day of Coachella, with the sun beating down on them to dance and sing along to a thing that can never happen the same way again. Even if Kanye does tour with his Sunday Service, everyone in attendance that day knows the same thing: This was truly a magical, once in a lifetime experience.
Those who weren't in attendance are going to mostly complain about the price of the clothes, missing out completely on how much of capitalistic scheme Coachella already is. I mean, what do people think the Beatles were doing on the rooftop if not a PR stunt? The real shake of it is, while The Beatles final performance was filmed beautifully, Kanye's (perhaps final?) was live-streamed through pinhole cameras that looked like absolute trash.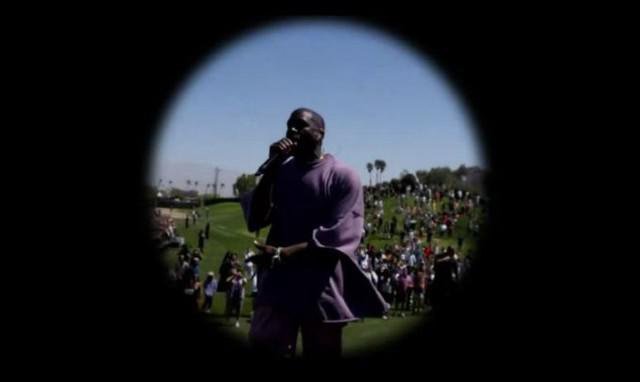 Because of this, the memory won't exist the same way in the public zeitgeist. It turns out that the internet comments on the videos were so disparaging that they've been taken down completely.  Unlike the Beatles, which we can watch anytime we want, this was just for the people who were there. Those who were, whether it be for Ye or The Beatles, are the only ones who will know what it was like.
--
[Header photo used with permission from Mike Potter.]
[Follow-up photos captured from the Coachella Livestream]
From deep within the murky depths of the Los Angeles River emerged a creature: 50% raver, 50% comedian, 10% Robotcop. Kurt Kroeber doesn't own a dog, operates Soundbleed (the world's only dance party comedy talk show rave), and is down to party with you. Come up some time and say "Hey dude!" But definitely make sure to casually drop the secret Illuminati password.