PREMIERE: FMLYBND - WASTING MY TIME
FMLYBND continues their quest to blend Grunge, electronica, and straight-up pop on "Wasting My Time," their first new single in two years. And we're excited and honored to premiere "Wasting My Time" on We Are: The Guard.
WASTING MY TIME
When last we heard from Isla Vista, California's FMLYBND circa 2016, around the time of their rapturously received Hearts On Fire EP, they were in full-blown M83 worship, piling slabs and slabs of fuzzy synths to heaven, upon which to build their addictive pop hooks. Tracks like "Oh," on their SoundCloud page are almost chillwave with a post-r&b indigo hue, as if James Blake were to go disco.
"Wasting My Time" is striking in its stripped-down, organic, rock-ist direction. Instead of beats and blurry synths, "Wasting My Time" is built around strummy acoustic guitar chords; a bouncy, beach-y backbeat; a deadly-simple-but-catchy marimba riff; and thick, chorused vocals, singing of the glory of nothing to do.
FMLYBND has always been forward about wanting to push forward their alt-rock/Grunge influences. Here, they achieve that in the Spartan, stripped-down music, favoring the organic, the rootsy & real. "Wasting My Time" would be closer to '80s/'90s jams like The Cure's "Love Cats"  or Sublime, however, with FMLYBND's SoCal island bounce. It's a good look for them, showing they don't need to hide behind a wall of effects to write insanely good, interesting, catchy music.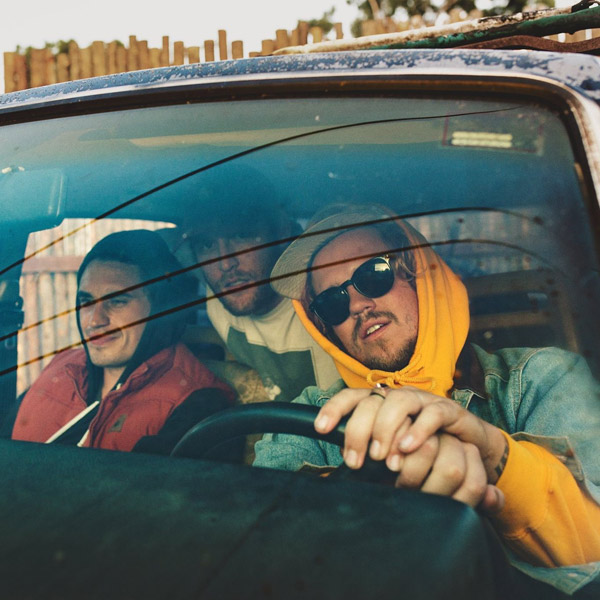 FMLYBND is exactly that. They're a quartet of misfit transplants from Southern California, descending there from all over the world. Back in 2016, they told MySpace of their intentions as musicians. "This town is nuts," speaking of their hometown of Isla Vista, Ca. "- it's not for the faint of heart. Through and through it's a party town, so we just wanted to play music we could get people dancing and partying to."
FMLYBND didn't even conceive of themselves as a band, necessarily, when they were first starting out. They worked it out as they went, and developed something that is truly unique and precious and rare.
In these oh-so-careerist times, it's beyond refreshing to see a band who doesn't seem to be planning every step around press cycles and seasonal trends. Instead, FMLYBND is making the music they and their fans want to make. They're going in whatever damn direction they choose, and it's exciting to think we don't know what they that'll be.
Will it be more Grunge-y, rootsy folk Pop? Or will it be a return to their windswept arena electronica of a few years ago? If anything "Wasting My Time" is a sign that something is coming. Fmlybnd is been working on their debut 12-track LP since around this time last year. There's been no word of when it will be done or released. Hopefully this single is a signal that they're busy in the woodshed, and we'll soon have more Fmlybnd in our lives. We certainly hope so. We Are: The Guard is here for it.
"Wasting My Time" is available on iTunes and Spotify.
Beca Arredondo is easily unamused with all things not related to her interests. On her good days you can catch her avoiding the California sun and glued to her Mac plotting the next big thing. If you happen to run into her on the street and notice her wearing headphones do NOT disturb her. She is not responsible for any possible damage. Aside from the above she's very sweet and perky and responds well to good music and food.