TIKTOK HITS FOR THE WEEK OF 4/9
Image by Steve Gale on Unsplash
What's happening, Guardians? Everyone having a good early Spring so far? Weather's getting nice out there. Every day gets us closer to being able to get out there and enjoy it.
This week's TikTok hits reflect the soft sunny weather. We've got a couple of chill indie jams. We've got some booty bass. We've got a couple of weepy ballads that will leave you bawling…
Here are this week's top TikTok Hits!
CIARA - GOT ME GOOD (THE REAL SORORITY CHECK)
We begin this week with a new dance challenge. For the past few weeks, people on TikTok have been using Ciara's booty bass anthem "Got Me Good" to express reality vs. fantasy or how into something they are.
The premise is simple. While Ciara busts the jump rope rap "my back is aching/my bra's too tight/my booty's swinging from left to right." First they're relatively bored. Next, they're going buckwild.
People are getting creative with the trend, as they do. You can even see a hamster go nuts! Might want to practice "The Real Sorority Check" to get back into the swing of going crazy in a nightclub as the end of lockdown is right around the corner.
LIL NAS X - MONTERO (CALL ME BY YOUR NAME)
You knew it had to happen. Honestly, We Are: The Guard are a little surprised that it took "MONTERO" so long to trend on TikTok, given that it's the hottest song in the universe. TikTokkers do not disappoint, either, creating all sorts of hilarious skits, from a concerned mom blogger concerned about where they're going to find thigh high boots for their first grader to someone being denied heaven for knowing Lil Nas X (who has been reposting his favorites!).
It's probably for the best no one's tried to recreate Lil Nas X's infamous Satanic lap dance. No one can even come close!
CATERINA VALENTE - BONGO - CHA - CHA - CHA
We're stoked about the "Bongo Cha Cha Cha" viral trend for a couple of reasons. First of all, TikTok's better than nearly any other social media network for discovering older music. Where else are you going to find hundreds of thousands of people of all ages shakin' it to a Mad Men-era cha cha hit? It also offers a chance to see all sorts of clever Spanish content you might miss otherwise.
Could we have a cha cha resurgence, please?
BRITNEY SPEARS - GIMME MORE
Britney Spears will never not be an icon of slick dancing and pop beats. She's influenced several generations of Pop Divas at this point. Her singles are tailor-made for viral content.
This week it's "Gimme More," with a ton of talented dancers recreating Britney's iconic dance moves. She's a good teacher, as many are nailing the dance, to the tune of several hundred thousand likes and views.
JUSTIN BIEBER - PEACHES FT. DANIEL CAESAR, GIVEON
Here you have a soundtrack from Justin Bieber with a video by Kylie Jenner. There's no universe where "Peaches" isn't blowing up on TikTok.
It's just a sunny, feelgood vibe for the coming warm weather months. Time to open the windows and have a dance party even if we're still stuck at home for just a little bit longer.
RIOVAZ - PROM NIGHT
Sometimes you just need a sunny, Strokes-like indie jam for some positive vibrations. "Prom Night" by Riovaz is just that - smooth as tulips but a rush like a sno cone.
People on TikTok are using Riovaz to illustrate effortless cool, especially in skate videos for some reason. "Prom Night" stands to be this seasons "Dreams," cranberry juice optional.
CHLOE GEORGE - GHOST TOWN
Following creators you like is a big part of the fun on TikTok. You can hear demos, remixes, rarities, and just catch a glimpse into the lives of artists you love.
You know a single's going to be big when the voice memo version is a smash! Chloe George released a stripped-down, demo version of her heartbreaking new single "Ghost Town." People on TikTok are using the single to open up about their mental health struggles. It can get heavy but it's also beyond moving to see people being real on social media. Bring kleenex.
DOECHII - YUCKY BLUCKY FRUITCAKE
yoooo school had me so ugly its the way i tried so hard to fit into societal standards for me
Is there anything more awkward than the "break the ice" game? What could go wrong with going around the room and forcing people to put themselves on the spot in front of a bunch of literal strangers?
This week, people on TikTok are reclaiming the public introduction with Doechii (with two i's) spoken word rap "Yucky Blucky Fruitcake." Many are using the videos to come out. Others take the opportunity to get over their awkward phase. All are beautiful.
OLIVIA RODRIGO - DEJA VU
Deja vu is out Thursday! And the chords might actually be right!
We close out this week with another soulful piano ballad. Olivia Rodrigo took to TikTok to announce her new single "Deja Vu," with a stripped-down piano version. It's gorgeous stuff, even with the messed up chords at the end. The song is out now and is a synth pop banger.
That 'bout wraps up another week of viral hits on  TikTok. Make sure to follow We Are: The Guard for indie news and reviews, recaps, roundups, and behind-the-scenes with artists on our label.
Be sure to check out our TikTok Hits playlist as well!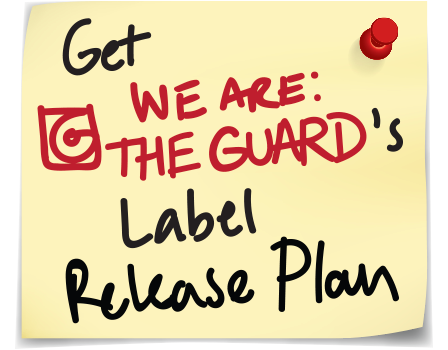 J. Simpson occupies the intersection between criticism, creativity, and academia. Based out of Portland, Or., he is the author of Forestpunk, an online journal/brand studying the traces of horror, supernatural, and the occult through music, fashion and culture. He plays in the dreamfolk band Meta-Pinnacle with his partner Lily H. Valentine, with whom he also co-founded Bitstar Productions, a visual arts collective focused on elevating Pop Culture to High Art.