TIKTOK VIRAL HITS, WEEK OF 5/21
Image by Meghan Schiereck on Unsplash
What's going on, Guardians? Happy almost-Summer! How's everybody feeling out there? It's been another rollercoaster of a week on TikTok, full of excitement, expectation, sweetness, style, with just a hint of madness.
This week's viral hits on TikTok include a made-to-order SO; the rediscovery of a Nickelodeon theme song with some very surprising results; more filthiness from Doja Cut; the continued ascent of Olivia Rodrigo and so much more!
Here are some of this week's top hits on TikTok!
BELLA POARCH - BUILD A B*TCH
The internet has influenced the ways we live and love in so many different, obscure ways. In some ways, it's maybe made us too picky, as we're more able to see and screen for red flags in the early days of getting to know somebody. Instead of this making us more relaxed, with our improved PI abilities, we're getting more paranoid, more demanding… it can leave you feeling like you're ordering love off of Uber eats
This last week, Bella Poarch shows all that's wrong with that approach with a bunch of short vignettes for "Build A B*tch," with its nursery rhyme music box beat and innocent vocals giving way to a low down 'n dirty bassdrop. Here's one for those with angels and devils on either shoulder, for the nice girls who are naughty, and for all of us who are too complicated to fit in little boxes.
CHUCK BERRY - JOHNNY B. GOODE
Reply to @paytonlwarren Who did it best? Pugs or retrievers? ##MakeMomEpic ##waitforit
Rock 'n roll will never die - it'll just keep changing formats. This last week, TikTokkers have rediscovered Chuck Berry's early rock 'n roll classic "Johnny B. Goode" to soundtrack any number of chase videos. They're inspired by Alex Presley's frankly hilarious video of getting chased by pugs in slow motion.
Many of the recreations are just as funny… Go Johnny Go!!!
KID CUDI - DAY 'N NITE (NIGHTMARE)
Everything's gone all topsy turvy in the last year. Things that used to bring us comfort can end up getting abused and causing more stress. Things that used to seem like an inconvenience now seem like a dream.
What better to express this than a smooth hiphop beat about feeling anxious during the day with nighttime bringing sweet release?
Kid Cudi knows a thing or two about mental health, for better and worse. He infuses some of the knowledge like a strong sativa into some butter for some particularly potent magic cookies.
THE BACKYARDIGANS - CASTAWAYS
It's all too easy to feel like we're stranded in place right now, as we're still largely stuck at home even while the world continues to open up. We're also maybe regressing a little bit in the face of an unsafe world and a very uncertain future.
Hey, why not find a soundtrack for both at the same time?
This week, folks on TikTok have unearthed a theme song from a Nickelodeon show "Castaways" by The Backyardigans. They've even caused it to earn a #1 on Spotify! If you're looking for a song to express the complex emotions around hearing your parents getting busy or a glittery water bottle full of wasps, here you go!
STARBOI3 - DICK (FEAT. DOJA CAT)
RIP THAT ##zodiac ##signs ##gemini ##fyp ##foryourpage ##foryou ##xyzbca
There's not too much in this world you can count on. That the sun will rise, probably in the East. That there will always be good hip hop, possible from the West (Coast). And that in any given 7-day span, there will probably be a filthy TikTok trend featuring Doja Cat.
This week, it's with Starboi3 on his lowdown drillin' "Dick." It makes up for in style what it lacks in subtlety. And we're all at least a little bit sprung on that beat… RIP indeed…
WILLOW - T R A N S P A R E N T S O U L (FEAT. TRAVIS BARKER)
Hello &lttik tok> ##transparentsoul

♬ Willow - t r a n s p a r e n t s o u l ft. Travis Barker - WILLOW
We all know that the Smith kids can do pretty much anything, at this point. We've been big fans of Willow Smith's music for some time here at We Are: The Guard but, recently, we've learned that she's capable of much more than zoomer pop.
Willow Smith recently honored her mother Jada Pinkett Smith by moving into pop-punk territory, inspired by Pinkett Smith's former band Wicked Wisdom, aided by pop-punk royalty, Travis Barker from Blink-182.
With "Transparent Soul," Willow Smith reveals one more thing she's good at. And makes a case for the validity of trip pants. Better that than bucket hats, we say…
TOVE STYRKE - BORDERLINE
i can only do my left hand of nails ##righthanded ##yolo ##swag ##swaggy ##iamincapablwofdoingmyrighthandbecauseiamrighthanded
You might notice that a number of this week's viral hits involve conflicted emotions in some way. It makes sense - springtime turning into summer is always a cause for celebration. The reopening of society is also cause for feeling semi-jubilant. It's safe to say this last year has taken its toll on most of us in a variety of ways, as well. It's understandable we're maybe feeling a little shook?
Trove Styrke's "Borderline" is a perfect blend, with its uptempo rocksteady guitars and borderline-everything lyrics. It's like a cloudy day at the beach or a snake in your cleavage.
OLIVIA RODRIGO - GOOD 4 U
pls don't mind the jammies and morning hair, this song just goes so hard @livbedumb #PonderWithZion #fypシ #oliviarodrigo #good4u #viral #vintage #sour
This last week, Oliva Rodrigo made headlines as she finally met Taylor Swift. She also performed two songs on Saturday Night Live, her breakout single "Driver's License" and "Good 4 U," which then got reposted on Billboard's TikTok.
It's been going off ever since, inking the deal that Oliva Rodrigo may be the biggest thing since Billie Eilish. And maybe rock music isn't dead, after all!
That about does it for this week's edition of TikTok hits! Make sure to follow our TikTok for even more up-to-the-minute music news, hot takes, and behind-the-scenes footage with the We Are: The Guard label!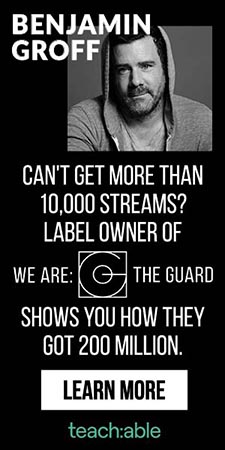 J. Simpson occupies the intersection between criticism, creativity, and academia. Based out of Portland, Or., he is the author of Forestpunk, an online journal/brand studying the traces of horror, supernatural, and the occult through music, fashion and culture. He plays in the dreamfolk band Meta-Pinnacle with his partner Lily H. Valentine, with whom he also co-founded Bitstar Productions, a visual arts collective focused on elevating Pop Culture to High Art.