TOP 5 BEST WORST MUSIC MOMENTS CAUGHT ON CAMERA
CASEY KASEM
[Above: famed radio disc-jockey Casey Kasem tearing his studio engineer a new one while recording a dedication for some poor family's lost pet.]
Being in the public eye is hard as hell. Your absolute worst moments can be so easily captured by the paparazzi, your bitter studio engineer (see above), or thousands of cell phone cameras held up by adoring (or hateful) fans. Those extreme low-points WILL be broadcast to every corner of the universe faster than you can say "wait, don't…" It doesn't matter who you are-- we've seen the biggest celebrities in the world publicly beg to have some of their more embarrassing moments deleted from collective memory, but the Internet refuses. We will never allow ourselves to forget that easily.
You know, like when Beyonce and Jay-Z both tried (unsuccessfully) to have these photos eliminated: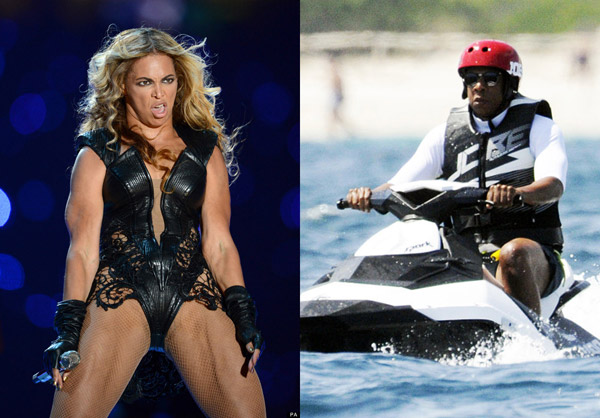 Sorry, ain't gonna happen.
Though, music's royal family definitely aren't the only ones with amazingly unfortunate moments in their musical pasts. I bet all of the people on this list wish upon a wish upon a star for a time machine to travel back to the past just to prevent these moments from ever happening. This ain't Back to the Future, where all you have to make sure your parents actually bone.
REAL MUSICIANS MOCKING PLAYBACK
Blend Guitar put together a YouTube video of Rock and Roll's greatest totally mocking the idea of playback. Iron Maiden switch instruments while the track plays behind them, Iggy Pop butchers the lip-sync. and the Gallagher brothers pretend to be each other when Oasis plays on Top of the Pops. These are rocks greatest "fuck yous" to being told what to do. Sure, it's fun now in retrospect, but I bet each of these lost these dudes a lot of money over these clips.
KRIST NOVOSELIC FACE SLAM
It was 1992 and Nirvana had just been nominated for "Smells Like Teen Spirit" at the MTV Video Music Awards. Kurt, Dave and Krist are to play live for one of the bands most significant gigs so far. At the end of their performance of "Lithium" Krist throws his bass up into the air braggadociously and takes a digger right to the face. BOOM he's down for the count. Watch this one on replay. It's as good as anything on America's Funniest Home Videos. Bob Saget eat your heart out.
WINNEBAGO MAN - DON'T SLAM THE DOOR
Jack Rebney's outtakes during the recording his 1989 Winnebago commercial are exactly what the Internet is made for. "The Winnebago Man" is so famous they made a documentary about him. He is the spokesperson for brilliant curses strung together with the fury of a thousand suns telling the moon what's what. This is definitely more entertaining than any commercial has any right to be. Why is it on our list here at We Are: The Guard? Oh because in 2012, Electro/EDM producer Zedd put some of these together as the sample for his hit song "Slam The Door" released on OWSLA.
LEFT SHARK UPSTAGES KATY PERRY
How quickly you forget the single greatest moment of 2015. How could you? It was only three and a half years ago when a dude in a Shark suit totally stole all of Katy's thunder during a Super Bowl performance of "Teenage Dream." Bryan Gaw (the man in the suit) is certainly the single greatest SNAFU to happen during the halftime since that other one we're not going to cover because who the hell cares about Justin Timberlake, Janet Jackson and a titty anymore. This is what we're here for.
KANYE - LIVE AT EVERYWHERE
Go ahead and name me one time where Kanye West has performed live and not squandered his career a little bit. I don't think you can do it, I don't think it's possible. When Ye steps out on stage he's guaranteed to make at least a partial fool of himself. This is a dude who walked offstage after only three songs into a set. He spent literally half his Bonnaroo set ranting about the press and respect. Kanye is the textbook definition of an artist who suffers from being on camera all of the time. How the hell is he married to a reality television star?
Photo by Jakob Owens on Unsplash
From deep within the murky depths of the Los Angeles River emerged a creature: 50% raver, 50% comedian, 10% Robotcop. Kurt Kroeber doesn't own a dog, operates Soundbleed (the world's only dance party comedy talk show rave), and is down to party with you. Come up some time and say "Hey dude!" But definitely make sure to casually drop the secret Illuminati password.