THE TOP CHILL MUSIC YOU NEED IN YOUR LIFE THIS WEEK
Photo by Aiony Haust on Unsplash
It's been an incredibly exhausting few days. There's a whole lot for everybody to process, but first, unclench your jaw, take a deep breath, and give yourself permission to rest. The weekend is almost upon us, which means it's time to indulge in some much-needed self-care with the latest edition of We Are: The Guard's Top Chill Music. With 5 o'clock fast approaching, then, begin to clear the brain fog with the following selection of chill vibrations courtesy of Kings Elliot, Rhye, dvsn, and many others. Aaah.
-
KINGS ELLIOT – DANCING ALONE
Kings Elliot is a revelation. Having won us over last year with "I'm Getting Tired of Me" – a song that detailed her battles with panic attacks – the Switzerland-born act returns this Friday with "Dancing Alone." It's a plea to a lover for understanding during a mental health crisis, with muted keys backing Kings as she delivers a soul-shattering vocal line.
RHYE – COME IN CLOSER
Every time I listen to Canada's Rhye, I feel like I'm wreathing in finely spun silk. Case in point: "Come in Closer." The latest single to be unveiled from Mike Milosh's forthcoming album Home is a soft, sensuous piece of propulsive bliss, with Rhye singing about a deepening love and the idea of fragility that accompanies it over a gilded swirl of strings.
DVSN – USE SOMEBODY (KINGS OF LEON COVER)
Kings of Leon's hit single "Use Somebody" gets a sultry, sexual revision this Friday courtesy of dvsn. Listen as the R&B duo strip the song – which originally featured on Kings of Leon's 2008 album Only by the Night – of all of its anthemic stadium heft, transforming it instead into an intimate carnal hymn best listened to in the darkest hours.
RYAN WOODS – HOW I'M FEELING
According to figures, anxiety and depression are at an all-time high. Why is it, then, so many of us are still struggling to put into words how we truly, honestly feel? 20-year-old rising musician Ryan Woods explores the answer to this question on "how i'm feeling" – a fragile acoustic cut about coming of age in these emotionally confusing, chaotic times.
LATE JUNE – BREATHE
Me every time I listen to New Zealand's Late June:
EMOTIONAL ORANGES (FEAT. CHIIILD) – BONAFIDE
Having recently teamed up with We Are: The Guard favorite Channel Tres on "All That," Emotional Oranges return this Friday with the Chiiild-featuring "Bonafide." It's a song about unwavering love and commitment, with the artists pledging their allegiance atop a lithe, sinuous guitar groove created with help from Aram "Max" Vehuni of slenderbodies.
BLU EYES – STUCK IN MY HEAD
Blu Eyes is returning the focus to anxiety on her latest single "Stuck in My Head." "Is it normal/The way I can't help second-guessing/Is it normal/Wishing I could put my thoughts to bed?" asks the TikTok viral sensation on the tender, gut-wrenching piano ballad, which will resonate with anybody who's ever let their mind get the better of them.
TOBI LOU – 2HRS
Nigeria-born tobi lou is getting in his feelings and then some on his latest single "2hrs." Clocking in at just under two minutes, "2hrs" is a deep dive into tobi's neon-streaked melancholy, with female vocals chops and trap beats curling like smoke haze behind the hip-hop musician as he sings about his emotions in a refreshingly open, honest manner.
OCTODADDIO – LOVE WILL FIX IT
Introducing octodaddio, the Berklee College of Music graduate making her alluring debut on We Are: The Guard with "Love Will Fix It." Featured on her recent EP From the Heart, the Mouth Speaks, it's a spellbinding tribute to emotional vulnerability that hears Jade Che tapping into her Chinese roots and delivering an electronic opus like no other.
THANDO – FIRST IN LINE
Rihanna once demanded her lover make her feel like "the only girl in the world," and South Africa's Thando is echoing a similar sentiment on "First in Line." "I am not the girl that wants to/Be somebody else's option/I want to be the first in line/All the time," sings Thando on the irresistibly smooth R&B ballad, which drips with a divine feminine energy.
-
Follow We Are: The Guard's Weekly Chart on Spotify for even more. x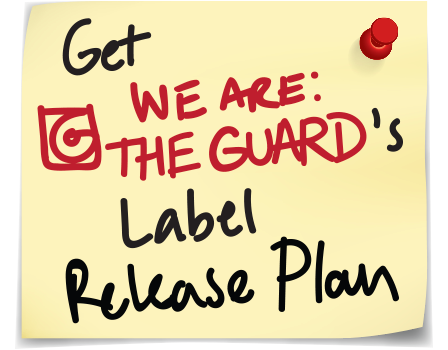 Jess Grant is a frustrated writer hailing from London, England. When she isn't tasked with disentangling her thoughts from her brain and putting them on paper, Jess can generally be found listening to The Beatles, or cooking vegetarian food.