TOP CHILL MUSIC - WEEK 9
From the democratic race to the seemingly unstoppable spread of coronavirus, there's been a whole lot of crazy news stories out there of late. And while it can be difficult to pull ourselves away from rolling television coverage or stop ourselves from scrolling through social media, it's important we unplug and switch off from the madness every once in a while. As the working week draws to a conclusion, then, feel free to join me in going off-grid this Friday with the latest edition of We Are: The Guard's Top Chill Music, featuring Four Tet, Seven Lions, Sufjan Stevens & Lowell Brams, and more.
-
FOUR TET – BABY
Just a month on from sharing "Baby," Britain's Four Tet returns today with the astonishing official video. Directed by Joanna Nordahl, the drone-aided clip is quite literally filmed from the perspective of a bird's eye view, with the visual soaring over and through a whole range of breathtaking landscapes and architectures before making quite the crash landing.
SEVEN LIONS (FEAT. TYLER GRAVES) – ONLY NOW
Seven Lions is spreading his wings and taking flight on the ascendant "Only Now." Featuring the stunningly airy Tyler Graves, "Only Now" is a dexterously produced cut that hears Seven Lions seamlessly switching between 90s-style trance and latter-day dubstep, with the end result sounding like the aural equivalent of soaring through the mountaintops.
SUFJAN STEVENS & LOWELL BRAMS – THE RUNAROUND
Sufjan Stevens dives into the world of ambient music on "The Runaround." A collaboration with his stepfather Lowell Brams – one of the protagonists behind 2015's Carrie & Lowell – it's a slowly churning albeit enormously atmospheric piece of music that pulls you in from the off, with Sufjan's voice making a truly hair-bristling entrance in the final half of the song.
LAUV – MODERN LONELINESS
The world is more connected than ever. Why is it, then, we have never felt lonelier? It's this question Lauv probes on "Modern Loneliness" – a tender ode to feeling alone even in a crowd of people that eventually grows into an anthemic sing-along. "This is my favorite song on the album and the most important song I feel I've ever made," writes Lauv. Listen.
LIANNE LA HAVAS – BITTERSWEET
Exclusive footage of me listening to this deliciously sweet serenade from Lianne La Havas: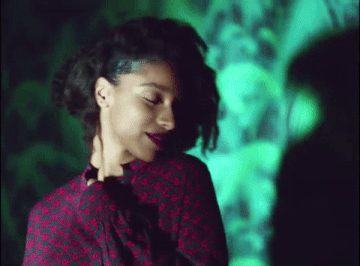 P.S. This COLORS rendition is everything:
EMBRZ – BE MINE
EMBRZ is transporting us to a lush paradise on his latest single "Be Mine." Featured on the Irish producer's recent EP Spirit Reset, it's a dreamily weightless listen driven by a perpetual sense of motion, with Jack Casey's emotionally rich melodics coming underpinned by a persistent four-on-the-floor beat that lends the song a club-esque quality.
ELLA VOS – TURBULENCE
Following on from the release of her cover of "Cellophane" by FKA twigs, Ella Vos returns today with "Turbulence." The lead single from her forthcoming album of the same name is a lofty, resilient tribute to life's highs and lows, with Ella – who recently overcame cancer – sounding ascendant as she coos: "One day you'll understand/There's always turbulence."
FORESTER – LOST
Forester are sending us floating through space on their latest single. It genuinely feels as though gravity has given way listening to "Lost" – which the Santa Monica act say is "about the way in which relationships can shift one's perspective and encourage personal growth" – with the weightless vocals and lightly dubby pulses guiding us through the cosmic abyss.
LANKS (FEAT. NICK HILL & JANEVA) – REBOUND
This is too sultry for its own good. Australian producer Will Cuming, better known to us as LANKS, teams up with R&B acts Nick Hill and JANEVA for his latest single "Rebound." It's an achingly sensual late-night hymn exchanged between two lovers who can't give each other up, with Nick and JANEVA effortlessly caressing our ears over Will's off-kilter pianos.
LOUIS THE CHILD – DON'T MIND
Having shared the vibrant "Don't Mind" earlier this month, Louis the Child return today with the official video. Directed by ThankYouX, Will Wharton, and Nate Mohler, the clip sees the Chicago producer duo really bringing out the colors of the song, with flower collages framing Frederic Kennett and Robby Hauldren as they sing that euphoric burst of a chorus.
-
Don't forget to follow We Are: The Guard's Weekly Chart on Spotify for more. x
Photo by Noorulabdeen Ahmad on Unsplash
Jess Grant is a frustrated writer hailing from London, England. When she isn't tasked with disentangling her thoughts from her brain and putting them on paper, Jess can generally be found listening to The Beatles, or cooking vegetarian food.