THE 10 TOP CHILL SONGS TO ROUND OFF YOUR WEEK
Photo by Lisha Riabinina on Unsplash
Can you believe this time last year, we were still at the peak of the pandemic, and still searching for a vaccine? It's incredible to think how far we've come over the last 12 months, and while things aren't completely back to normal, I nevertheless hope you're getting to enjoy the summer you missed out on in 2020! On that note, with a beautiful couple of days ahead of us, let's start the weekend with the latest edition of We Are: The Guard's Top Chill Songs, featuring Bathe, ella jane, JMSN, and plenty of others!
-
BATHE – SUNDRESS
New York two-piece Bathe is living up to their name and then some on their latest single "Sundress." Listen as Devin Hobdy and Corey Smith-West immerse us in a sea of vibes on this warm, dreamy summer soother. "'Sundress' is about feeling intimately close with someone who's far away. Whether you're separated by distance, time, or even reality itself," reveals Corey of the cut, with his deft, nimble guitar licks and funky grooves providing a perfect backdrop to Devin's airy ocean breeze of a topline.
ELLA JANE – THIEF
This is completely, utterly devastating. Just five songs into her short career, and ella jane is ripping open her chest for us all to see on her latest single "Thief." Written by ella about her battle with depression, "Thief" is a stunning acoustic swirl that hears the New Yorker showcasing her emotive core like never before. "I have never been so vulnerable in a song. It's terrifying, but also so exhilarating," says ella of the crushing cut, which sounds like Phoebe Bridgers crossed with The Beatles.
JMSN – LOVE 2 U
It's no secret JMSN is the king of smooth, but Christian Berishaj has officially outdone himself with "Love 2 U." The second single to be lifted from JMSN's forthcoming sixth album Heals Me after "Rolling Stone" is a soaringly soulful odyssey that clocks in at over eight minutes. "I wanna make love to you, sweet darlin'/Deal with the mess we made in the mornin'," croons JMSN on the cut, before swan-diving into an emotive, sensuous five-minute guitar solo that channels a mix of Prince and David Gilmour.
FRANCES FOREVER – DAYTIME
They blew up on TikTok last year with the saccharine slice of slacker-pop "space girl," but Frances Forever is proving they're more than a "one-hit wonder" on "daytime." Featured on their recent EP paranoia party, "daytime" is a lush, soothing listen that hears Frances Forever trying their hand at a trip-hop sound similar to Massive Attack or Portishead. With lyrics about love and escape coming paired with richly sweeping horns, "daytime" is a jazzy-soft reverie for daydreamers everywhere.
OMAR APOLLO – GO AWAY
He recently launched Disha Hot, a brand of hot sauce based on an old family recipe, but Omar Apollo is returning the focus to the music this Friday with the release of "Go Away." Produced by Carter Lang and Chromeo, "Go Away" is a heady piece of synthy yearning that follows on from 2020's Apolonio. "But if you had to go away again/I just don't see you enough/I wish I saw you enough," sings Omar, with his piercing falsetto coming surrounded by a warm, sultry swirl of Fleetwood Mac-indebted grooves.
RUBY HAUNT – PYRO
Coinciding with the announcement of their sixth album Watching the Grass Grow, Ruby Haunt has released the pensive, haunting "Pyro." The song hears Ruby Haunt continuing to hone their Twin Peaks-esque breed of atmosphere-pop, with guitars rising and falling with cinematic cadence behind the California duo. Lyrically, meanwhile, "Pyro" focuses on a relationship in ruins, with Ruby Haunt practically fracturing listeners to pieces as they sing: "Never'd guеss how it would shatter/In the palm of my hand."
MIJA & SHARKS! – GET LOST
Everything bitbird – the record label founded by We Are: The Guard regular and Dutch producer extraordinaire San Holo – touches turns to gold. Case in point: "Get Lost." A collaboration between Mija and SHARKS!, "Get Lost" is an emotive, moving listen that brings together the electronic and indie worlds with scintillant ease. "And if I get lost/At least I've found myself," repeats Mija atop cascading guitar licks on the cut, which acts as a mantra for those searching for their most enlightened selves.
YOE MASE – HONESTLY
Ahead of the release of the deluxe edition of An Unfiltered Stream of Consciousness – which comes printed on the most stunning vinyl record I've ever seen – Yoe Mase has unveiled "Honestly." Clocking in at just under three minutes, "Honestly" is a deeply gut-wrenching ballad that hears Yoe seemingly reaching out to a lover suffering from depression. "Wide-eyed, beautiful face/You've broken me/Honestly," aches Yoe, with the New York artist coming surrounded by gorgeous piano droplets and very little else.
CHARLOTTE DAY WILSON (FEAT. BADBADNOTGOOD) – I CAN ONLY WHISPER
Having previously collaborated five years ago on "In Your Eyes," Charlotte Day Wilson and BADBADNOTGOOD are joining forces once again today on "I Can Only Whisper." "I actually wrote this song partly in my sleep. I woke up and just had that line in my head – 'I can only whisper' – and then I wrote all of the lyrics in my head lying in bed," says Charlotte. Pairing BADBADNOTGOOD's sultry, luxurious grooves with Charlotte's deeply resonant vocals, "I Can Only Whisper" is a lovelorn soul masterpiece.
OOMPA (FEAT. DAN DECRISTOFARO) – GO
Oompa is bringing the summer vibes on her effortless latest single "GO." "This is the love where you slap red-tinted glasses on, and all red flags look like surrender. We know it will end in flames, or with us having to return to the reality of our lives and our city-girl hustle, but for now, we go. We get lost, and hope reality doesn't find us," says Oompa of the healing, uncomplicated groover, which makes for the ultimate accompaniment to late-night drives to the beach with friends and lovers.
-
Follow We Are: The Guard's Weekly Chart for more chill goodness! xo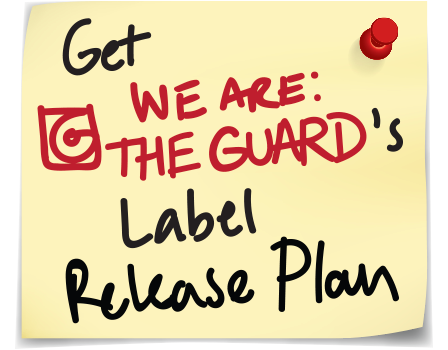 Jess Grant is a frustrated writer hailing from London, England. When she isn't tasked with disentangling her thoughts from her brain and putting them on paper, Jess can generally be found listening to The Beatles, or cooking vegetarian food.