TOP CHILL SONGS - WEEK 31
Can you believe that it's August already? Summer is going by WAY too fast for my liking. Before we know it, we'll be back hunkering down beneath stacks of warm, cozy blankets and gorging on everything "Pumpkin Spice." Okay, so maybe I'm getting *a little* ahead of myself, but we should definitely savor the sunny season while it's still around. On that note, as the first weekend of August fast approaches, get your late-summer soundtrack up to scratch with today's dose of We Are: The Guard's Top Chill Songs. Featuring Vancouver Sleep Clinic, Poolside & Panama, Com Truise, and more, this playlist has something for everyone!
-
VANCOUVER SLEEP CLINIC – BAD DREAM
Vancouver Sleep Clinic awakens emotions inside of me that I didn't even know that I had. The Australian artist is reaching deep into my soul and pulling all kinds of feelings to the surface with "Bad Dream," a stunning electroacoustic lullaby that culminates in a breathtaking section that hears Tim Bettinson pitch-shifting his voice to the point of unrecognizability.
JEREMY ZUCKER – OH, MEXICO
From getting a new haircut, to completely moving home, we've all felt that need for change following a breakup. Jeremy Zucker is going in search of his escape on "oh, mexico," a melancholy acoustic reverie that the 22-year-old reveals was inspired by "Mexico" by James Taylor. He continues: "It's a somber, dreamy song: one that toys with the idea of going someplace sunny – in hopes of things somehow feeling. It's actually really not about Mexico at all."
HOPE TALA – JEALOUS
Introducing Hope Tala, the British singer-songwriter who's serving up the perfect summer afternoon soundtrack in the form of "Jealous." With Hope's jazzy, soulful vocals dancing atop lush, breezy acoustics and softly tapped bongos, "Jealous" is just the kind of song to put on when you want to sit back, relax, and watch the world go by your window.
POOLSIDE & PANAMA – CAN'T STOP YOUR LOVIN'
No summer is complete without Poolside. Thank God, then, that Jeffrey Paradise and Filip Nikolic have returned just in time with "Can't Stop Your Lovin'." The shimmering disco cut is nothing short of an essential addition to pool party playlists everywhere, with the duo's funky rhythms and glistening synths providing the perfect backdrop for guest vocalist Panama to do his thing.
COM TRUISE – ULTRAFICHE OF YOU
Com Truise just keeps on getting better and better. The Ghostly International beatmaker continues to expand the horizons of his intergalactic spacetronica on Persuasion System cut "Ultrafiche of You," with chromatic, futuristic synths coming weighed down by a profound sense of emotional gravitas. "It's a love song," writes Com. "I don't write many of those." Listen.
CUCO – DO BETTER
We Are: The Guard favorite Cuco returns this week with another lovesick lullaby in the form of "Do Better." "Baby, I'm gonna do better for you/Because I love you with my heart/Sunshine, moonlight, my angel/Darling, will you take my hand and my love?" sings the 21-year-old over a blend of muted acoustics and drums on the cut, a bilingual beauty and ode to self-improvement that features on Cuco's recent debut album Para Mi.
SYENCE (FEAT. HEATHER SOMMER) – TEMPORARY HIGH
Have you ever listened to a song that made you smile from ear to ear? As that's exactly what happened to me when I hit play on "Temporary High" by Syence. The mysterious producer duo are delivering a dose of happy vibes with this blissfully upbeat cut, with Heather Sommer's vocoder-laced vocals making for a perfect accompaniment to Syence's euphoric bass drops.
SALT ASHES – INTO THE GROOVE (MADONNA COVER)
There's been no shortage of Madonna covers over the last few decades, but trust me when I say that this is "Into the Groove" like you've never heard it before. Listen as Salt Ashes puts her own dark, sultry spin on the Desperately Seeking Susan cut, with the British enchantress infusing the song with a kind of candlelit intimacy with help from atmospheric electric guitars and big, epic beats.
NUAGES – EVENINGS
As the nights start to slowly but surely draw in around us, We Are: The Guard favorite Nuages returns with "Evenings." This is music made for watching burning red sunsets over cities to, with the British producer delivering a truly beautiful composition that feels at once comforting and wistful, just like the final days of summer.
SLEEPY HOUSE – SPACESHIPS
Concluding this week with a late-night groover from Sleepy House. This is my first time featuring Jake Dupre and Luca Brown on We Are: The Guard, although something tells me that it won't be my last time, with the duo completely hypnotizing me with their nocturnal funk on "Spaceships," a song that can be summarized in one GIF: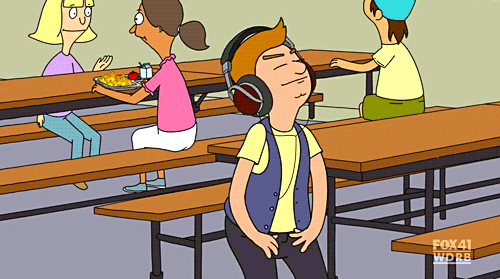 -
Follow We Are: The Guard's Weekly Chart on Spotify for more! x
Photo by Sereja Ris on Unsplash
Jess Grant is a frustrated writer hailing from London, England. When she isn't tasked with disentangling her thoughts from her brain and putting them on paper, Jess can generally be found listening to The Beatles, or cooking vegetarian food.