TOP CHILL SONGS: 10 TRACKS TO COOL DOWN WITH THIS WEEKEND
Photo by Daniel Delgado
Fun fact: This morning, I started planning out my Halloween costume. It's not too early, is it? It's too early, isn't it? Look, I need to get through the final few weeks of this heatwave somehow, okay? Speaking of which, it's time to cool down the temperatures with the latest edition of We Are: The Guard's Top Chill Songs. Featuring Dreamer Isioma, Adam Melchor, Delaney Bailey, and seven other favorites, this column is dedicated to end-of-summer lovers everywhere!
-
DREAMER ISIOMA – SIMON SAYS
Dreamer Isioma takes time out from working on their sophomore album and the follow-up to February's Goodnight Dreamer to share the intoxicating "Simon Says." Featured on See You Next Year, a brand new compilation album from Pigeons & Planes as executive produced by Mike Dean, "Simon Says" is all "about finding your way and purpose in this big universe." With Dreamer's wavy AutoTuned voice forming like thick curls of smoke over plaintive guitar chords, "Simon Says" is nothing short of effortless.
ADAM MELCHOR – TURNHAM GREEN
There's nothing quite as painful as discovering somebody you trusted isn't who you thought they were, with New Jersey's Adam Melchor coming to terms with this on "Turnham Green." Written alongside Emily Warren, "Turnham Green" is an exquisitely folky lullaby replete with thoughtful electronic flourishes that hears Adam documenting an unforeseen act of betrayal: "I took every step/In your heart and in your head/I see what you see/But nothing looks right/You brought me somewhere I'd never be."
DELANEY BAILEY – LOVE LETTER FROM THE SEA TO THE SHORE
She recently teamed up with Spotify Singles to unveil "Praying for July," and this month, TikTok star Delaney Bailey continues to immerse us into her delicately woven world of lullabies on "Love Letter From the Sea to the Shore." Described by Delaney as her "first love song," "Love Letter From the Sea to the Shore" is a beautifully Sufjan Stevens-esque ballad that hears her singing about a love that transcends all of time and space: "I think I loved you in another life/Where I was the sea/And you were the shore."
FRANKIE COSMOS – ONE YEAR STAND
Coinciding with the announcement they'll be releasing their first album in three years, Inner World Peace, on October 21st, New York's Frankie Cosmos has shared "One Year Stand." Produced alongside Nate Mendelsohn and Katie Von Schleicher at Figure 8 Recording, "One Year Stand" is a gently glimmering sigh of soft-rock about the melodrama of unrequited love: "You don't love me?/That's okay, God/Loves me, Target/Loves me, Gap loves/Me, you will be/So successful/You'll buy new friends."
BIEN ET TOI (FEAT. BIIG PIIG) – RAINBOW TABLES
He's written and produced for the likes of Arlo Parks, The Marías, and Lana Del Rey, but today, Bien et Toi's Gianluca Buccellati is stepping into the spotlight as a solo artist with the Biig Piig-featuring "Rainbow Tables." "'Rainbow Tables' was written while Biig Piig and I were working on The Sky Is Bleeding. We have an effortless collaboration, and this song is a testament to it," reveals Bien et Toi, with the easygoing end-of-summer groove cruising through the speakers like a top-down convertible.
YOUNG JESUS (FEAT. TOMBERLIN) – OCEAN
Illinois outfit Young Jesus is discovering the freedom that comes with letting go on their calming latest single, the Tomberlin-featuring "Ocean." The lead single from their forthcoming sixth album, Shepherd Head, "Ocean" is a peaceful meditation on giving up control that Young Jesus frontman John Rossiter wrote following the loss of a friend. "You're a body meant to dream/In the grip and the release/Walk a fragile path to peace," sings John, with found sounds forming like motion blur around the stillness of his vocals.
MILOE – GAPS
Having recently supported Khalid at the MLS All-Star Concert presented by Target, Minnesota's Miloe is back in our ears this Friday with the delightful "gaps." According to Miloe, "gaps" is all "about using music to express yourself." Produced by Lars Stalfors and featuring bassist Conrad Oddoye, "gaps" is a knotty, intricate piece of indie-dance sunshine that hears Miloe finding joyful relief through art and creation: "I feel these gaps in time/Trying to relieve my mind/But it's never really simple/When I can catch a tempo."
CLN (FEAT. EILISH GILLIGAN) – INTO THE NIGHT
Australia's cln continues to build anticipation for his forthcoming sophomore album with the vast, expansive "Into the Night." Speaking in a press release, cln reveals "Into the Night" was inspired by Depeche Mode: "My dad always used to put their records on when I was younger, and their music has always really stood out to me. Their synthesizer sounds were always so well selected and mixed." A pristine piece of synthwave starring Eilish Gilligan, "Into the Night" is electronic music at its most human.
MAYFLY – PASSENGER SEAT
Just in time for the final few weeks of summer, Mayfly is taking us on a late-night drive through the city lights on the sultry "Passenger Seat." The follow-up to "Black Water," "Passenger Seat" is a pulsing piece of dance-floor euphoria that hears Emma Cochrane and Charlie Kunce soaking in the neon blur. "Switched places to redeem yourself/You call the shots, couldn't wait/Be cautious of the path you take/If I let go, will you/Drive me home safe?" questions Mayfly on the cut amid a metropolis of humid club beats.
CHRMNG, & MILO. – DOSHTI
Introducing Chrmng, and milo., the TikTok artists looking to break free from the algorithm with their airy collaborative single, "DOSHTI." Written over Discord and finished in-person in California, "DOSHTI" is a beautiful bit of cloud-rap that hears Chrmng, and milo. singing in a mixture of English and Bengali over trap beats. "Doshti ami pagol/Why you running away from me I don't know?" repeat Chrmng, and milo. in the chorus, with their vaporous voices making me long for something I can't quite name.
-
Follow We Are: The Guard's Weekly Chart on Spotify for more music! xo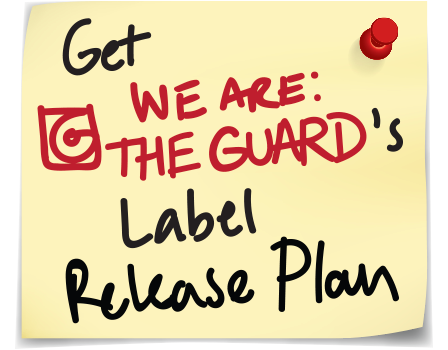 Jess Grant is a frustrated writer hailing from London, England. When she isn't tasked with disentangling her thoughts from her brain and putting them on paper, Jess can generally be found listening to The Beatles, or cooking vegetarian food.