THE 10 TOP CHILL SONGS IN THE WORLD THIS WEEK
Photo by Casey Pierce
Hi, everybody! I've been off sick with the flu for the last few days, but I'm really happy to be back with you all for another round of chill tunes. I'm not sure about you guys, but I'm definitely looking forward to this after the stress of the midterms on Tuesday. Without further ado, then, enjoy the latest edition of We Are: The Guard's Top Chill Songs, featuring Overcoats, KUČKA, Joji, and more!
-
OVERCOATS – HORSEGIRL
While they showcased an edgier, harsher pop sound on 2020's The Fight, Overcoats is returning to their radiantly folky roots on "Horsegirl." Written and produced alongside Day Wave's Jackson Phillips, "Horsegirl" is a paean to freedom. "It's about that feeling of wanting to wander instead of being tied down or tamed. But the point is that we're not horse girls – we're the horse itself," explains Overcoats of "Horsegirl" – a gleaming acoustic ballad that envelops the skin like the final breath of summer.
KUČKA – NOT THERE
Just a few weeks on from teaming up with Mount Kimbie on chill joyride "f1 racer," KUČKA's Laura Jane Lowther is back with "Not There." According to Laura, "Not There" was inspired by a GIF: "I was working on my computer one night and this repeating scene of rain on a skyscraper window came up. It seemed really lonely somehow, even though it looked so pretty." The resulting lullaby sounds like it lives in the same cinematic universe as Lofi Girl, with Laura's study beats twinkling like Roku City.
JOJI – DIE FOR YOU
SMITHEREENS, the third album from Joji, is finally here, with the Japanese singer-songwriter immersing us in his hazy world of melancholy on record highlight "Die For You." Produced alongside Jacob Ray, Wes Singerman, and Tay Dex, "Die For You" finds Joji attempting to move on from a relationship despite having feelings for his ex. "I heard that you're happy without me/And I hope it's true//It kills me a little, that's okay/'Cause I'd die for you," croons Joji – his voice falling like soft flakes of snow.
PORTAIR & VÉRITÉ – ABOVE THE SALT
There's nothing quite as painful as discovering a lover isn't the person you thought they were, with Portair and VÉRITÉ coming to terms with this emotional devastation on "Above the Salt." "VÉRITÉ and I wrote this song over Zoom from New York to Berlin during lockdown," explains Portair. "It's an ode to the endless cycle of avoiding the red flags when deep down we know better." A ballad with all of the dark, melancholy grandeur of a crumbling gothic cathedral, "Above the Salt" is totally shattering.
BOB MOSES (FEAT. BROODS) – OLD LOVE
Canadian electronic duo Bob Moses enlists Georgia and Caleb Nott of BROODS for their dreamily reflective latest single, "Old Love." "Georgia was approaching the lyrics from the perspective of ending a long relationship, but for us it goes back to the whole theme of transition and how uncomfortable that can be," notes Bob Moses. Opening emotionally tense and understated, before a four-on-the-floor beat enters to lend the song an ethereal bounce, "Old Love" is full of festival-season nostalgia.
OOI – COQUETTE
They previously hinted at the hurt behind the music on the aptly titled "In the Dark," and today, ooi's Dominik Schatz, Flo König, and Nicolas Fehr are continuing to explore the pains of modern love on "Coquette." Featured on their recent debut album, Good Luck Charms, "Coquette" hears the Majestic Casual trio singing about loneliness through a soft, translucent Grand Theft Auto-pop lens: "It won't stop/You are all/I can think of/And what's more/You'rе already gone/And I'm waiting for your return."
CD ROSE – TSUNAMI
Boston singer-songwriter CD Rose is capturing the thrilling early days of a relationship on her slowly cruising new single, "Tsunami." "'Tsunami' is the feeling you get when you're driving with the windows down and you're going to pick up someone you are dating," says CD. "It's that adrenaline of waiting outside for a first date – it's the anxiety of finding the perfect song to play when they open the door." With her stylish, soulful voice sinking into the horizon like a sunset, "Tsunami" is pure vibes.
ELMIENE – WHY (SPARE ME TEARS)
Having made his debut during Virgil Abloh's final Louis Vuitton show, Virgil Was Here, with "Golden," British singer-songwriter Elmiene is back today with "Why (Spare Me Tears)." Written alongside Jamie Woon, "Why (Spare Me Tears)" is a soulful dose of acoustic balladry that hears Elmiene attempting to understand the emotions behind a breakup. "Why do you cry?/We had time/But you won't try," questions Elmiene on the cut, with his own vocal harmonies surrounding him like a choir of angels. Heavenly.
TASHA ANGELA – LOVE IS MY CONDITION
Tasha Angela is learning love starts from within on her rejuvenating latest single, "Love Is My Condition." "Through many tough lessons about love I've realized that constantly searching for love is what pushes it farther away," says the Canadian act. "Learning to love yourself is the only way to find true love and meaning. Surprisingly once I realized that, that's when I found it." With Tasha's radiantly effortless vocals set against a neo-soul acoustic glow, "Love Is My Condition" is the sound of healing.
TEEN DAZE – ONE FOR PARADISE
Brb, I'm officially transcending.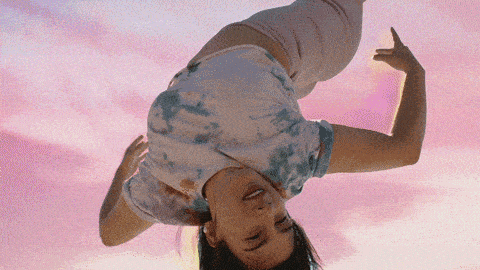 -
Follow We Are: The Guard's Weekly Chart on Spotify for more! xov
Sources:
Floating GIF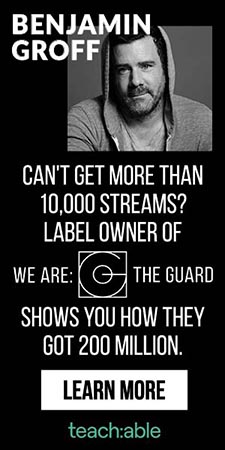 Jess Grant is a frustrated writer hailing from London, England. When she isn't tasked with disentangling her thoughts from her brain and putting them on paper, Jess can generally be found listening to The Beatles, or cooking vegetarian food.