THE 10 TOP CHILL SONGS WE'RE VIBING TO THIS WEEK
Photo by Ira Ostafiichuk on Unsplash
Well, you guys. We finally made it to both the end of the world and the last edition of We Are: The Guard's Top Chill Songs of 2020. It's been an absolutely hellish year, but I truly hope this column helped to bring you a bit of peace of mind and stillness amid all of the chaos and confusion. Oh, and allowed you to Catch Some Vibes™ along the way. Stay safe over the holiday season, and I'll see you in January for more chill times. Check out the following 10 tracks from Jon Hopkins, SG Lewis & Rhye, Gaspar Narby, and plenty of others.
-
JON HOPKINS – DAWN CHORUS (THOM YORKE COVER)
The near-mythological "Dawn Chorus" from Thom Yorke's 2019 solo album ANIMA receives a devastatingly beautiful cover today courtesy of British producer Jon Hopkins. "The whole thing was done in a day and was a very cathartic experience," writes Jon of the cover, with his emotive piano playing bringing even further introspection to the song.
SG LEWIS & RHYE – TIME
SG Lewis and Rhye? Okay, it really must be Christmas. The latest single to be unveiled from SG's forthcoming album times – due out in February 2021 – is a scintillating slice of disco-pop that sounds like it came together in far sunnier climes, with Rhye's voice sailing with butter-smooth ease over Donna Summer-esque strings and tropicana beats.
GASPAR NARBY (FEAT. FOZSA) – LIE LOW
Gaspar Narby and FOZSA explore the art of intimacy despite never having met on their latest single "Lie Low." Written and recorded over a six-month period, with Gaspar and FOZSA sharing ideas over the Internet, "Lie Low" is a fractured mosaic of a listen, with the various elements coming together to present a cavernous ode to the physical touch.
BURIAL, FOUR TET & THOM YORKE – HER REVOLUTION
This is the chill collaboration to end all chill collaborations. Burial, Four Tet, and Radiohead's Thom Yorke unite for "Her Revolution." Coming to us by way of XL Recordings, it's a dusty, enchanting curio, with Burial's static beats and Four Tet's nods to Indian classical music forming quite the tapestry underneath Thom's keening falsetto.
CAROLINE POLACHEK – DOOR (OKLOU REMIX)
Just over a year on from its initial release, "Door" – from Caroline Polachek's debut solo album Pang – gets a spellbinding reinvention courtesy of Oklou. While the original was magical, listen as Oklou manages to make "Door" into an even more enchanting being, with the French musician transforming the cut with chiming notes and modulated vocals.
MADLIB – ROAD OF THE LONELY ONES
Coinciding with the announcement that he's working on a duet album with British producer Four Tet entitled Sound Ancestors, Madlib has unveiled "Road of the Lonely Ones." It's a deeply soulful piece as built around a sample of "Lost In a Lonely World" by The Ethics, with the retro vocal chops hitting different against the salvo of hip-hop beats.
박혜진 PARK HYE JIN & NOSAJ THING – CLOUDS
Following on from the release of her fantastic EP How can I earlier this year, 박혜진 Park Hye Jin returns this Friday with "CLOUDS." It hears the Ninja Tune signee teaming up Nosaj Thing – another Los Angeles native of Korean descent – with Nosaj providing a deep substratum, over which Hye Jin unleashes her deadpan, unnerving rap cadence.
JAWNZA – DOWNTIME
Ever since he unveiled "Facedown," JAWNZA has gone from strength to strength, with the rising act showcasing a more insouciant acoustic side to his sound on "Downtime." "Outside/Lookin for some downtime/Said that she want love/And the way she say it sounds nice," croons JAWNZA on the ode to commitment issues, which flows with ease.
W00DS & ADAM YOUNGMAN – TELL ME
There's not a whole lot I can say about w00ds and Adam Youngman, but it really doesn't matter, as the mysterious duo are letting the music do the talking and then some on "Tell Me." It's a tender ballad filled with aching desire, with soft beats, fingerpicked guitars, and longing vocals combining for the ultimate addition to any lo-fi study mixtape.
EMAN8 – HAVE YOURSELF A MERRY LITTLE CHRISTMAS
Merry Christmas from We Are: The Guard <3.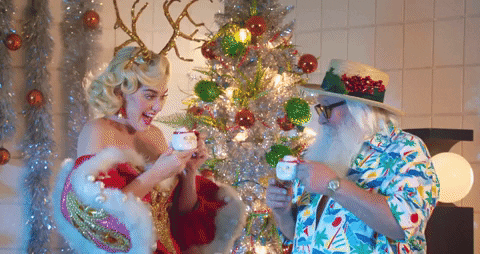 -
Follow We Are: The Guard's Weekly Chart for plenty more. Happy Holidays, you guys. x
Jess Grant is a frustrated writer hailing from London, England. When she isn't tasked with disentangling her thoughts from her brain and putting them on paper, Jess can generally be found listening to The Beatles, or cooking vegetarian food.