TOP INDIE POP - WEEK 35
I know we are two months away from Halloween, but things are already beyond spooky. We have the wrath of Hurricane Harvey tearing up Texas, record highs of heat waves blasting through Southern California, missiles in the air from North Korea, and the news of American Idol getting a reboot. If these aren't clear signs that the end is near then pass me a cold one because the ship is sinking and I'm not going down with all my 6 senses in function mode. Woah, sorry hate to sound like the morning news, so how about to some happier times. Here to lighten the mood are some fine tunes from ten of the best indie pop songs from the past week.
EVALYN - CHERRY LAMBO
Well ain't that everyone's dream, to want it all without putting anything into it, the American Dream, or better said the American lie. California free spirit singer Evalyn seems to clearly understand that everything comes with a price. I say this because though her lyrics in "Cherry Lambo" are pretty much an eff all, her tone is anything but playful or light. Heaviness drives the lyrics and the American Dream seems to have lost its glitter.
LUI PENG - WHAT TO SAY
Lui who? This is Lui Peng, the British-Chinese singer who's showing us that he's not a one trick kind of artist. I admit that when we were first introduced to Peng it took us a minute to look him up, but once we locked him down we were on board his chill-pop vibes. With only four single releases and over a million streams, the numbers seem to indicate that there will be more goodies to come.
NOAH SLEE - INSTORE FEAT WAYNE SNOW AND RACHEL FRASE
For fans of Anderson Paak. and Kaytranada, Kiwi singer/songwriter Noah Slee is a must add to your musical collection. Slee is an artist that hasn't had much light shined on, but we're sure that will change soon. In a world where pop is for the most part meaningless, Noah Slee brings texture and emotion. His debut album, Otherland, was recently released via Majestic Casual, and from a first listen standpoint there is amazing talent that is appealing to all.

LIZZO - WATER ME
Powerhouse songstress Lizzo is here to save us from any all of self inflicted hate. "Water Me" preaches about being good to yourself, you're all that with a side of jazz and if you're having a hard time believing it, then give this single here a spin one or more times. Let everyone else but yourself hate on you because you, you are as free like the water. #TLC
DOJA KAT - UP
Our family member Kurt Kroeber made the statement of Doja Cat being the female version of Chance the Rapper, and for only being eighteen and delivering killer tracks she's the bad-a** version of Mario. There is so much maturity to be found in her work that it would hard to believe she's not old enough to legally enjoy beers. Her single, "Up," is a sweet sultry song that has the power to drift you into a better state of mind.
FRANK OCEAN - PROVIDER
Ummm...hello??!! Did anyone get the memo about the latest Frank Ocean release?! Apparently I did and I'm sharing the poet's sweet tune with you all. While all of you were watching GOT I was online doing what I do when I got the notification. I swear I've never clicked on something so fast. No word on a new album or any further material as a matter of fact, but this right here came at such good timing.
BECK - DEAR LIFE
The alternative pop/ray of sunshine Beck has release a new tune to brighten up our day. Though not as interesting as "WOW," "Dear Life" still offers listeners a whimsical listening experience. If all you want to do is lay back and sway your head back and forth to a soft beat then this right here is perfect for you. Not too loud, not crazy at all, just a good ol' tune for a good ol' non-exciting time.
MAUWE - THAT'S ALL
There are tracks that just seem to work. "That's All" by Bristol duo Mauwe is one of those. The tone hits all the right spots. This being their debut single creates a huge impression. It's light, airy, soft without being cliche and sticks with you long after you've played it. It's the perfect melody to soothe all ears. With high expectations set, we can only hope additional material comes sooner rather than later.
JAMIE E BROWN - FOLLOW YOU (TEP NO EDIT)
I am a fan of collaborations such as peanut butter and jelly. In today's case Tep No is the jelly to producer Jamie Brown. It's got soothing layers of mouth watering beats that beg for a second listen. This kind of puts a break on the noise and reminds us that it's ok to breathe.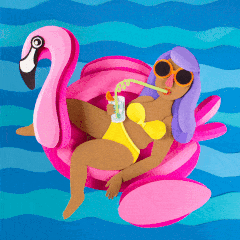 GEOWOLF - DRINK TOO MUCH
Rounding it off with what I so desperately look forward to this weekend. Just kidding, no drinking too much for my butt. There is zero motivation especially if there is a hangover involved. There's no need to drink to make me feel buzzed, just play me this track here by Geowulf and I'll be slurring the lyrics before the track comes to an end. All fun here and games until somebody pukes.
That's it for my random yet pretty stellar list of the best indie pop songs. If you feel we missed anything feel free to drop us a line via our social channels: Facebook, Instagram, Twitter… I think you get it.
"Photo" by Frederick Kearny is licensed under CC0.
About Beca Arredondo
Beca Arredondo is easily unamused with all things not related to her interests. On her good days you can catch her avoiding the California sun and glued to her Mac plotting the next big thing. If you happen to run into her on the street and notice her wearing headphones do NOT disturb her. She is not responsible for any possible damage. Aside from the above she's very sweet and perky and responds well to good music and food.