THE 10 TOP INDIE SONGS RELEASED THIS WEEK
Photo by John Arano on Unsplash
Forget The Weeknd's Super Bowl Halftime Show. There was one televised live music performance and one televised live music performance only that mattered over the weekend, and that, ladies and gentlemen, was Phoebe Bridgers making her debut on SNL. INJECT THAT GUITAR SMASH INTO MY VEINS! Anyways, while Phoebe was doing the sad girls proud at 30 Rockefeller Plaza, the team and I were busy as ever compiling the latest edition of We Are: The Guard's Top Indie Songs. Just don't forget to grab some leftover game snacks before chowing down on the following tracks from Sister James, Julien Baker, Skullcrusher, and more.
-
SISTER JAMES (FEAT. SAMIA) – QUESTIONS
It's only been three or so weeks since she unveiled the brilliant The Baby Reimagined – a remix version of her album The Baby – but Samia is already back in our ears by way of "Questions." Featured on the upcoming Sister James EP I Hate It Here, Pt. 1, it's a quiet-loud ripper that channels "Where Is My Mind?" if mainlined with millennial malaise.
JULIEN BAKER – FAVOR
Just over two years after coming together as boygenius, Julien Baker, Phoebe Bridgers, and Lucy Dacus reunite once again for "Favor." Lifted from Julien's upcoming album Little Oblivions, it's a painfully intimate observation of love and friendship – and the vulnerability both of them require of you – with the trio sounding as breathtaking as ever.
SKULLCRUSHER – SONG FOR NICK DRAKE
Nick Drake is one of the most undervalued artists of his time, but Skullcrusher is finally giving the late balladeer the recognition he deserves on "Song for Nick Drake." "I walked home alone/With your song in my head/Finally understanding something/In what you said," sings Helen Ballentine on the delightfully quaint ode to finding revelation in sound.
ROSTAM – THESE KIDS WE KNEW
Rostam pays homage to the upcoming generation saving the environment on his latest single "These Kids We Knew." Written while the former Vampire Weekend member was recovering from COVID-19, it's a lush, mesmeric, guitar-drenched fever dream that hears Rostam fantasizing about young people rising up against climate change deniers.
AYONI – THE PATRIOTS
Los Angeles act Ayoni delivers a new kind of national anthem for the marginalized everywhere on the remarkable "The Patriots." "If hate is what's required/I don't wanna be a patriot," belts Ayoni on the cut – a soulful denunciation of white supremacy and institutional racism that feels like both a battle cry and a beacon of hope. Just incredible.
JUAN WAUTERS (FEAT. MAC DEMARCO) – REAL
Ahead of the release of Real Life Situations – featuring Nick Hakim, HOMESHAKE, El David Aguilar, and more – Juan Wauters has shared the Mac DeMarco collaboration "Real." It's an easy-going amble that basically sounds like a couple of dudes living their best lives in Los Angeles, with Juan and Mac delivering on some serious summer vibes.
GIRLHOUSE – THE FATALIST
Los Angeles duo girlhouse practice the art of surrender on their latest single "the fatalist." "I think I've learned that the only way to feel control in a shitty situation is to find a way to laugh about how we have no control over anything at all," explains vocalist Lauren Luiz of the bittersweet chugger, which finds a kind of quiet liberation in letting go.
WALLOWS (FEAT. REMI WOLF & SOLOMONOPHONIC) – OK
Following on from the release of "OK" last year, Los Angeles indie-pop outfit Wallows return today with a kooky new version featuring Remi Wolf and Solomonophobic. Listen as Remi and Solomonophobic put a bizarre, quirky spin on the cut, with the melting, silly-putty-style vocal effects helping to tease out a different song entirely. Weirdos unite.
BOYISH – SUPERSTAR
They recently clocked up over half a million streams on their breakthrough single "Fuck You Heather," and today, Boyish are returning with "Superstar." "You're a superstar/I might drown in the way that I feel/But I guess I'm just a fan," sighs India Shore on the ode to obsession, her vocals reflecting back at us like staring into a melancholic puddle.
RITT MOMNEY – NOT AROUND
Having recently gone viral with his cover of Corinne Bailey Rae's "Put Your Records On," Ritt Momney is returning the focus to his original music today with "Not Around." Written alongside Dayglow, it's a somber lament about the difficulties of holding down a long-distance relationship that closes with a cathartic guitar solo courtesy of Palehound.
-
Why not follow We Are: The Guard's Weekly Chart for more? xox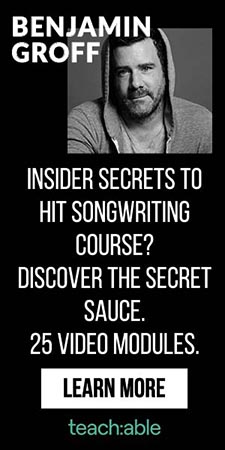 Jess Grant is a frustrated writer hailing from London, England. When she isn't tasked with disentangling her thoughts from her brain and putting them on paper, Jess can generally be found listening to The Beatles, or cooking vegetarian food.