TOP INDIE SONGS - WEEK 20
Hello, everyone, and welcome to yet another edition of We Are: The Guard's Top Indie Songs! While you were watching a movie about an electricity-storing rodent with world-class investigative skills and the voice of Ryan Reynolds over the weekend, the team and I were busy as ever filtering through YouTube, Spotify, and beyond for all of the best indie music on the blogosphere! Headphones at the ready, then, as it's time to check out this week's selection of top indie tracks courtesy of The Head and the Heart, Holy Ghost!, Your Smith, Des Rocs, Of Monsters and Men, and plenty of others!
-
BAUM – FUCKBOY
Girls can be fuckboys too. Just ask BAUM, the Los Angeles artist who's here to flip the gender narrative on its head with "Fuckboy," an anthemic indie-pop banger that finds the 22-year-old simultaneously ripping asshole dudes a new one while triumphantly declaring in the sexually empowering chorus: "But it's cool 'cause I'm a fuckboy too!" P.S. Did I mention that this is out now on We Are: The Guard?!
THE HEAD AND THE HEART – PEOPLE NEED A MELODY
If you're in search of a musical pick-me-up this Monday morning (and, let's face it, who isn't?!), then look no further than "People Need a Melody." This hopeful piano ballad from The Head and the Heart's forthcoming fourth album Living Mirage hits like a tonic to the soul, with the kind of feel-good lyrics that you can imagine being performed by a whole sea of festivalgoers.
HOLY GHOST! – DO THIS
Six years on from the release of Dynamics, Holy Ghost! return this 2019 with "Do This." Far from showcasing a new side to the New York duo, "Do This" actually finds Holy Ghost! doubling down on their lush, cinematic rendering of the nu-disco genre, with the band revealing in a press release that this was very much an intentional move on their part: "This song is about sticking to our guns, going after what we always have, and believing that music fans still want more than Diplo's latest cultural co-opt."
YOUR SMITH – BLOODY MOTHER FUCKING ASSHOLE (MARTHA WAINWRIGHT COVER)
"Thank you, Martha, for giving me my anthem for when I'm feeling powerless and lending your words when I am lost for my own. A truly magical song makes you feel like it was written just for you. I am a survivor of sexual abuse and reclaiming my power is something I actively fight to do every morning I wake up. I will always fight self-doubt and feeling present in my own body. This song makes that fight a little easier for me. If you're in need of a song that makes you grit your teeth and clench your fists, I hope this song reaches you like it did me." – Your Smith. Breathtaking.
DES ROCS – SLO
He says that his mission in life is to bring back rock and roll to the masses, and Des Rocs is one step closer to achieving his goal with his latest single "SLO." Clocking in at just under three minutes, the song is among the New York musician's most swaggering tracks to date, with Big Muff riffs providing a darkly charismatic backdrop to Des Rocs as he channels his inner Elvis Presley, lip curl and all.
MXMS – TIMEBOMB
While they emerged into the light on "Salvation Hurts," MXMS are retreating into the shadows on their latest single "Timebomb." "Make me love long enough/Fuck me up/'Cause I'm a motherfucking timebomb," announces Ariel Levitan in her signature sing-rap over a dirty, sinister synth bass on the cut, which is taken from MXMS' debut EP Funeral Pop I, out now on We Are: The Guard.
GIRL IN RED – DEAD GIRL IN THE POOL.
Pool parties are never going to be the same again thanks to the latest single from girl in red. As the song title suggests, "dead girl in the pool." finds the Oslo artist waking up after a night of partying to discover a – you got it – dead girl in her pool, with the cut's summery acoustic production belying the track's creepy plot twist: "There's a dead girl in the pool/I don't know what to do/I'm the dead girl in the pool."
OF MONSTERS AND MEN – ALLIGATOR
It's been four years, but Of Monsters and Men are back and sounding bigger than ever on their latest single "Alligator." "Wake me up/I'm fever dreaming/And now I lose control/I'm fever dreaming!" sings vocalist Nanna Bryndís Hilmarsdóttir on the song – a vibrant, explosive piece of music that hears the Icelandic five-piece moving in their most rock-oriented direction to date. "The song very much speaks to the excitement and energy that we feel about being back," write Of Monsters and Men. Listen.
FLOR – DANCING AROUND
Once in a while, a song comes along that completely fills you with joy. "dancing around" by flor is one such song. This fun piece of indie pop from the Fueled by Ramen signees' forthcoming sophomore album is just the track that I needed to help me get through the start of the working week, with the catchy production combined with the uplifting lyrics suddenly making the office commute seem a lot less of an effort this Monday morning: "I can't wait/I've been longing to be dancing around again." <3
FRAWLEY – HARD BOY
Introducing Frawley, the New York artist who's making her debut on We Are: The Guard and the blogosphere as a whole with the badass banger "Hard Boy." Written about Frawley's experience with dating a dude who considered himself "too cool" for love, this middle-fingers-in-the-air anthem is dedicated to all of those whose hearts have been screwed over by a not-so-"Hard Boy." P.S. Did I mention that it samples "Teenage Dirtbag" by Wheatus?!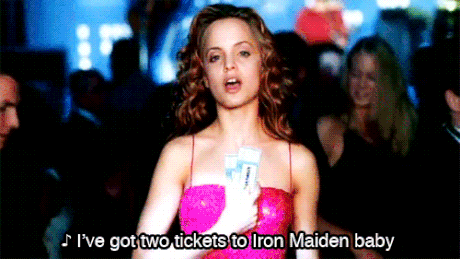 -
Thanks for listening, everyone! Until next week, follow We Are: The Guard's Weekly Chart on Spotify for plenty more! x
Photo by Flavio Gasperini on Unsplash
Jess Grant is a frustrated writer hailing from London, England. When she isn't tasked with disentangling her thoughts from her brain and putting them on paper, Jess can generally be found listening to The Beatles, or cooking vegetarian food.