TOP INDIE SONGS - WEEK 23
Summer has arrived, festival season is in full swing (who here went to Governors Ball over the weekend?!), and the music simply keeps on coming! No, really – it's been an incredible seven days for indie, with seemingly everyone who's anyone releasing tunes just in time for June and the surge in temperatures. Of course, we can't include everything, but the team and I like to think that we've brought you the music that matters in this latest edition of We Are: The Guard's Top Indie Songs, which this week features brand new cuts from Phantogram, Sleater-Kinney, Metronomy, and more!
-
COSMO GOLD – DROWN THE FLY
It's time to get funky, everybody! The Los Angeles outfit formerly known as Velvet, Cosmo Gold, are guaranteed to get your hips shaking this Monday morning with their latest single "Drown the Fly" – a Talking Heads-esque piece of post-punk that hears serrated guitar riffs cutting through frenzied polyrhythms and deeply groovy basslines, with the whole thing coming topped off by the sugary sweet vocals of frontwoman Emily Gold.
PHANTOGRAM – INTO HAPPINESS
Phantogram are stepping out from the shadows and into the light on "Into Happiness." The follow-up to 2018's "Someday" very much finds Sarah Barthel and Josh Carter entering a brand new chapter, musically and lyrically, with ascendant synths backing Sarah – whose words have been weighted down by a potent sense of grief ever since she lost her sister to suicide in 2016 – as she harmonizes in the chorus: "Fall into happiness/Wish you could be here/No more loneliness/You make it perfect."
SLEATER-KINNEY – HURRY ON HOME
Sleater-Kinney are back, baby! Four years on from the release of No Cities to Love, the original riot grrrls return this 2019 with "Hurry on Home." "You know I'm/Dress downable/Uptownable/Hair grabbable/Grand slammable," bellows Carrie Brownstein over jolting guitar riffs and thunderous drums on the song – a wantonly horny cut that features on Sleater-Kinney's forthcoming album, the St. Vincent-produced The Center Won't Hold.
KING PRINCESS – CHEAP QUEEN
We Are: The Guard favorite King Princess explores the topic of her shifting identity on her latest single "Cheap Queen." "I can be good sometimes/I'm a cheap queen/I can be what you like/And I can be bad sometimes/I'm a real queen/I can make grown men cry," sings a breathy, detached Mikaela Straus over choppy electronic beats on the cut, which, among other things, serves as a reminder that King Princess is never an artist to be put in a box.
YONAKA – ROCKSTAR
Introducing YONAKA, the Brighton band who are making their debut on We Are: The Guard with the exhilarating "Rockstar." "We ain't got no money/We're just living free/I just wanna be a rockstar, baby," pleads frontwoman Theresa Jarvis to what feels like the heavens on the cut, which hears YONAKA blending rock and pop sensibilities for a song that feels overwhelmingly cathartic despite its tongue-in-cheek subject matter.
SUFJAN STEVENS – WITH MY WHOLE HEART
The world is a mess, but rejoice! Sufjan Stevens is here to save us from ourselves with his latest single. Released to coincide with the start of Pride Month, "With My Whole Heart" is described by the legendary indie troubadour as his attempt at writing "an upbeat and sincere love song without conflict, anxiety, or self-deprecation," with glimmering synths and rolling drums backing Sufjan as he declares in the chorus: "And you're all I want/And you're all I need/And you're all I've got/And I still believe."
METRONOMY – LATELY
Just under three years on from the release of Summer 08, London indie band Metronomy return this 2019 with "Lately." It's a shimmering, persistent itch of a song that hears synths lighting up like circuit boards over chugging guitar riffs and driving, frenetic drums. Directed by frontman Joseph Mount, the video is a must-watch, too, with the clip featuring a miniature version of Metronomy performing on top of a cassette tape.
NASTY CHERRY – WHAT DO YOU LIKE IN ME
Nasty Cherry, the Charli XCX-approved four-piece from Los Angeles, follow up their debut single "Win" with "What Do You Like in Me" this Monday morning. It's a lo-fi fever dream of a song that very much feels like 2019's answer to Sky Ferreira's self-deprecation anthem "Everything Is Embarrassing," with lead singer Gabbriette Bechtel's asking her lover "What do you like in me?!" over a bed of washed-out shoegaze.
KATE TEMPEST – HOLY ELIXIR
Following on from the release of "Firesmoke" last month, Kate Tempest returns this June with "Holy Elixir." It's a gripping piece of music that finds the London spoken-word artist focusing her lyrical lens on the beginning of humanity itself, before zooming out to the pains of more modern times, with the whole thing coming underpinned by a primitive bassline that increases in intensity as the song goes on.
JAI PAUL – HE
Oh... My... God...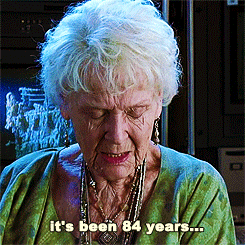 -
Until next week, why not follow We Are: The Guard's Weekly Chart on Spotify for more?! x
Photo by Daniel Schaffer on Unsplash
Jess Grant is a frustrated writer hailing from London, England. When she isn't tasked with disentangling her thoughts from her brain and putting them on paper, Jess can generally be found listening to The Beatles, or cooking vegetarian food.