TOP INDIE SONGS - WEEK 32
If you're like me and have HAD it with #HotGirlSummer (there's only so much thigh chafing that a person can take), well, fear not as #SadGirlSeptember is fast approaching! That's right, the countdown to Lana Del Rey's Norman F*****g Rockwell! is officially on, and I'm not sure about you, but I can't WAIT to get back in my feelings (and oversized sweaters) this fall! Before all of that, however, it's time for the latest edition of We Are: The Guard's Top Indie Songs! Cancel your plans this Monday, then, as we check out the following tracks from HAIM, The Lumineers, Lykke Li, Of Monsters and Men, Sleater-Kinney, and more!
-
HAIM – SUMMER GIRL
HAIM are back! HAIM are back! Just in time for the turn of the calendar, the sisterly trio return today with "Summer Girl." It's a woozy, Lou Reed-esque sunset of a song that Danielle Haim reveals on Twitter that she wrote for her boyfriend, Ariel Rechtshaid, after he was diagnosed with testicular cancer, with the frontwoman offering her full support to Ariel over a jazzy palette of pattering drums and billowing saxophones.
THE LUMINEERS – LEADER OF THE LANDSLIDE
The Lumineers prove that they've matured far beyond the days of "Hey Ho" on the latest single to be unveiled from their forthcoming third album III. "Leader of the Landslide" is a story about addiction that emotionally grips from the off, with frontman Wesley Schultz assuming the role of Junior Sparks, a son who's trying to come to terms with his mother's alcoholism, over a foot-stomping folk swirl that builds in intensity as the song progresses.
ANGEL OLSEN – ALL MIRRORS
This. Is. Epic. Following on from the announcement that she'll be releasing her fourth album All Mirrors in October, Angel Olsen returns today with the lead single of the same name. It's a sweeping, expansive, and quite frankly massive piece of music, with Angel's commanding, Kate Bush-esque voice looming like a Gothic cathedral over an intense orchestral arrangement as shot through with an eerie synthetic pulse.
ELECTRIC YOUTH – BREATHLESS
Ahead of the release of their second album Memorial Emotion on Friday, Electric Youth return today with "Breathless." The song finds the Canadian duo, who made their breakthrough in 2011 when their song "A Real Hero" featured on the Drive soundtrack, continuing to trade in diaphanous dream-pop with a synthetic pulse, with frontwoman Bronwyn Griffin's vocals floating like gossamer in summer over a throbbing bassline.
AVEY TARE – K.C. YOURS
Me every time that I listen to Avey Tare: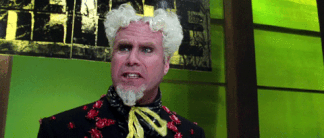 LYKKE LI – BABY DOVES
Lykke Li is feeling still sad still sexy on the piano-driven latest single to be unveiled from her recent EP of the same name. "Baby doves/Too young to know no better/We were just down, d-down, whatever," sings the Swedish songstress on the Malay-produced "baby doves," a minimally melancholy ode to a relationship in free fall that's best listened to while crying it out on the dance floor.
OF MONSTERS AND MEN – WAR
Of Monsters and Men continue to embrace their poppier sensibilities on their latest single "Wars." The follow-up to "Alligator" and "Wild Roses" is another glistening, synth-heavy number that hears the Icelandic outfit still moving away from their folkier beginnings in order to explore what you might call a more "radio-friendly sound," with disco grooves supporting frontman Ragnar Þórhallsson as he sings in the coruscating chorus: "Yeah, I love you on the weekends/But I'm careless and I'm wicked."
DANIELA ANDRADE – POLLY POCKET
Daniela Andrade is inviting us into her dreamy otherworld on her latest single "Polly Pocket." It's an introspective, soft-hued piece of music that the Canadian artist tells Flaunt is essentially inspired by social anxiety and the "constant pressure" of needing to network, with Daniela sounding like she's floating several inches off the ground as she sings: "Find that boomin' on that bass/Shake my head for a connection/Polly Pocket on my brace/Everything is a projection."
SEAWAVES – YOU LIVE IN THE STARS
It's been a while since we've heard from SEAWAVES, but the British duo are back and sounding more expansive than ever on "You Live in the Stars." As the song title suggests, it finds Si Van Brussel and Daniel Benjamin looking to the night sky for influence, with the band pairing soaring harmonies with pounding drums in order to deliver a piece of music that can only be described as awe-inspiringly vast.
SLEATER-KINNEY – CAN I GO ON
Sleater-Kinney continue to build up to the release of their ninth album The Center Won't Hold by sharing the rumbling "Can I Go On." "Everyone I know is tired/Everyone I know is wired/To machines, it's obscene," sings a keyed up Carrie Brownstein over snarling guitars on the cut, which the frontwoman reveals is written from the perspective of a woman whose "desire is used against her." She continues: "The narrator finds herself on the brink of self-annihilation, grappling with the paradox of an internal darkness at odds with the pressure to outwardly perform modes of joy, relatability, and likability."
-
Until next Monday, don't forget to follow We Are: The Guard's Weekly Chart on Spotify for more! x
Photo by Dillon Shook on Unsplash
Jess Grant is a frustrated writer hailing from London, England. When she isn't tasked with disentangling her thoughts from her brain and putting them on paper, Jess can generally be found listening to The Beatles, or cooking vegetarian food.