WE ARE: THE GUARD'S TOP TIKTOK HITS FOR THE WEEK OF 3/19
Image by Samuel Regan-Asante on Unsplash
What's happenin', Guardians? How's everyone holding up? Spring fever kicking in yet? What about cabin fever?
Here's some of this week's top videos from TikTok to help keep you entertained and pass the time. We've got people still misinterpreting Eminem after 30 years; twerking Jellyfish; aspirational hammerthrows; and your own virtual Super Mario Bros. store.
Here are the top TikTok trends of the week!
EMINEM - FACK
Say what you will about Eminem (and lord knows there's a lot that can be said), but the dude knows how to stay in the headlines. For better or worse - usually for the worst.
Marshall Mathers landed himself in hot water again when someone dug out his "Love The Way You Lie" featuring Rihanna and called for Eminem to be cancelled due to lyrics endorsing violence against women.
Unfortunately, this TikTokkers knowledge of history wasn't as comprehensive as their awareness of obscure hip-hop lyrics. This call for virtual blacklisting had the exact same result it did in the 90s when Suburban mothers were up in arms over Slim Shady's ultraviolet lyrics. Eminem fans on TikTok reached even further into the vaults to revive "Fack" from 2005 as a new viral trend.
Also unfortunately, it seems that many of these TikTokkers are using Eminem to excuse some of their worst aspects, using the challenge to humblebrag about having undiagnosed mental illness, being vain, lazy, unfaithful, you name it..
But, hey, we don't look to content surrounding Eminem for its wholesomeness.
OSRSBEATS - WII SHOP CHANNEL TRAP
Every week, it seems there's at least one viral trend that sounds like the soundtrack to the Home Shopping Network or some bizarre documentary. It's fitting, in a way, as TikTok is the world's weirdest marketing network, on one hand. It's also a bit like a documentary, as well - an anthropological study of people's most off-the-wall sides.
This week it's "Wii Shop Channel Trap" from OSRSBeats, which turns your phone into a shop from Super Mario Brothers. Top trends at the moment include people measuring their smiles ("if you can't get above a 30, you might be dead") to enthusing about the world's smallest toothbrush.
PRIME SOUND - MICROWAVE
jail
Looks like folks on TikTok are heavily leaning into the production side of their videos this week. Maybe they miss WandaVision and want to turn their own lives into a 50s sitcom. Whatever the reason, the sound of a buzzing microwave is trending this week.
Some are using it to rag on their parents, in true angsty teen fashion. Others are using it to announce their singleness. Still others are using the sound to express their spring fever.
However they're using it, the BBC would be proud!
SHANIA TWAIN - MAN! I FEEL LIKE A WOMAN
Social media can be a source for good or evil for girls, women, and femme-leaning individuals. It can be a way to find a community, to share positivity and uplift each other, or just to share cute pics.
It can also be a major source of anxiety, depression, and an inbox for the worst dregs of humanity to rain down their abuse.
This week, women are using Shania Twain's "Man! I Feel Like A Woman" to share some of their experience being a woman in this world. Some are also just using the trend to share tips and hacks in general. So whether you're looking for tips on how to make slime, some quick Instagram story hacks, or some recommendations for kickass women country artists from Ms. Twain herself, take some time to trawl the trend.
MOTHER MOTHER - HAYLOFT
##greenscreen @fr0gf4er1e
News has dropped that Netflix just wrapped filming their live action version of Cowboy Bebop. If you're looking for your chance to turn your own life into a live action anime, Mother Mother's "Hayloft" is your chance!
Bonus, metalcore in 30-second doses is the perfect amount!
SERGIO VALENTINO - DRIVE FOREVER
Looking to add a little drama to your life? A soundtrack for your ultra-badass super-slo mo videos? Sergio Valentino's got you!
"Drive Forever" is a gothic creepycrawl trap beat paired with some viscous sub-bass. Many of the videos users have been creating are equally delicious.
BIG HOMIE TY.N1 - JELLY
What's a week without a dirty dance trend on TikTok? This week it's "Jelly" by Big Homie Ty.Ni. The dance trend is mostly just videos of people (and a jellyfish!) twerking. But the beat bangs like an unmuffled Camaro and kicks like tequila, so you can listen on loop for a long, long time.
MOOSKI - TRACK STAR
"The only way out is through," to paraphrase Robert Frost. Sometimes you just gotta lean into the pain, especially if you want to learn or grow.
This week, TikTokkers are sharing uplifting, inspirational videos over the smooth alt-r&b of Mooski's "Track Star." Watch people run like cheetahs, toss hammers, or throw down on a treadmill.
You'll be ready for anything!
-
That rounds up another edition of We Are: The Guard's TikTok roundup! Make sure to follow our TikTok account for some behind-the-scenes footage from our label, including a little glimpse into the making of Nuts6000s' new video which dropped earlier this week! Also check out these songs and more in our TikTok Spotify playlist!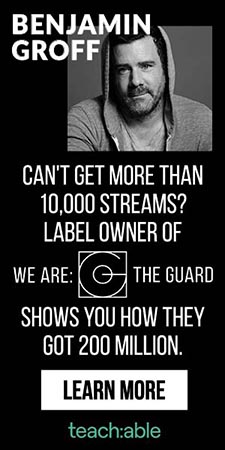 J. Simpson occupies the intersection between criticism, creativity, and academia. Based out of Portland, Or., he is the author of Forestpunk, an online journal/brand studying the traces of horror, supernatural, and the occult through music, fashion and culture. He plays in the dreamfolk band Meta-Pinnacle with his partner Lily H. Valentine, with whom he also co-founded Bitstar Productions, a visual arts collective focused on elevating Pop Culture to High Art.