THE TOP TIKTOK SONGS THIS WEEK (3/5)
Image by Andre Hunter on Unsplash
What's up, Guardians? Ready for a new week of viral weirdness! We've got some good stuff here for you in this week's We Are: The Guard viral roundup! There's the telepathic lovebombing of Kali Uchis' "Telepatia" - a particular high point - to the omnipresent Doja Cat to the proto poppy punk of Avril Lavigne.
Here's our picks for the best TikTok music for the week of 3/5!
KALI UCHIS - TELEPATIA
Kali Uchis' "Telepatia '' represents everything that's brilliant about TikTok - 1. It's bilingual, with the lyrics switching between English and Spanish 2. The accompanying TikTok video features a glamorous glow up 3. It's entirely glowing with good vibes and positivity.
On Kali Uchis' original TikTok video, she writes "I wrote this song about spiritually being with someone I physically couldn't/& while making it I sent telepathic healing love to all."
We're picking you up loud and clear, Kali. "Telepatia" has become an immediate viral sensation, with TikTok beaming its bouncy, slinky r&b into millions of heads and scoring a win for Spanish-speaking hip-hop in the process.
REX ORANGE COUNTY - IT'S NOT THE SAME ANYMORE
Like we commented in our Best Of TikTok column last week, social media inspires a sometimes confusing mixture of self-confidence and self-deprecation. On one hand, it gives us a platform to receive love and support simply for being our fabulous selves. On the other, it inspires comparison and sometimes unrealistic standards, causing us to live carefully curated existences, more camera-ready than America's Next Top Model.
A TikTok trend around Rex Orange County's "It's Not The Same Anymore" addresses both tendencies at the same time. It's mostly folks showcasing radical transformations, going from meek everybody's to style icons in the blink of a TikTok edit. Some are using the trend to show they're already fabulous, or even to reverse engineer and deconstruct the movement, illustrating their real beauty beneath the fake lashes and layers of foundation and concealer.
Either way, you're still beautiful, whoever you are!
DOJA CAT - WON'T BITE & STREETS
Dang, Doja Cat is unstoppable when it comes to TikTok! It seems every week she's got a different song trending. It also illustrates another thing We Are: The Guard love about this social media network - albums don't just disappear the second they're dropped! Nor do they have just one single. In fact, Doja Cat's got two singles off of her most recent album Hot Pink, with "Streets" still getting plenty of traction with its slow, sultry grooves.
"Won't Bite" is a more upbeat fare, although still plenty down 'n dirty, with a bubblegum reggaeton beat inspiring someone to "come closer/I won't bite." Plenty are taking her at her word, using "Won't Bite" as a soundtrack for everything from drawing catgirls to streaming video games to reading tarot.
ELLYOTTO - SUGARCRASH!
TikTok is the place if you want pure, unadulterated positivity. It's a relief, frankly, we've got more than enough social media networks to share our doomy political content and engage in heated shouting matches. Sometimes you just want to see someone sharing their new boots or what anime they're obsessing over.
"Sugarcrash" by EllyOtto is the soundtrack for whatever you're crushing on at the moment. Just leave it on repeat to avoid the comedown. You'll never crash if you keep mainlining the sugary cyberpop!
ASHNIKKO - SLUMBER PARTY (FEATURING PRINCESS NOKIA)
Anyone else missing having slumber parties with their besties due to quarantine? "Slumber Party" by the gothy Ashnikko gives you a chance to have a virtual sleepover with some  TikTok weirdos.
This slumber party is like something out of an early 90s softcore flick, though, with much decidedly NSFW action going down. We're not entirely sure what "hentai boobies" are but, hey, as long as you're having fun and staying safe, who are we to judge?
GUS DAPPERTON, BENEE - SUPALONELY
Here's another one that seems tailor-made for quarantine - "Supalonely" is the TikTok trend that just won't die. The current #1 video featuring the intricate choreography is from one year ago practically to the day. It's a slightly bittersweet affair to see videos of groups of people without masks on. Who'd've thunk we'd still be locked in our living rooms nearly 365 days later?
At least we've had some extra time to master the many, many steps of "Supalonely"'s busy interpretive dance.
PEGGY LEE - FEVER
We go from "Supalonely" to supasexy with our next TikTok trend. Of course, TikTok rarely plays things straight - pun fairly intentional as Peggy Lee's sultry femme fatale classic "Fever"'s getting a lot of love from the queer community this week. But that's part of a larger trend of people using "Fever" to showcase things they love, from a Gremlins puppet to making fake french braids. And, of course, because we've all lost our damn minds due to cabin "Fever", some are using the duet function to showcase pounding potatoes for homemade gnocchi to getting assistance for hospital bills.
I guess our idea of what's "sexy" has changed a lot in the last year.
AVRIL LAVIGNE - GIRLFRIEND
Avil Lavigne feels like the prototype for a lot of what's in nowadays, as the OG poppy punk princess. It feels fitting that "Girlfriend" would find a second life on TikTok. It's a little weird that many are using it as a soundtrack to showcasing their side profiles but, hey, whatever! We're not here to judge. And being punk means doing what you want!
That about does it for another week of TikTok jams. Don't forget to follow us on TikTok for behind-the-scenes videos and excerpts from some of our other playlists. Because pop culture never sleeps and neither does We Are: The Guard!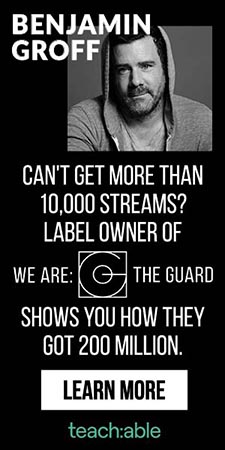 J. Simpson occupies the intersection between criticism, creativity, and academia. Based out of Portland, Or., he is the author of Forestpunk, an online journal/brand studying the traces of horror, supernatural, and the occult through music, fashion and culture. He plays in the dreamfolk band Meta-Pinnacle with his partner Lily H. Valentine, with whom he also co-founded Bitstar Productions, a visual arts collective focused on elevating Pop Culture to High Art.