WE GOT OUR HANDS ON MARTIN SHKRELI'S JAILHOUSE PLAYLIST
[EDITOR'S NOTE: This is Martin Shkreli's entirely real and completely not fictitious twitter account from jail. Don't ask us how we found @JailShkreli or how we know for an absolute certainty that it's real and not fake. Late night internet gets weird.  We made sure to Screengrab and transcribe the tweets about his "Jailhouse Playlist." Call him what you wanna call him, scumbag, pharma douche… but you definitely can't say he doesn't have a love for music.] 
[EDITOR'S NOTE'S 2:  We don't think he knows that twitter is up to 280 characters now.]
TRANSCRIPT:
"Well, they gave me twitter access from Prison which just proves that in 2018 money really can buy you anything. 
Except not going to Jail.
Jail's not so bad though. I've been working out a ton, getting ripped and making friends. We watch BET all day. 
I'm teaching these guys about white collar crime. People actually like me for the first time in my entire life.
I'm the first person banned from twitter, sent to jail and then still given pretty decent internet access once behind bars.
You really think I'm gonna learn my lesson?
Got Spotify. 
Don't have access to my treasure trove of unreleased music, but I got the same shit songs as everybody else for $9.99 a month.
Make the best with what you got, use it to fraud some rich motherfuckers who already deserve it. 
Yeah Yeah... I'm "The Most Hated Man in America." Heard it all before. 
You all missed what I was shaking at but I guess charging that much for an AIDS medication wasn't going to put me on anyone's good side.
I'm perfectly satisfied being called Pharma Bro, Douchebag, Scumsucker and Bitch. But in my mind I'm of a Robber Baron Robin Hood. 
Made a playlist that I wanted to share with you guys. 
Really I'm just a music fan with a really powerful Hedge Fund. If liking music isn't legal, then I don't want to not be in jail.
Here We Go…
1+2. Elvis Presley - Jailhouse Rock / Johnny Cash - Folsom Prison Blues
I'll crack this list off with the obvious ones.
My first couple of days were rough. It wasn't until I realized I had to rep the prison lifestyle better.
If you ain't walking around signing Elvis or Johnny then there's probably a shiv with your name on it.
3. Ween - The HIV Song
Sometimes I feel like Dean and Aaron Ween are the two only scumbags that get me. 
Their HIV Song was playing in my head nonstop when I raised the price of Daraprim over 5000%.
4.  Blink-182 - Wendy Clear
"Let's take the boat out on the bay and forget your job for just one day." 
You could go back and check my old tweets to see me namedrop Blink 182's "Wendy Clear" right as the hate was coming down hardest. Classic.
5. Brand New - Sic Transit Gloria… Glory Fades
Yo Fuck Brand New.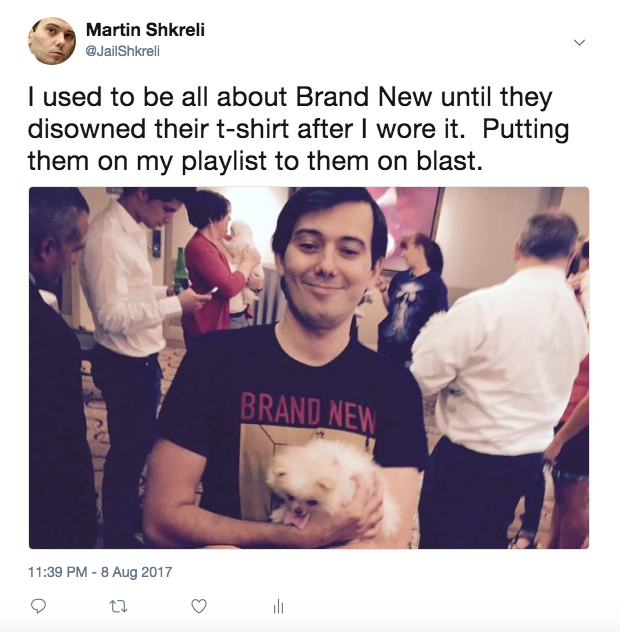 I used to be all about Brand New until they disowned their t-shirt after I wore it. Putting them on blast.
Between me and Jesse Lacey, I'm the scumbag? Ha ha, that's a laugh.
6. Huey Lewis & The News - Hip to Be Square
You guys ever see American Psycho?
Where Patrick Bateman hacks Jared Leto to pieces to Huey Lewis' "Hip to be Square". That scene is my spirit animal.
7. Wu-Tang Clan - Bring Da Ruckus
I'm the only person who ever gets to listen to Wu-Tang's Once Upon a Time in Shaolin 'cause I payed $2mil for it and I don't care about you.
You'll never get to hear it. As soon as I get out of here I'm deleting the files and burning the hard copies. Fuck You.
Instead listen to "Bring Da Ruckus" for the 10,000th time 'cause that's all you deserve.
8.  Lil Wayne - Got Money
You know I have the only copy of Lil Wayne's The Carter V too?
It was in Wayne's Bugatti when I bought it off him. Y'all ain't never hearing this one neither.
9+10. Nirvana - Man Who Sold The World / The Beatles - Revolution
I have unreleased Beatles and Nirvana music that dies with me. 
If I get a shiv in the shower you never get to hear any new Cobain or Lennon that's for sure.
11. Rage Against The Machine - Sleep Now in the Fire
Rage Against the Machine's "Sleep Now in the Fire" is pretty much my life. 
12.  Roger Miller - Oo-De-Lally
I put on "Oo-De-Lally" from the Disney Robin Hood cartoon. I fancy myself more of a Robin Hood than a Pharma Douche, but c'est le vie.
13.  Justin Timberlake - Can't Stop the Feeling [From the Trolls OST]
Justin Timberlake's "Can't Stop the Feeling" is inescapable even in prison. It's playing constantly.
I'm putting this on to be Troll you already think I am.
You deserve to listen to this song on repeat for hours on end until your ears bleed and you die. Like the fate I am currently suffering.
Fuck Everybody. Eat Shit and Die. You can never stop me.  
                        - Martin Shkreli
[EDITOR'S NOTE 3: When we returned in the morning the twitter had been suspended. We painstakingly recreated his Spotify playlist for your listening enjoyment.]

Image: https://commons.wikimedia.org/wiki/File:Martin_Shkreli_2016.jpg
From deep within the murky depths of the Los Angeles River emerged a creature: 50% raver, 50% comedian, 10% Robotcop. Kurt Kroeber doesn't own a dog, operates Soundbleed (the world's only dance party comedy talk show rave), and is down to party with you. Come up some time and say "Hey dude!" But definitely make sure to casually drop the secret Illuminati password.