WHAT BACK TO THE FUTURE II GOT RIGHT (BUT EVERYBODY ELSE MISSED)
Well we've made it to to 2015 — aka the distant future society of Back to the Future II. Every good movie nerd boy and girl is excited, dropping articles and blog posts about what Robert Zemeckis and Marty McFly got right and/or wrong about the trilogy's future but OUR present. Sure, we all know that Nike has taken it upon themselves to release the Marty McFlys and Tony Hawk really has ridden a hoverboard. And SURE, technology isn't so far away from their predictions, most things can fly, robots do operate our phones and walk our dogs and be our wait staff at restaurants, and 3D movies have gotten out of control. 
But there are a lot of Easter Eggs from Back to the Future II that the other websites on the Internet just don't seem to be covering. We at BitCandy are snoops and sleuths. We've re-watched every single frame of this film and bring you some undiscovered truths about what Back to the Future II got right.
TAKEN 8 AT THE HOLOMAX MOVIEPLEX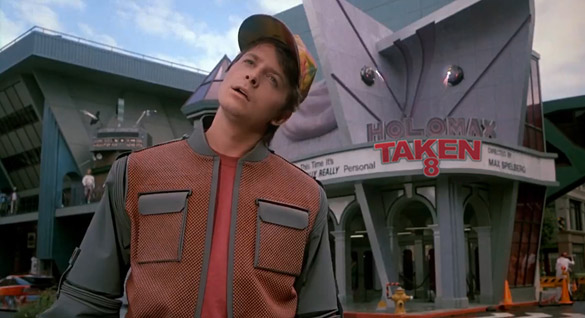 The screenplay to Taken, the Liam Neeson blockbuster, had been circling Hollywood for a number of years before it got made. While shooting Back to the Future II and III concurrently, Robert Zemeckis had also been circling the screenplay to be his next film: Taken.
Unfortunately the project was scrapped and the screenplay got lost in the Hollywood shuffle for a number of years before being resurrected by producer Luc Besson. Zemeckis is often quoted as being disappointed in himself for making such a foolhardy decision in referencing a movie he hadn't even made yet. 
Though not quite up to Taken 8, Robert Zemeckis was correct in his assumption that the Taken franchise would skyrocket into at least three films.
GOOGLE GLASS TEACHES MARTY HOW TO USE THE HOVERBOARD
Marty McFly is studying this Mattel Hoverboard via his Google Glass. In the movie he's talking us through all the other search results he sees about how to use one of these. Without being able to see the directions on the Internet, there's just no way this skateboard punk from Southern California ever would have been able to ride.
Thank God for Google Glass. Unfortunately, this is a 2014 invention and not a 2015 one. The Google Glass is going the way of the Google Phone. Didn't  work. Try again.
BILL COSBY IS A RAPIST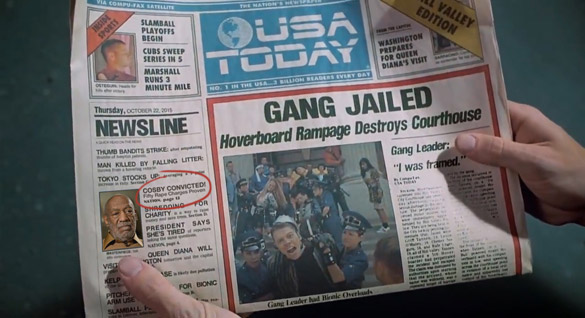 Long before Hannibal Burress broke this story to the American public, Robert  Zemeckis tried to subtley let everyone know what had been going on. Unfortunately, this went unnoticed in the fictional film and Bill Cosby was allowed to go free raping willy-nilly. 
This is quite unfortunate.
DOC BROWN AND THE OCULUS RIFT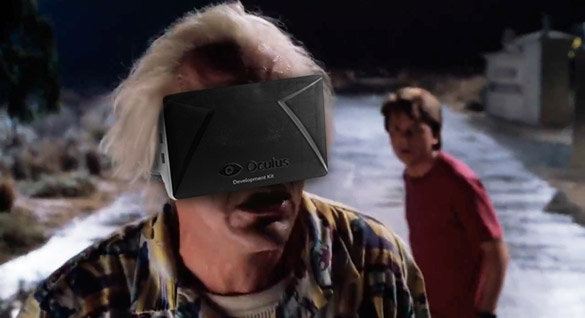 Virtual Reality was all the rage in the late 80s. As a society we wanted to believe that we could truly step into another world. Here Doc Brown is playing his favorite flight simulator and Marty McFly is jealous. He wants his turn next. 
MARTY MCFLY BREAKS THE INTERNET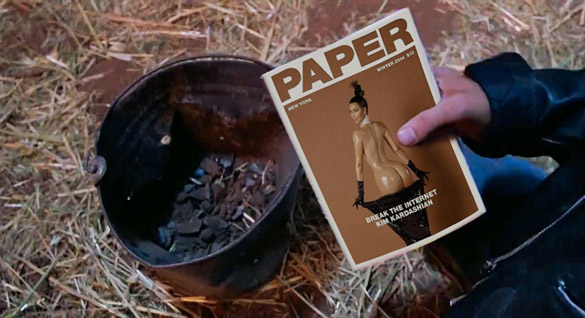 Incredibly controversial at the time, audiences could NOT believe that a Print Magazine would contain such foul nudity on the front. That was saved for the inside when this film was made. WTF is the Internet? A lot of people asked. Well, they got their answer only a couple of years later thanks to Vice President Al Gore.
JENNIFERP PLAYS WITH HER IPAD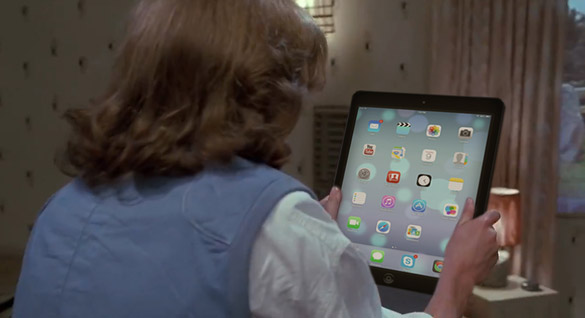 This was is a close call. We almost didn't include it on the list. While the filmmakers did get it correct that we would be using tablets as computers, they completely missed the mark on smartphones. It's such an oversight that we hardly feel comfortable including it here. But hey, you predict the iPad, you still get a B+ for effort.
GUARDIANS OF THE GALAXY ON AT CAFE 80S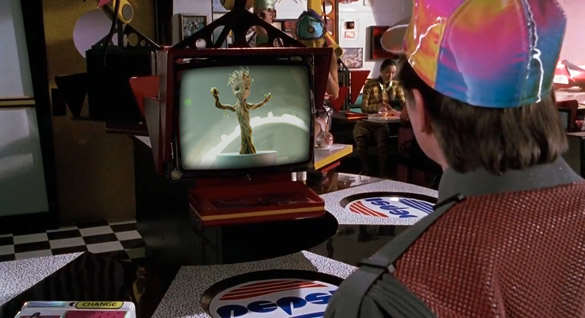 James Gunn, director of Guardians of the Galaxy, has gone on record saying that he was so interested in what this little tree was doing in Back to the Future II that he just had to extrapolate that into an entire feature film. This is WHERE the idea for Groot came from. Isn't that INTERESTING.
GAME OF THRONES SPOILERS IN 1989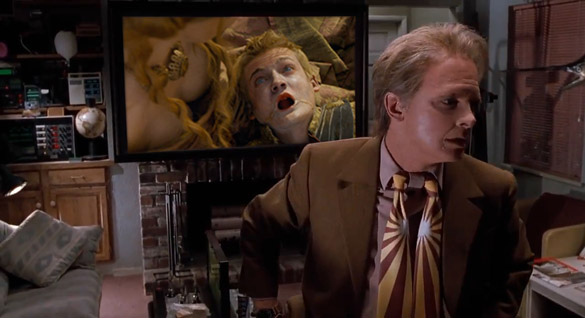 Remember when Back to the Future II spoiled one of the best moments in Game of Thrones? I know, I do. I'll never forgive them for it.
DRONES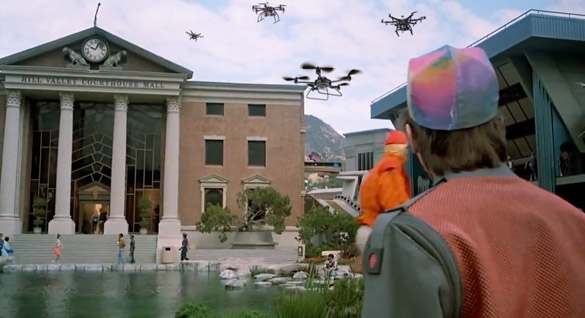 They're an inescapable part of society now. Drones follow us absolutely everywhere and record our every move. It's 45% of why I never leave my basement. But here they have a blink-and-you'll-miss cameo above the clock tower. 
THE LAST OF US IS SO RETRO
Look at how realistic those graphics are! Can you believe that Back to the Future II thought that this is what RETRO video games were going to look like? That's absolutely out of control. They got this completely wrong. We as a society are only getting to this point now. 
Sorry to disappoint, Back to the Future fans. We didn't make it that far yet. Maybe in Back to the Future IV.
---
Well now I know that you all are going to hop on your digital brain memory film vault and re-download this film to your EYE AND EAR Movie Theater (brought to you by Dolby). I hope that you see all of these wonderful Easter Eggs for yourself and realize that Back to the Future got a LOT more right about 2015 than everybody seems to think.
About Kurt Kroeber
From deep within the murky depths of the Los Angeles River emerged a creature: 50% raver, 50% comedian, 10% Robotcop. Kurt Kroeber doesn't own a dog, operates Soundbleed (the world's only dance party comedy talk show rave), and is down to party with you. Come up some time and say "Hey dude!" But definitely make sure to casually drop the secret Illuminati password.