10 TWITTER MOMENTS: ARIANA GRANDE AND PETE DAVIDSON ARE HALLOWEEN-READY
I'm not sure about you, but I'm SO ready for the arrival of fall! Not only does it mark the return of the Pumpkin Spice Latte, but it also means that I'll FINALLY have a semi-socially acceptable excuse to lock myself in my house and spend the entire day scrolling through Twitter! It's going to be GREAT! While I wait for the last of this hot weather to dissipate, however, I've still managed to unearth some 280-character gems for you this week as part of the latest edition of We Are: The Guard's Twitter Moments! Stop whatever you're doing for the next 30 minutes or so, then, as it's time for you to check out the following tweet highlights from Ariana Grande, Halsey, Camila Cabello, Best Coast, Kanye West, and more!
-
ARIANA GRANDE AND PETE DAVIDSON ARE HALLOWEEN-READY
fall ! she is coming thank fuck as i've left my pumpkins and cobwebs up since last year and pete jus put up ghost lights

— Ariana Grande (@ArianaGrande) August 24, 2018
There are a whole ton of reasons to get excited for fall, but we all know that the main one is HALLOWEEN! If I could live every day like its October 31st, I TOTALLY would, and apparently the same goes for the Grande-Davidson household! The big question remains, however, who will the couple be going as this year?! Perhaps themselves?! Because, let's face it, Ariana and Pete dress-up is SO going to be a thing this All Hallows' Eve!
THIS IS WHY HALSEY IS A QUEER ICON
people bring anti-LGBT religious propaganda to my concerts a lot and it's like, I feel like I've done enough good in the world that God's gonna forgive me for eating some pussy.

— h (@halsey) August 27, 2018
Nothing to see here, just Ashley Nicolette Frangipane straight-up SNAPPING! Sorry not sorry, homophobes! WE STAN A BISEXUAL LEGEND!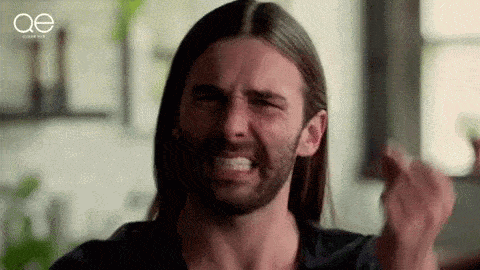 TEATIME WITH NINA NESBITT
be open minded and give new artists/bands a chance. just because your friends don't know who they are, it doesn't mean the artist/band is shit or that you shouldn't like them. some of the best music is still undiscovered ‍♀️

— Nina Nesbitt (@ninanesbitt) August 22, 2018
NINA NESBITT WITH THE TEA! We Are: The Guard pretty much spend every day discovering and supporting new artists, so it goes without saying that we totally agree with this tweet from the British singer-songwriter! On that note, turn off whatever radio station it is that you're currently tuned into and instead go and listen to Nina's latest single "Loyal to Me," because let me tell you, THAT SHIT ISSA BOP!
IT'S CAMILA CABELLO'S WEDGIE AND SHE'LL PICK IT IF SHE WANTS TO
I'm glad paparazzi don't follow me around because what they would see is literally me picking my wedgie 24/7

— camila (@Camila_Cabello) 24 August 2018
LMAO! Camila Cabello is the REALEST on Twitter and I absolutely LOVE her for it! Seriously, though, I'm SO glad that I'm not famous because I literally DREAD to think of all of the humiliating, embarrassing, and gross things that the paparazzi would catch me doing on camera! Like, CAN'T A BITCH POP HER PIMPLE IN PEACE?!
AEROSMITH'S STEVEN TYLER <3 JESSIE REYEZ
"Your're Great"...@Aerosmith Steven Tyler.......dude.....HOW IS THIS REAL LIFE pic.twitter.com/fdJchO0Iye

— Jessie Reyez (@Jessiereyez) 21 August 2018
His performance with Post Malone was all kinds of mentally scarring, although I'm willing to forgive Aerosmith frontman Steven Tyler after seeing this video of him TOTALLY FANBOYING over Jessie Reyez at the VMAs! I mean, can you blame him?! Her live rendition of "Apple Juice" was basically the only thing that prevented last week's award ceremony from descending into official trainwreck territory!
DISCOVER YOUR RAP NAME WITH BEST COAST'S BETHANY COSENTINO
young Del Taco https://t.co/KCbbIDwat8

— Best Coast (@BestCoast) 27 August 2018
Young Tampons! WHAT?! I personally think that it has a ring to it!
JESSE SAINT JOHN IS ABOUT TO MAKE FALL HIS BITCH
this summer I played for 20,000 people, went to Hawaii, wrote an EP, & got a top 40 hit. maybe best summer ever. ready for fall tho ✨ pic.twitter.com/SJLMnyyIYv

— jesse saint john (@jessesaintjohn) 21 August 2018
I'm SO proud of jesse saint john! The We Are: The Guard signee has had the BEST SUMMER EVER, and he's only getting started! No, really, there's still LOTS to come from jesse this fall, but before I reveal too much, make sure to get your tickets to see him perform at our FIRST-EVER LIVE NIGHT at the Echoplex in Los Angeles next month, because trust me, it's going to be one HELL of a party!
KANYE WEST HAS OUTDONE HIMSELF WITH THESE GLOW-IN-THE-DARK YEEZYS
Can't wait for these glow in the dark 350s pic.twitter.com/xoko1QaGI8

— KANYE WEST (@kanyewest) 28 August 2018
Okay, okay, I know that I like to regularly make fun of Kanye West and his sneakers in this column, BUT GLOW-IN-THE-DARK YEEZYS?!
TEMI ONI WOULD LIKE YOU TO STOP ASKING ABOUT HER PREGNANCY PLANS, THANK YOU VERY MUCH
Hi. Please stop asking women when they plan on having kids/if they are pregnant. Thanks. Bye.

— Temi Oni (@HeyTemiOni) 27 August 2018
THIS! If any of my distant family members happen to be reading this column, now you know why I don't accept invites to your parties! MY WOMB, MY BUSINESS! P.S. For more Temi Oni content, check out this article that the "Pull up on You" singer recently wrote for Very Smart Brothas! It'll make you feel a lot of things!
FRND IS A MASTER OF EVIL
I sampled my friend fighting with his gf then made a drop out of it https://t.co/AJwOA9LHMu pic.twitter.com/sAFLPyLYV2

— FRND (@FRND) 27 August 2018
Concluding this week's Twitter Moments with this straight-up EVIL prank from We Are: The Guard fave FRND! Jokes aside, the drop that the "Before U I Didn't Exist" producer manages to create out of this argument between his friend and their girlfriend genuinely sounds like a legit bop! BRING ON THE FULL-LENGTH RELEASE!
-
Follow We Are: The Guard on Twitter for more! x
Jess Grant is a frustrated writer hailing from London, England. When she isn't tasked with disentangling her thoughts from her brain and putting them on paper, Jess can generally be found listening to The Beatles, or cooking vegetarian food.