10 TWITTER MOMENTS: BRUNO MARS IS AMERICA'S NEXT TOP MODEL
Thanks for joining me for the latest edition of We Are: The Guard's 10 Twitter Moments, everyone! If you're here to learn about the bird app ahead of Donald Trump's TikTok ban, then the team and I are happy to show you around. Just a warning you'll probably find a lot less dancing and a lot more complaining on this part of the Internet, but we nonetheless hope you enjoy your stay! Check out the following 10 tweets from Bruno Mars, Jennifer Lopez, Lil Nas X, and plenty of others.
-
BRUNO MARS IS AMERICA'S NEXT TOP MODEL
Sometimes I get so frustrated writing music I look in the mirror and say to myself "I should've been a model"

— Bruno Mars (@BrunoMars) August 3, 2020
Okay, so I appreciate he's lacking in the height department, but perhaps it's time to give Bruno Mars a shot, Rihanna?
Yo @rihanna I'd like to submit some of my headshots for your Fenty Skin Campaign. I just took some new ones that I'm really proud of.

— Bruno Mars (@BrunoMars) August 3, 2020
JENNIFER LOPEZ WOKE UP LIKE THIS
Good morning everyone!!! #MorningFace pic.twitter.com/VLBCfZEf66

— jlo (@JLo) August 1, 2020
Just your daily reminder Jennifer Lopez recently turned 51 years old. BRB, going to apply an entire bottle of anti-aging serum.
LIL NAS X HAS HAD ENOUGH OF COVID-19
corona is that nigga who already graduated but won't stop coming up to the school

— nope (@LilNasX) August 2, 2020
Erm, this! COVID-19 is most definitely overstaying her welcome. Like, we get it, b*tch?
P.S. Bruno Mars could never!
why rih eat me up like this pic.twitter.com/1pnwPy4TAQ

— nope (@LilNasX) July 29, 2020
MARK RONSON KNEW ABOUT FOLKLORE BEFORE THE REST OF US
Taylor actually telling me about #folklore back in 2016. On tape. Crazy pic.twitter.com/p5Hdbdtu1J

— Mark Ronson (@MarkRonson) July 29, 2020
"You better give me that 'Bloodbuzz Ohio' sh*t, you know, I'm not f*cking around." LMAO!
Thank you for keeping the secret til now https://t.co/r6ny2yasMw

— Taylor Swift (@taylorswift13) July 29, 2020
CHER WOULD LIKE YOU TO WEAR A MASK
Please wear Masks.
I wear gloves 2 pic.twitter.com/BJsD01SzT9

— Cher (@cher) August 2, 2020
From one mask-wearing icon, to another! We love safe, well-protected, and considerate music legends!
P.S. That outfit is ah-mazing, Cher!
CHLOE X HALLE AND RUPAUL'S DRAG RACE QUEENS GET SPICY
if you wanna be my lovaaa @spicegirls pic.twitter.com/gWWfKJX5Aj

— chloe x halle (@chloexhalle) July 31, 2020
Chloe x Halle dressing up as the Spice Girls with the queens from RuPaul's Drag Race is the most ambitious crossover event in pop cultural history. Vanessa Vanjie Mateo as Sporty Spice is literally giving me life!
CARDI B WANTS TO GROW OLD WITH OFFSET
I just wanna grow old together and curse you out infront of our grandkids

— iamcardib (@iamcardib) July 29, 2020
Cardi B and Offset are officially living the marriage dream. I just hope they'll continue to tweet from their retirement home come 2070.
MEGAN THEE STALLION THANKS THE HOTTIES FOR THEIR SUPPORT
Thank you to all the hotties that put something in the hottie book y'all sent me I'm sitting here reading through it smiling hard as hell pic.twitter.com/Ef2YrHwsDd

— HOT GIRL MEG (@theestallion) August 3, 2020
I'm not crying, you're crying! Seriously, though, we Hotties must protect Megan Thee Stallion at all costs!
KESHA DOESN'T WANT DONALD TRUMP TO BAN "TIK TOK"
May TikTok be with you pic.twitter.com/kNCxmHAmXL

— kesha (@KeshaRose) August 2, 2020
Kesha really said: "You may take my TikTok, but you'll never take my 'TiK ToK!'"
FINNEAS LOOKS TO THE FUTURE
When it is finally safe again, think about how GOOD it is going to feel to go to a concert with your best friends

— FINNEAS (@finneas) August 2, 2020
And finally, some food for thought from Billie Eilish's big bro FINNEAS. The light at the end of the tunnel may seem like a long way off yet, but when we do eventually reach it, it's going to be one hell of a moment to treasure.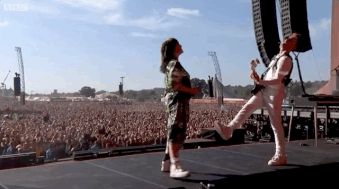 -
Follow We Are: The Guard on Twitter for lots more! xo
Jess Grant is a frustrated writer hailing from London, England. When she isn't tasked with disentangling her thoughts from her brain and putting them on paper, Jess can generally be found listening to The Beatles, or cooking vegetarian food.