10 TWITTER MOMENTS: DOJA CAT SERVED HOSPITAL CHIC AFTER HER THROAT SURGERY
Photo by Doja Cat
Is she telling us to quit our jobs?? Because I will, Beyoncé, I will! pic.twitter.com/K6lbMWCBoJ

— Bran. (@HeyyBran) June 21, 2022
Not Beyoncé telling me to quit my job.. Not after making me pay $50 for that mystery box pic.twitter.com/EXKxNDGXz6

— MBali (@TheJessieWoo) June 21, 2022
Me quitting my job because Beyoncé told me to pic.twitter.com/y5p2jvDcWo

— LEX (@iamlexstylz) June 21, 2022
Check out the latest edition of We Are: The Guard's 10 Twitter Moments, featuring Doja Cat, Lil Nas X, Harry Styles, and seven other faves!
-
DOJA CAT SERVED HOSPITAL CHIC AFTER HER THROAT SURGERY
— juxtapogina (@DojaCat) June 16, 2022
Hospital chic? A VIBE. A LOOK. AN AESTHETIC. I'm pretty sure only Doja Cat could make a patient gown and an intravenous drip look this good, LOL. Jokes aside, I really hope Doja's throat surgery went well and she's back to full health soon. Meanwhile, find me over here bopping to this rendition of Nicki Minaj's verse from "Bottoms Up." Killed it.
— juxtapogina (@DojaCat) June 16, 2022
LIL NAS X FELL FOR THE ZENDAYA PREGNANCY RUMORS
i hate twitter because i'm sitting here about to congratulate zendaya via dm about a baby that doesn't exist

— obamas cousin (@LilNasX) June 15, 2022
First things first, I'm glad to see I'm not the only one who fell for the recent rumor that Zendaya was pregnant, LMAO. Perhaps this is karma for Lil Nas X making us think he was pregnant a few months ago? Anyways, while she was quick to condemn the gossip, Zendaya should still definitely consider Nas X for any future uncle duties.
Honestly. A flex!

— LATE TO THE PARTY (@flowergirl7955) June 15, 2022
HARRY STYLES LIVED HIS BEST ROCK STAR LIFE AT WEMBLEY
Wembley, last night was one of my favourite shows we've ever played. I don't know where to begin thanking you, I'm completely overwhelmed. I'm so grateful, I'm so happy. Thank you, thank you.
I love you all. See you later. H

— Harry Styles. (@Harry_Styles) June 19, 2022
Harry Styles is truly out here living his best rock star life on Love on Tour, huh? No, really, you know you've reached superstar status when you're playing two sold-out nights at the iconic, legendary Wembley Stadium in London. Can we also take a moment to appreciate the tour fits? These heart-patterned dungarees are giving me life.
Love On Tour. London I. June, 2022. pic.twitter.com/zu9XEz3KzU

— Harry Styles. (@Harry_Styles) June 19, 2022
MITSKI HAD THE BEST TIME WITH HARRY ON LOVE ON TOUR
It's awe-inspiring, watching hundreds of people work together to put on an amazing show each night. Thank you so much to Harry and his team for the opportunity to see it all up close, to witness all the love and energy you put into your shows. It's a real privilege.

— mitski (@mitskileaks) June 16, 2022
While we're on the subject of Love on Tour, erm, IT SEEMS MY HEART IS MELTING? From Wet Leg to Arlo Parks, Harry Styles always has the best support acts, but Mitski is on a different level. I'm so happy my queen is getting to play such huge, gigantic stadiums and having the best time in the process. PROTECT MITSKI AT ALL COSTS.
HAVE YOU SEEN MITSKI TODAY pic.twitter.com/hngYT294uQ

— mitski's archive (@mitskithoughts) June 18, 2022
PHOEBE BRIDGERS GOT THE ICK OVER HER OWN LYRICS
lyrics are embarrassing

— traitor joe (@phoebe_bridgers) June 15, 2022
Phoebe Bridgers every time she writes lyrics:
so real pic.twitter.com/Gky0IgZQtK

— lia PHOEBE TOOK MY SHIRT (@beeefyfridgerss) June 15, 2022
BIG FREEDIA AND BEYONCÉ DROPPED THE SONG OF THE SUMMER
It feels surreal to be on the track with the Queen Beyonce once again I'm so honored to be apart of this special moment I'm forever grateful lord omeone please catch me #beyonce #bigfreedia #BreakMySoul pic.twitter.com/AL8jn5lX6J

— Big Freedia (@bigfreedia) June 21, 2022
From the house beats to the huge, motivational chorus, there's a lot to love about Beyoncé's comeback single, "BREAK MY SOUL." My fave part, though? Big Freedia, of course. It's no secret we're massive supporters of the Queen of Bounce here at We Are: The Guard, and I, for one, couldn't be more ready for a Big Freedia Summer.
"RELEASE YA ANGER"
"RELEASE YA MIND"
"RELEASE YA JOB"
"RELEASE THE TIME"
"RELEASE YOUR TRADE"
"RELEASE THE STRESS"
"RELEASE THE LOVE"
"FORGET THE REST"#BreakMySoul #Beyonce pic.twitter.com/e9MivYg7Xy

— "RELEASE YA TRADE" (@Alexzand3rr) June 21, 2022
KELLY ROWLAND BROKE THE INTERNET WITH A GORGEOUS SELFIE
— KELENDRIA ROWLAND (@KELLYROWLAND) June 17, 2022
Beyoncé has been dominating the headlines for obvious reasons of late, but it was actually a different Destiny's Child trending on Twitter on Friday. KELENDRIA. TRENÉ. ROWLAND. It isn't hard to see why looking at this Internet-breaking selfie. Gorgeous. Stunning. Radiant. P.S. Beyoncé and Kelly need to drop a house collab, already.
As a lifelong Rowland Stone, I must also call attention to fellow Child of Destiny Kelly Rowland's own fabulous, early '90s club love letter, which dropped around last year's Pride. (Michelle, you're up next.) pic.twitter.com/gvwyEFEkuz

— Bradley Stern (@MuuMuse) June 21, 2022
CHLOE BAILEY WAS THE ULTIMATE PROTECTIVE BIG SISTER
same energy pic.twitter.com/vPJbip0lfl

— Chlo¨e (@ChloeBailey) June 18, 2022
I'M NOT CRYING, YOU'RE CRYING. Chloe and Halle Bailey have the strongest, most indestructible bond, and clearly it's been that way since the very beginning. Chloe is the protective big sister I've always wanted in my life. Oh, and while I'm here, can I talk about that Something in the Water performance last weekend? MY GIRLS ROCKED IT.
i can't stop laughing omg ?????????????????????? https://t.co/tzGNsdeuIB

— Chlo¨e (@ChloeBailey) June 19, 2022
CHARLI XCX AND AUNTIE CHER NEED TO DROP THE COLLAB
totally true! https://t.co/H7OMTQQS13

— Charli (@charli_xcx) June 18, 2022
Not me Googling to see if this tweet was actually true, LMAO? I mean, you have to admit they do look kind of similar? Not to mention they're both visionary, forward-thinking pop queens who redefined the musical landscape as we know it? Anyways, I'm for sure not going to know peace now until Charli collabs with Auntie Cher.
This reply pic.twitter.com/PyCo4zKaWZ

— Perry O'Bree (@PerryOBree) June 18, 2022
CARDI B GOT IN TOUCH WITH HER INNER GANGSTA
Gangsta music excites me pic.twitter.com/QWozlB1ycq

— Cardi B (@iamcardib) June 20, 2022
Absolutely no one:
Cardi B: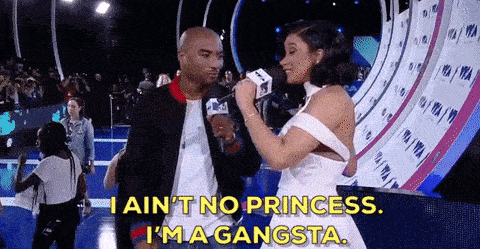 Before & after a couple drinks pic.twitter.com/l9NZKAxg27

— (@maryjaned0e) June 20, 2022
-
Follow We Are: The Guard on Twitter for more! xox
Sources:
Sad Meme
Cardi B GIF