10 TWITTER MOMENTS: DUA LIPA HAS A QUARANTINE PSA FOR US ALL
Hi, you guys! How are y'all holding up this Wednesday? At least, I think it's Wednesday? TIME IS A SOCIAL CONSTRUCT AND I'LL EAT PIZZA AT "10 IN THE MORNING" IF I DAMN WELL WANT TO, MOM! Ahem, sorry, I digress... Life doesn't make a whole lot of sense anymore, but if we're going to be stuck inside for the foreseeable future, we might as well have some fun with it, right? On that note, let's check in with our favorite artists on social media in the latest edition of We Are: The Guard's 10 Twitter Moments, featuring Dua Lipa, Cardi B, Halsey, and more!
-
DUA LIPA HAS A QUARANTINE PSA FOR US ALL
PSA - STAY AT HOME pic.twitter.com/tFlPMfBqov

— DUA LIPA (@DUALIPA) April 11, 2020
Nothing to see here, just Dua Lipa once again proving she's the queen of social distancing. Is anyone else starting to think there's some weird kind of coronavirus conspiracy going on here? *Side-eye emoji*
P.S. FIND ME A QUARANTINE LOVE LIKE DUA AND ANWAR HADID!
Our week in pictures: Evenings are for studio ghibli anime and the days are for hosting wild garden parties for 2. pic.twitter.com/C7snETRg1Y

— DUA LIPA (@DUALIPA) April 13, 2020
ARIANA GRANDE IS RECREATING SCENES FROM THE WATERBOY
another super productive day pic.twitter.com/qHXK2FXGND

— Ariana Grande (@ArianaGrande) April 8, 2020
SOMEONE GIVE JOAN GRANDE AN OSCAR...IMMEDIATELY!
A tough day for Bobby...Vicki...and Mama. https://t.co/jxKgcYa5Xq

— Adam Sandler (@AdamSandler) April 9, 2020
LIL NAS X JUST TURNED 21
blessed to see 21 pic.twitter.com/0WUdxIe9qX

— nope (@LilNasX) April 9, 2020
Leave it to memelord and all-round Internet king Lil Nas X to celebrate his 21st birthday in quarantine in style. I mean... A slice of bread, a stuffed Elmo, and Doja Cat. What more does a man need?
P.S. Twitter pulled UP!
thank u twitter pic.twitter.com/Fmmq32BnVB

— nope (@LilNasX) April 9, 2020
MOSES SUMNEY MISSES GROCERY SHOPPING AND HONESTLY I RELATE
I miss walking around the grocery store aimlessly in a dazed dissociative state

— Moses Sumney (@MosesSumney) April 12, 2020
RIGHT, MOSES? Being in quarantine has definitely taught me to appreciate the little things in life and walking around Walmart in a fugue state is most definitely one of them. Now it's a practical military operation just to get some tampons *sigh*.
ROBYN AND CHRISTINE AND THE QUEENS JUST ACKNOWLEDGED EACH OTHER'S EXISTENCE AND I CAN'T EVEN
Maybe you're the teacher

— Chris (@QueensChristine) April 10, 2020
That iconic moment when two queens acknowledge each other's existence on Twitter like it's absolutely nothing... DROP! THE! COLLAB!
LADY GAGA WISHES EVERYONE A HAPPY EASTER
Happy Easter to the world. Many are suffering right now, whether you celebrate Easter or not, I wish you the best day you could possibly have. Maybe just one smile. I wish that for you all today.

— Lady Gaga (@ladygaga) April 13, 2020
Lady Gaga taking time out from saving the world to wish everyone a happy Easter – a holiday she literally invented with the release of "Judas" in 2011? WE LOVE TO SEE IT!
CARDI B ORDERED A NASTY TACO BELL
Taco Bell why ya put the tomato ass on my chalupa ? This shit taste sooo good tho ! pic.twitter.com/eG9fFKCIU6

— iamcardib (@iamcardib) April 14, 2020
Don't get me wrong, I love me some Taco Bell (haters gonna hate), but this chalupa Cardi is eating right here looks nasty as HELL! With groceries in short supply, however, I guess a tomato ass is better than no tomato at all?
DANNY BROWN IS THE LATEST SIGN-UP TO HORNY TWITTER
This quarantine shit crazy I just saw a Jennifer Aniston Aveeno commercial and got a boner

— Danny Brown (@xdannyxbrownx) April 14, 2020
Uh-oh! It looks like "Dirty Laundry" rapper Danny Brown is the latest sign-up to horny Twitter after Tyler, the Creator. Just WAIT until you get a load of Jamie Lee Curtis advertising Activia for her "irregularity," Danny!
HALSEY ISN'T SURE WHETHER TO WATCH ANIME OR CLEAN HER HOUSE
clean kitchen and do laundry or stay bed and watch anime all day hey Siri is time a social construct ?

— h (@halsey) April 13, 2020
Did Halsey just sum up the internal conflict that is life in one solitary tweet? HER MIND! That said, we all know the answer to this question is stay in bed and watch anime EVERY TIME!
HAYLEY WILLIAMS IS OVER LOUNGEWEAR
anybody else sick of loungewear and house shoes? i been lookin like a saltine cracker in a shawl since about day 2 of qtine.

— hayley from Paramore (@yelyahwilliams) April 14, 2020
"Saltine cracker." I have never in my life felt so personally attacked like this.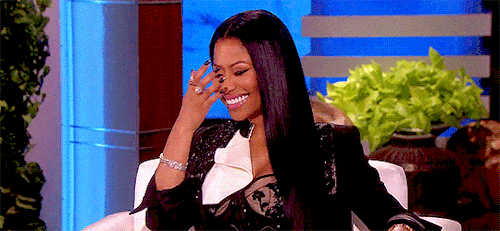 BONUS TWEET
I pray my haters die of corona virus

— Gucci Mane (@gucci1017) April 12, 2020
U OK hun?
-
Why not follow We Are: The Guard on Twitter for more? Stay safe, you guys! x
Jess Grant is a frustrated writer hailing from London, England. When she isn't tasked with disentangling her thoughts from her brain and putting them on paper, Jess can generally be found listening to The Beatles, or cooking vegetarian food.