10 TWITTER MOMENTS: JOHN LEGEND HAD A MESSAGE FOR KANYE WEST
Photo by John Legend
Music Twitter has quite frankly been a hellhole this week, but rather than bring further attention to THOSE Kanye West tweets, let's instead use this introduction to enjoy Seth Rogen rolling a blunt in psychedelic acrylic nails:
Here's me rolling a joint with these nails: pic.twitter.com/FDTxU3Nwoh

— Seth Rogen (@Sethrogen) October 9, 2022
I LOVE HIM.
Check out the following tweets from John Legend, Cardi B, Lil Nas X, and seven others.
-
JOHN LEGEND HAD A MESSAGE FOR KANYE WEST
Weird how all these "free, independent thinkers" always land at the same old anti blackness and anti semitism.

— John Legend (@johnlegend) October 10, 2022
There's a whole lot I could say about the Kanye West situation, but honestly? I think I'll leave it to this tweet from Kanye's former close friend, John Legend. Meanwhile, if you'd like to learn more about the history of antisemitism, please visit the United States Holocaust Memorial Museum's website.
— chris evans (@notcapnamerica) October 10, 2022
CARDI B AND KULTURE TOOK ON CHUCKY
Sure but…….she not one of them kids tho https://t.co/PMEgohtZT4 pic.twitter.com/UOtHzChZ16

— Cardi B (@iamcardib) October 5, 2022
SKSKSK. Not Cardi B's three-year-old daughter Kulture taking on Chucky just in time for Halloween? Looking at the state of that doll and Kulture's subsequent death threat, it appears as though Chucky has definitely messed with the wrong kid. Chucky vs. Kulture: The Movie WHEN?
Well…. https://t.co/KPfkdOUI2N pic.twitter.com/yMz5p14YYS

— Cardi B (@iamcardib) October 6, 2022
LIL NAS X RESPONDED TO ANDREW TATE
andrew tate please stop mentioning me! i am never gonna let u smash loser! https://t.co/UHjAUAgPmR

— im not reading all that (@LilNasX) October 7, 2022
LMAO. Are you seriously telling me Lil Nas X twerking on the devil is really out here living in these grown men's minds, free of rent, TO THIS DAY? I have to laugh. Anyways. Twitter user Ann Marie Lastrassi is right, Lil Nas X definitely needs to book Andrew Tate on The Montero Show.
Bring him on as a guest pic.twitter.com/dZYp4TcPJm

— Ann Marie Lastrassi (@DebJellinsky) October 7, 2022
MEGAN THEE STALLION BECAME A REDHEAD
— TINA SNOW (@theestallion) October 5, 2022
Ah, so THIS is what Megan Thee Stallion was hiding underneath her pumpkin head? Judging by the 100,000 likes and counting on this tweet, I'm not the only one who thinks Meg looks absolutely amazing as a redhead. It's giving Ariel meets Black Widow meets Jessica Rabbit?
oh baby you're gorgeous pic.twitter.com/MTdQ8BOd2X

— DK SPOOKY SZN (@bonjourplaygirl) October 5, 2022
BLINK-182 ANNOUNCED THEIR REUNION
We're coming. Tour's coming. Album's coming. Tom's coming. Tickets on sale Monday. New song "Edging" out Friday. https://t.co/lJmgXqI4ab pic.twitter.com/7y0ZoYTcQc

— blink-182 (@blink182) October 11, 2022
BLINK-182 IS COMING.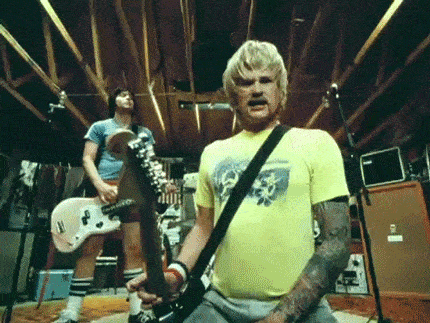 Every blink-182 fan right now. pic.twitter.com/j87EXVEV6v

— TAKING ZACH SUNDAY (@zachredrup) October 11, 2022
HALLE BAILEY WENT FOR A COFFEE RUN
caught on a good outfit day pic.twitter.com/YHjy2zhpHa

— Halle (@HalleBailey) October 9, 2022
Halle Bailey is THAT bitch, huh? How come I don't look this good while running errands and grabbing a coffee? Okay, so I'd admit I'd probably be doing those things in sweatpants and with a messy bun, but it's beside the point. THIS IS HALLE'S WORLD AND WE'RE JUST LIVING IN IT.
It's giving baby Janet

— Mrs. Aunie Shark ✨✨ (@astoldby_Britt) October 9, 2022
THE WEEKND DROPPED THE TRAILER FOR THE IDOL
2023 THE IDOL @HBO pic.twitter.com/tKlNuNzhVH

— The Weeknd (@theweeknd) October 6, 2022
The way I'm about to be so insanely obsessed with this show? I mean, just get a load of the cast: The Weeknd. Lily-Rose Depp. Jennie. Troye Sivan. Moses Sumney. OBSESSED, LIKE I SAID. Between this and Euphoria, 2023 is really going to have a chokehold on the Tumblr girlies.
2023 ?! We need it now SIR !

— denji (@98WKND) October 6, 2022
RIHANNA GOT COZY IN SAVAGE X FENTY
thottin just got cozy… @SavageXFenty #savageXlounge pic.twitter.com/N83VSuPORb

— Rihanna (@rihanna) October 10, 2022
I FULLY CHOKED? Rihanna is back on Twitter, and while there's still no mention of THAT new music she's apparently working on, RiRi nevertheless left me quaking with this Savage X Fenty ad. P.S. Something tells me Rihanna has definitely been listening to RENAISSANCE.
Better than nothing

— (@crazyykreed) October 10, 2022
TYLER, THE CREATOR HYPED UP THIS MARCHING BAND
YEAHHHHHH I LOVE THIS TYPE OF SHITTTT KEEP IT GOING, LOVE THE BREAK DOWN ALSO GOOD JOB https://t.co/RwGWIntpwR

— T (@tylerthecreator) October 9, 2022
"Tyler, the Creator hyping up high school marching bands" is quickly becoming my favorite genre of tweet. Why does this arrangement of CALL ME IF YOU GET LOST favorite "LEMONHEAD" go so hard though? Shout out to the Dover High School Senator Marching Band for totally killing it.
yes bro i play for this marching band and bruh i was so excited to see him recognize us

— Eli Reese (@INoteli) October 9, 2022
JACK ANTONOFF ENTERED HIS REPUTATION ERA
kanye a little bitch

— jackantonoff (@jackantonoff) October 10, 2022
HE SAID WHAT HE SAID.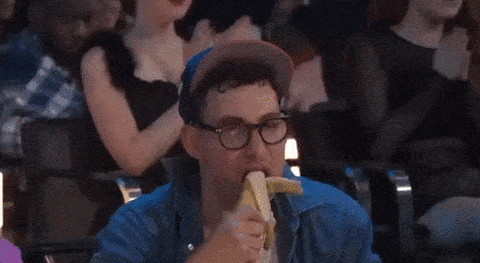 is this the name of a reputation vault track?

— josh (taylors version) (@MidnighTSStyle) October 10, 2022
-
Follow We Are: The Guard on Twitter for more. xo
Sources:
blink-182 GIF
Jack Antonoff GIF
Jess Grant is a frustrated writer hailing from London, England. When she isn't tasked with disentangling her thoughts from her brain and putting them on paper, Jess can generally be found listening to The Beatles, or cooking vegetarian food.