10 TWITTER MOMENTS: KANYE WEST TO RELEASE A NEW ALBUM NEXT WEEK?!
Now that it's fall, I love nothing more than to spend my days snuggled up by my imaginary fire and creeping on my faves on social media. Seriously, why do I need to "socialize" or "go outside" when I have Twitter to keep me entertained and emotionally invested on a 24/7 basis?! Luckily for you, I'm a generous person who's happy to share the results of these daily stalk seshes, hence We Are: The Guard's 10 Twitter Moments. Grab a hot cocoa, then, as it's time for you to scroll through this week's 280-character highlights from Kanye West, Iggy Azalea, AURORA, Halsey, Alessia Cara, and plenty of others.
-
KANYE WEST TO RELEASE A NEW ALBUM NEXT WEEK?!
— KANYE WEST (@kanyewest) September 18, 2018
I've lost count of the amount of albums that Kanye West has released this year, but apparently Ye isn't planning on slowing down any time soon, at least judging by this screenshot! Whether Yandhi is going to be an EP, LP, or something else altogether remains to be seen, but with both this and his Chance the Rapper collaborative album – which Kanye recently confirmed is titled Good Ass Job – in the pipeline, it'd appear as though Yeezy Season is only getting started this fall!
IGGY AZALEA DOESN'T APPROVE OF EMINEM'S "KILLSHOT"
Diss songs shouldn't be filled with celebrity name drops to pad out lazy bars.

— IGGY AZALEA (@IGGYAZALEA) September 14, 2018
Sooo, am I the only person who's with Iggy Azalea on this one?! Don't get me wrong, I'm not the biggest fan of her music, and she's the last person who should be commenting on "lazy bars," but for real. What's Eminem's obsession with her?! It's like he can't write a diss track without mentioning her. Keep this shit between you and Machine Gun Kelly (okay, and maybe Diddy), Em.
KING PRINCESS ON ARIANA GRANDE AND PETE DAVIDSON'S PET PIG
I j'adore how rich people buy pigs as pets

— King Princess (@KingPrincess69) September 16, 2018
LOL! My thoughts exactly, King Princess! While most young broke couples are content with adopting a kitten from the local shelter, Ariana Grande and Pete Davidson took it one step further this week and adopted an actual fucking pig. Do they not realize that Piggy Smallz (no, really, that's literally what they've named the thing) will grow in excess of 600 pounds?! Still, that's going to make for some pretty interesting paparazzi shots around New York City!
AURORA IS THE ULTIMATE MANIC PIXIE DREAM GIRL
Just letting you know I'm alive and well. I'm playing a lot of sims 4. And I'm drinking a lot of water. I dream nice dreams where I can fly and talk to animals. And I'm making music.

— AURORA (@AURORAmusic) September 12, 2018
AURORA every time that she sends a tweet:
WEEZER'S RIVERS CUOMO IS A MITSKI STAN
Mitski is making me feel powerful and confident

— Rivers Cuomo (@RiversCuomo) September 16, 2018
Following on from her interview and live performance on The Daily Show With Trevor Noah, Mitski continues her ascent to indie stardom this week thanks to this cosign from none other than Rivers Cuomo! Now all I need is for Mitski and Weezer to collaborate for my life to be complete! I'm serious, if the Internet was able to make that "Africa" cover happen, I can make this happen!
FINNEAS HAS SOME ADVICE
Stop making shit that sounds like other shit

— FINNEAS (@FinneasOConnell) September 14, 2018
FINNEAS: King of not making shit that sounds like other shit! LOL! Seriously, though, I think this pretty much every time that I turn on the radio. Why does EVERY song sound the same?! It's so BORING! All I can say is, thank GOD that we have FINNEAS – not to mention his little sister Billie Eilish – to save us from the fiery pits of average pop music hell!
HALSEY WANTS TO BRING BACK THE BELLY BUTTON RING
Can we all mutually agree to bring back bellybutton rings.

— h (@halsey) September 15, 2018
As someone who grew up worshipping the "I'm a Slave 4 U" video, I'm SO here for the return of the belly button ring! Sure, I may've witnessed my older sister's piercing get ripped out of her navel one time, causing her to pass out on the floor beside me, but that's the price that you pay for early noughties excellence!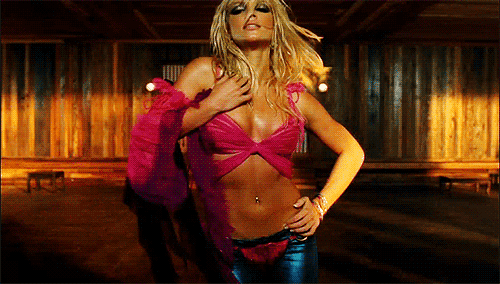 ALESSIA CARA AND ALEC BENJAMIN ARE GOING TO WRITE A SONG TOGETHER
let me down slowly is so so good.
& thank you! I'd love to. https://t.co/2DOgiDXagB

— ac (@alessiacara) September 15, 2018
OMG! I love seeing my faves connecting with my faves over Twitter! And I love it even more when music results from it! Alessia Cara and Alec Benjamin are no doubt two of the most talented young songwriters in the pop game, so it goes without saying that I can't wait to hear what they both come up with when they finally get around to working with each other! No, really, my ears are SO ready to be blessed by this!
THE PAPARAZZI WON'T LEAVE LEWIS CAPALDI ALONE
fucking spotted once again, i wish the paparazzi would respect my privacy. i'm just a regular guy like everyone else and by everyone else i mean Beyonce, Jay Z, Ellen Degeneres the Obama's pic.twitter.com/bs08530iNi

— Lewis Capaldi (@LewisCapaldi) September 14, 2018
Remember when I called Scottish singer-songwriter Lewis Capaldi the funniest musician on Twitter?! Well, I meant it! Perhaps these, ahem, "paparazzi" were trying to get a sneak preview of your next single "Grace," Lewis?! :P
POPPY VS NICKI MINAJ
Nicki Minaj is here... I should probably apologize, right?

— Poppy (@poppy) September 18, 2018
This is the beef that I needed this 2018! That's right, although most news outlets are reporting that it was Cardi B who threw her shoe at Nicki Minaj, the REAL perpetrator was in fact the Internet Girl herself, Poppy! The big question remains, however, will Poppy finally apologize to Nicki while both are in Spain for Milan Fashion Week?! Stay tuned to find out!
-
Don't forget to follow We Are: The Guard on Twitter for more 280-character highlights! x
Jess Grant is a frustrated writer hailing from London, England. When she isn't tasked with disentangling her thoughts from her brain and putting them on paper, Jess can generally be found listening to The Beatles, or cooking vegetarian food.