10 TWITTER MOMENTS: KANYE WEST SINGS KARAOKE WITH MARK ZUCKERBERG
So you've consumed your body weight in mashed potato, you've demolished every last slice of pumpkin pie in sight, and you've had your post-Thanksgiving dinner nap. Now what? Of course, there IS the option of, you know, actually speaking to your relatives, but why would you do that when you could check out the latest edition of We Are: The Guard's 10 Twitter Moments instead? Celebrities have far more interesting things to say than your drunken uncle, anyway, so without further ado, grab whatever leftover nibbles that you can, as it's time to scroll through the following 280-character highlights from Kanye West, The Weeknd, Ariana Grande, and plenty of others.
-
KANYE WEST SINGS KARAOKE WITH MARK ZUCKERBERG
We sang Backstreet Boys I want it that way pic.twitter.com/IzGHk7i7OP

— ye (@kanyewest) November 15, 2018
The simulation just keeps getting weirder and weirder. Fresh from his appearance at Camp Flog Gnaw, Kanye West took to Twitter this week to share this photo of him singing the Backstreet Boys classic "I Want It That Way" at a karaoke bar with Facebook CEO and probable robot Mark Zuckerberg. No word on whether Mark finally got around to giving Ye the $1 billion that the rapper requested from him back in 2016 while they were at it.
KEHLANI IS STARTING GAME OF THRONES
don't judge me here folks....

i'm just now....

starting game of thrones.

ok muting this cuz y'all bout to CHEW ME. TOODLES.

— Kehlani (@Kehlani) November 19, 2018
It's reassuring to know that I'm not the only human being with a television who's yet to watch Game of Thrones. Truly, though, I can't think of a better way for Kehlani to live her pregnancy life than binging on a supermassive GOT box set. Perhaps she'll even pick up some parenting tips from the Mother of Dragons herself, Daenerys Targaryen?
DIDDY PAYS TRIBUTE TO KIM PORTER
For the last three days I've been trying to wake up out of this nightmare. But I haven't. I don't know what I'm going to do without you baby. I miss you so much. Today I'm going to pay tribute to you, I'm going to try and find the words to explain our unexplainable relationship. pic.twitter.com/QtVnUrv0ep

— Diddy (@Diddy) November 18, 2018
Last Thursday, the music industry was rocked by the death of Kim Porter, with Rihanna, Nicki Minaj, and Drake among the artists to pay tribute to the model. Kim's ex-lover Diddy also took to Twitter to pay his respects to the 47-year-old, with the rapper posting a message about their "unexplainable relationship" along with a tender video of the couple posing for a photo shoot. RIP, Kim. Don't forget to hug your relatives a little tighter this Thanksgiving.
EMAN8'S BRANDYN BURNETTE AND MOLLY MOORE ARE RELATIONSHIP GOALS
Woke up next to you https://t.co/FDiNEqhMmA

— EMAN8 (@Eman8) November 18, 2018
At risk of sounding curmudgeonly, I find nothing more nauseating than couples PDA-ing their way across social media (remember Ariana Grande and Pete Davidson?). That said, EMAN8's Brandyn Burnette and Molly Moore can express their love on my Twitter feed as much as they like. Their genuine, healthy relationship is one to aspire to – plus you just know that they're going to make the most talented musical babies ever!
GUCCI MANE IS HUNGRY FOR THANKSGIVING DINNER
Thanksgiving need to hurry up!!
I'm so hungry

— Gucci Mane (@gucci1017) November 19, 2018
Big Thanksgiving mood.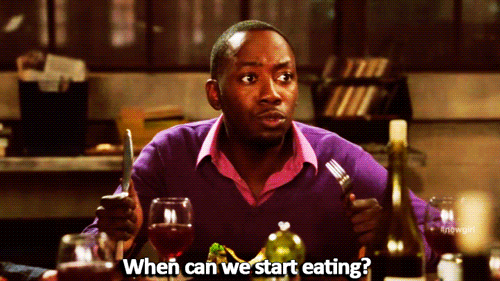 ALEC BENJAMIN WANTS US TO LIVE OUR TRUTH
in high school and middle school i got made fun of for singing and wearing tight pants

there were times i thought about giving up music and changing my appearance to fit in

i am so happy that I didint do that

do what you love & wear what you want

— Alec Benjamin (@AlecBenjamin) November 18, 2018
Alec Benjamin writes songs that are wise beyond his years, and it'd appear that his social media posts are equally as sage. It sucks to think about the talent that we would've lost had the 24-year-old given in to the bullies and peer pressure and stopped making music while growing up in Phoenix, Arizona, so do as the young man says and never stop living your truth!
THE WEEKND LOVES DOGS
we don't deserve dogs.

— The Weeknd (@theweeknd) November 17, 2018
AMEN. Prior to reading this tweet, I wouldn't have put The Weeknd down as a dog person, but I guess that hairstyle is finally starting to make sense. Jokes aside, for more The Weeknd pupper content, check out his Instagram, which basically consists entirely of photos of Abel Tesfaye's Doberman Pinscher that he adopted following his split from Selena Gomez in 2017.
ARIANA GRANDE DRAGS PIERS MORGAN
Ellen is an incredible & kind human being.. I use my talent AND my sexuality all the time because i choose to. women can be sexual AND talented. naked and dignified. it's OUR choice. & we will keep fighting til people understand. i say this w all due respect but thank u, next. https://t.co/wSknRSlJN8

— Ariana Grande (@ArianaGrande) November 21, 2018
Piers Morgan might be the second most obnoxious man to use Twitter after Donald Trump, so it was extremely satisfying to see the British, ahem, "journalist" get dragged by Ariana Grande and her mother Joan following his sexist comments about that Little Mix photo shoot this week. As for Ellen DeGeneres, I'm still trying to work out quite how she got involved with this whole drama, but long live feminist queens supporting feminist queens!
ANDERSON .PAAK STOPS TRAFFIC
DONT TALK TO ME IM CHANGING MY NUMBER!!!! #OXNARD IS EVERYWHERE pic.twitter.com/zdrT3HeYPo

— CHEEKY ANDY (@AndersonPaak) November 21, 2018
Anderson .Paak dropped Oxnard last Friday, and despite my initial skepticism, I was pleased to discover that the album was far from an underwhelm. Whether that gives the rap artist a pass to stop Los Angeles traffic in order to dance in front of a billboard with his face on it is debatable, but as Oxnard makes clear, this is Anderson's world, and we're all living it in.
JESSE SAINT JOHN IS SONGWRITING ROYALTY
Damn I really am a king of songwriting

— WHAT DO U LIKE (@jessesaintjohn) November 19, 2018
FACTS. jesse saint john has been the brain behind some of my favorite bops for almost half a decade now, working with Charli XCX, Britney Spears, Camila Cabello, and more, but 2019 is going to be the year that we really start to see the LGBT pop icon assuming his own rightful place in the spotlight. It's an understatement to say that I'm excited for what's to come, but in the meantime, find me over here losing my shit to jesse's single "MOVE," which came out in February on We Are: The Guard.
-
Follow We Are: The Guard on Twitter for even more 280-character highlights! Happy Thanksgiving! x
Jess Grant is a frustrated writer hailing from London, England. When she isn't tasked with disentangling her thoughts from her brain and putting them on paper, Jess can generally be found listening to The Beatles, or cooking vegetarian food.