10 TWITTER MOMENTS: KIM PETRAS STANDS UP FOR TRANS RIGHTS
So I was reading an article the other day that claimed Twitter recently experienced its "saddest fortnight ever." But although it's been an emotionally draining couple of weeks, I think we can agree this month has proven what a galvanizing force social media can be. It's been genuinely inspiring watching allies and activists around the world taking to their online platforms to push for real change. And while timelines may be slowly starting to return to "normal," remember this isn't over. Black lives still matter – today and every day. So "stay loud," use your voice, and keep up the pressure. Our work, after all, is far from done. Check out this week's edition of We Are: The Guard's 10 Twitter Moments, featuring Kim Petras, Lil Nas X, Kacey Musgraves, and more.
blm should not just be a one week "trend" but sadly my tl isn't talking about it anymore. so HERES A THREAD OF PETITIONS TO SIGN IF YOU HAVENT YET !! #BlackLivesMatter

— alaina ◟̽◞̽ BLM (@hs_canyonmoon) June 11, 2020
-
KIM PETRAS STANDS UP FOR TRANS RIGHTS
i am a woman and i want to be seen and treated as one but i am also proud of being transgender and don't feel insulted when people call me a trans woman . it's not easy . it's weird and some people will never get it . but that doesn't make me any less or any more . that's all .

— KIM PETRAS (@kimpetras) June 10, 2020
Erm, ended Harry Potter, much? Jokes aside – we officially have no choice but to stan the unapologetic trans pop legend that is Kim Petras! #TransRightsAreHumanRights #JKRowlingIsOverParty
THIS TWEET FROM LIL NAS X HAS AGED TERRIBLY
it's cause y'all kept scrolling https://t.co/JFtQuiJpCe

— nope (@LilNasX) June 15, 2020
When it comes to tweets that have aged terribly, I have to say this one from Lil Nas X is most definitely up there. Clearly, the "Old Town Road" rapper isn't the positive-energy-manifesting king we hoped he was back in December *sigh*.
KACEY MUSGRAVES IS VISITED BY A FAWN
I am unwell pic.twitter.com/GSyFL0AE76

— K A C E Y (@KaceyMusgraves) June 13, 2020
The world is turning to sh*t, so here's a couple of photos of an adorable fawn that recently visited the Kacey Musgraves and Ruston Kelly residence in Nashville to make you smile. YOU'RE SO VERY WELCOME!
MEGAN THEE STALLION IS AN EDUCATED QUEEN
Although school is not for everyone do not let people discourage you from pursuing a higher education. We need the upcoming generation with better mindsets to become our next lawyers, judges, doctors, etc. We need GOOD people with real morals and values in high places.

— HOT GIRL MEG (@theestallion) June 12, 2020
AN EDUCATED QUEEN! Hot Girl Semester is coming!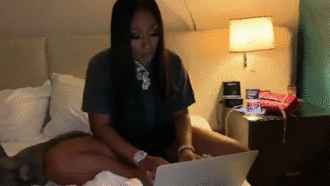 f
HAPPY PRIDE MONTH TO HALSEY
halsey/ashley
she/her
bisexual
loves u, dearly. pic.twitter.com/JG6249y1E6

— h (@halsey) June 14, 2020
Happy Pride Month to the queer icon herself, Halsey! Oh, and while we're here, can we take a moment to talk about how freaking sweet those curls are? Drop the hair routine ASAP, Ashley!
NICKI MINAJ IS TWEETING LIKE A BOOMER
What's a fan cam?

— Mrs. Petty (@NICKIMINAJ) June 12, 2020
Nicki Minaj tweeting like a boomer is honestly my new aesthetic.
How do I get on his live?

— Mrs. Petty (@NICKIMINAJ) June 12, 2020
JAMES BLAKE AND JAMEELA JAMIL'S PUPPY IS PRECIOUS
Barold Jamil-Blake https://t.co/VhqoHY52Hi

— James Blake (@jamesblake) June 16, 2020
James Blake and Jameela Jamil see your adorable fawn, Kacey Musgraves, and raise you THIS! Is anyone else feeling fuzzy from looking at this photo? WE MUST PROTECT PRECIOUS BAROLD AT ALL COSTS!
DUA LIPA HAS CHANGED HER HAIR COLOR AGAIN
The brighter the hair the closer to god pic.twitter.com/hEOHkrviWS

— DUA LIPA (@DUALIPA) June 12, 2020
Dua Lipa's ever-changing hair color has quite frankly been the highlight of my whole entire quarantine. Not to mention I'm getting some serious Gerard Way circa Danger Days: The True Lives of the Fabulous Killjoys vibes from this particular shade, so I obviously approve.
KEHLANI'S DAUGHTER CONTINUES TO BE THE CUTEST
some free joy for the TL. pic.twitter.com/tqI8X1yhP2

— Kehlani (@Kehlani) June 12, 2020
A fawn? Barold? Adeya Nomi? THIS IS TOO MUCH CUTE FOR ONE COLUMN!
i look at you and see hope for the world.
ANP pic.twitter.com/jdY9WZMbr9

— Kehlani (@Kehlani) June 13, 2020
ELLA MAI SUMS UP 2020 IN ONE TWEET
the only thing that has been consistent this year is what the fuck.

— Ella Mai (@ellamai) June 13, 2020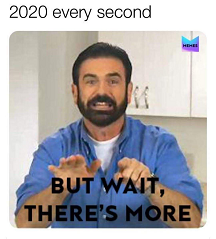 -
Follow We Are: The Guard on Twitter for more! x
Jess Grant is a frustrated writer hailing from London, England. When she isn't tasked with disentangling her thoughts from her brain and putting them on paper, Jess can generally be found listening to The Beatles, or cooking vegetarian food.