10 TWITTER MOMENTS: LADY GAGA FELL ASLEEP DURING THE GRAMMYS
It was the Grammy Awards: The Pandemic Edition over the weekend, which means Music Twitter has pretty much been dedicated to one trending topic and one trending topic only over the last few days. That, and the occasional Moneybagg Joe meme, but that's another Internet Hole for another time. On that note, let's check in with this extra-special Grammy version of We Are: The Guard's 10 Twitter Moments, featuring Ariana Grande, Harry Styles, Phoebe Bridgers, and plenty of others!
-
LADY GAGA FELL ASLEEP DURING THE GRAMMYS
MOTHER MONSTER WAKE UP @ladygaga !!!!!!!!??? pic.twitter.com/PsX6REMa6E

— Ariana Grande (@ArianaGrande) March 14, 2021
Lady Gaga falling asleep during the Grammy Awards is the kind of unbothered energy I'm living for this 2021. Mother Monster tweeted she was tuning in and then literally went straight to bed, leaving her "Rain on Me" collaborator Ariana Grande to celebrate all on her own. I have to laugh!
— Ariana Grande (@ArianaGrande) March 14, 2021
HARRY STYLES SIZZLES IN LEATHER
Grammys, March 2021. pic.twitter.com/clAMDOWXqQ

— Harry Styles. (@Harry_Styles) March 15, 2021
Harry Styles in leather and feather boas is officially my new fetish. The man looked unbelievably sizzling at Sunday night's ceremony and I'm pretty sure I haven't been the same since. P.S. Petition for Blood Orange's Dev Hynes to become a permanent member of The Harry Styles Band!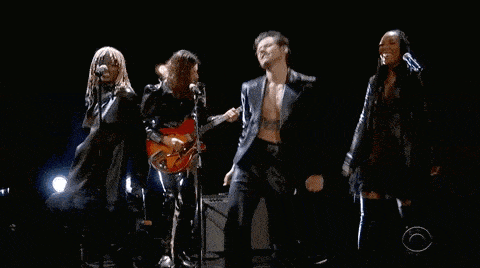 ELTON JOHN IS A PHOEBE BRIDGERS STAN
this headline deserves a grammy https://t.co/kBGb7SUFBj

— traitor joe (@phoebe_bridgers) March 12, 2021
Elton John after the results were announced on Sunday evening: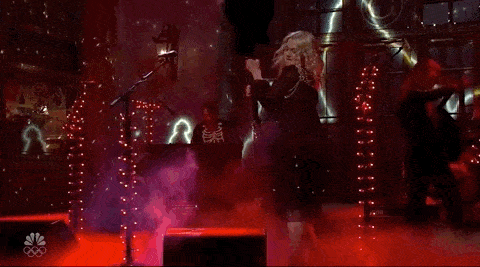 jk megan you're a fucking legend

— traitor joe (@phoebe_bridgers) March 15, 2021
MEGAN THEE STALLION HAS A GRAMMY AWARD-WINNING "WAP"
Finna give him this Grammy winning pic.twitter.com/iECblX3HAf

— TINA SNOW (@theestallion) March 15, 2021
Megan Thee Stallion really said: "Bring a bucket and a mop for this Grammy Award-winning p*ssy!" Speaking of which, I'm sure I'm not the only one who hasn't stopped thinking about Megan and Cardi B's performance of "WAP" on Sunday night. I mean, that choreo? *Fans self*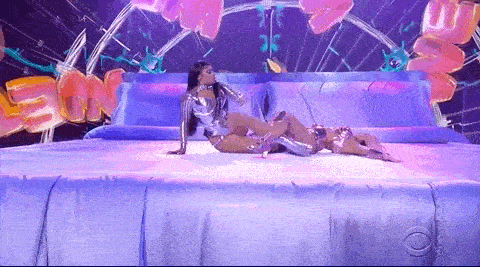 CARDI B ALMOST FARTED AT THE GRAMMYS
Slang me so hard almost made me fart https://t.co/UyaRFAfn86

— iamcardib (@iamcardib) March 16, 2021
What Seth Rogen said:
As long as it wasn't a WAF.

— Seth Rogen (@Sethrogen) March 16, 2021
TAYLOR SWIFT THANKS THE SWIFTIES AFTER HER BIG WIN
The fans are the reason we're floating tonight, and we'll never forget it. pic.twitter.com/njcuumt52u

— Taylor Swift (@taylorswift13) March 15, 2021
I'M SUCH A PROUD SWIFTIE! It came as no surprise when folklore won the biggest award on Sunday evening, but still. Taylor Swift's music has been a shining light for a lot of us during the pandemic, so this couldn't feel more deserved. Plus, that performance? Magical!
BTS REACT TO LOSING THEIR FIRST-EVER GRAMMY AWARD
that moment pic.twitter.com/z6DquLPnYN

— (@BTS_twt) March 15, 2021
I'M NOT CRYING, YOU'RE CRYING! While I'm ridiculously sad BTS lost their first-ever Grammy Award on Sunday night, these boys will always be winners in my heart of hearts. Plus, can we take a moment to appreciate that group hug at the end of this video? The absolute cutest!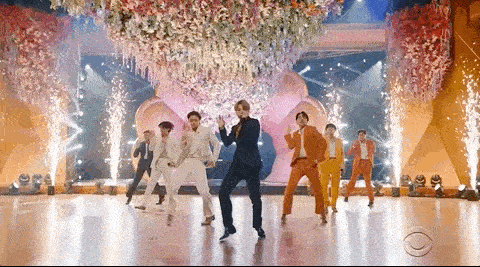 DUA LIPA IS A DANCING QUEEN
happy happy happy happy pic.twitter.com/KoSryScFY1

— DUA LIPA (@DUALIPA) March 15, 2021
That moment when you realize how far Dua Lipa has come as a performer. Forget "the pencil sharpener." Dua has officially transformed into a dancing queen and I'm quite literally loving it. Just one question: How can I get hold of one of those sparkly pink bikinis in time for summer?
THUNDERCAT DEDICATES HIS GRAMMY TO MAC MILLER
HOLY SHIT I WON!!!!!

— ashy daddy (@Thundercat) March 14, 2021
Thundercat winning Best Progressive R&B album for It Is What It Is and then immediately dedicating it to Mac Miller? Erm, right in the feelings, much? Mac is for sure looking down and smiling at his big brother.
This one definitely for Mac.

— ashy daddy (@Thundercat) March 14, 2021
ZAYN SPEAKS OUT AGAIN
.@recordingacad are moving in inches and we need to move in miles. I'm keeping the pressure on & fighting for transparency & inclusion. We need to make sure we are honoring and celebrating "creative excellence" of ALL. End the secret committees. Until then ... #fuckthegrammys

— zayn (@zaynmalik) March 14, 2021
And, finally, some more food for thought from ZAYN. The Grammys is a controversial topic every year, and even if you disagree with him, you have to respect the man for once again speaking out and using his platform for positive change. Just don't tell Harry!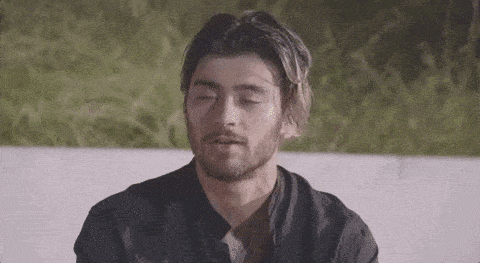 -
Follow We Are: The Guard on Twitter for more fun and games! x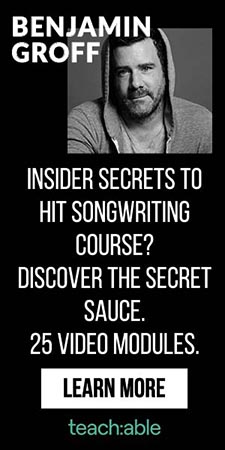 Jess Grant is a frustrated writer hailing from London, England. When she isn't tasked with disentangling her thoughts from her brain and putting them on paper, Jess can generally be found listening to The Beatles, or cooking vegetarian food.