10 TWITTER MOMENTS: LANA DEL REY AND JACK ANTONOFF ARE UP TO...SOMETHING?!
Thanks for joining me for the latest edition of We Are: The Guard's Twitter Moments this hotter-than-hot Hump Day! After all, what finer way to make yourself feel better about being stuck in an office for the next 72 hours than by catching up with the rich and famous, the majority of whom are passing this heatwave aboard luxury superyachts fitted with door-to-door AC (see: Blue Ivy)?! Jokes aside, here's hoping that the following 280-character highlights from Lana Del Rey, Alicia Keys, Halsey, King Princess, Mariah Carey, and more provide you with a temporary distraction from this insane weather while we hold out for some cooler temperatures this weekend!
-
LANA DEL REY AND JACK ANTONOFF ARE UP TO...SOMETHING?!
Hi! pic.twitter.com/glpCw8EvHu

— Lana Del Rey (@LanaDelRey) August 6, 2018
After two months of silence, Lana Del Rey returned to Twitter on Monday to share this photo of her posing alongside Bleachers frontman Jack Antonoff, and it's left me with SO MANY QUESTIONS! Does Lana have a new album on the way?! And is that new album produced by Jack?! I LITERALLY HAVE NO IDEA, but I hope that it won't be long until I find out the answers! *INSERT SHIFTY EYE EMOJI HERE*
BRONZE AVERY'S HOT TUB MOMENT
hot tub moment pic.twitter.com/uZMN7JNnUU

— ʙʀᴏɴᴢᴇ ᴀᴠᴇʀʏ (@bronzeavery) 2 August 2018
Nothing to see here, just Bronze Avery chilling in a hot tub and looking like AN ABSOLUTE SNACK! This LGBTQ artist has the looks AND the talent to match! Tell me, what more could you ask for in a pop star?! KEEP SLAYING, BRONZE!
ALICIA KEYS IS A BADASS
One thing a lot of people don't know about me is that I'm a driver... I love driving.. I'm driven.

I'm open and ready to go to the next place, the next level, the next height.

I love seeing women on their sh*t!! Shine on ladies!! pic.twitter.com/UTvzOUqmGn

— Alicia Keys (@aliciakeys) 4 August 2018
I'm not sure about you, but I'm SO here for No Fucks Given-era Alicia Keys! Ever since she ditched her make-up two years ago, she's been an absolute badass! If only I could feel this confident after forgetting to apply my concealer in the morning! Keep living your best life, Alicia!
AARON TAOS' PARENTS ARE RELATIONSHIP GOALS
35th anniversary for the folks! pic.twitter.com/xynjHZrRMK

— Aaron Taos (@AARONTAOS) 6 August 2018
Everything sucks, so let's take a moment to cheer ourselves up with Aaron Taos' ADORABLE parents. No, really, my heart is actually MELTING at these photos of the super cute duo eating ice cream together to celebrate their 35th anniversary. I mean, TOTAL RELATIONSHIP GOALS, right?! PS. Thanks for giving us Aaron, you guys. :)
HALSEY TWERKS IT IN SEOUL
Backstage mood in Seoul. @chancetherapper making little booties werk all around the world. pic.twitter.com/inhnWiQRAL

— h (@halsey) August 6, 2018
From relationship goals, to TWERK GOALS! On Monday, Halsey took time out from hanging around with BTS in order to share this video of her twerking backstage to Chance the Rapper's verse in DJ Khaled's "No Brainer," and to say that it's a MOOD would be an understatement! I'm serious, can someone book me a flight to Seoul ASAP, as clearly Miss. Frangipane is having a straight-up PARTY over there?!
KING PRINCESS IS A GAP STAR!
Look at me looking like I just stole your girl in this @gap video! Find me in their fall campaign along side other people doing some good jush #MeetMeInTheGap #ad pic.twitter.com/vqU6U3IPGb

— King Princess (@KingPrincess69) 2 August 2018
I didn't think that GAP would ever top their 2003 Missy Elliott and Madonna campaign, but HOW WRONG I WAS! 15 years on from that ICONIC team-up, the American retailer is back this August with another legendary commercial starring none other than Queer Queen King Princess! WORK THAT PREMIUM DENIM, GIRL!
MARIAH CAREY, QUEEN OF STRINGS
Strings session pic.twitter.com/Vq0qOr3fBq

— Mariah Carey (@MariahCarey) 3 August 2018
Mariah Carey: *Does or says anything*
Me: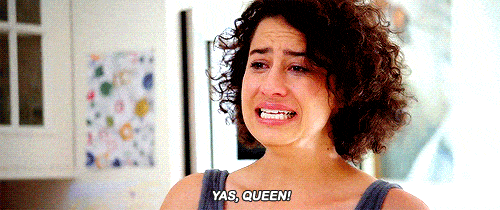 THOUGHTS AND PRAYERS TO KIM PETRAS
My A.C doesn't work n I'm slowly dying

— Kim Petras (@kimpetras) 3 August 2018
Thoughts and prayers to We Are: The Guard favorite Kim Petras during this difficult time. You're a warrior and a fighter, Kim, and I KNOW that you can make it through this. My AC briefly stopped working two weeks ago, and while it was one of the toughest experiences of my life to date, I most definitely came out a stronger person because of it. #Grateful #FirstWorldProblems
MOSS KENA IS ALL OF US
Any one else find em selves sayin 'Kiki do you love me' about 30,000 times a day?

— Moss Kena (@MossKena) 1 August 2018
OMG! YES! Moss Kena is all of us! For real, though, if I see another #InMyFeelings challenge pop up on my Twitter feed, I'm going to go all Bruce Wayne on everyone's ass!
FREYA RIDINGS STOPS THE LONDON UNDERGROUND IN ITS TRACKS
Started performing 'Lost Without You' at a London underground station. Honestly could not believe how many of you stopped to sing with me. My friends from @LIGChoir joined in too! Thank you. Wow... What a memory pic.twitter.com/wav8a3jd2R

— Freya Ridings (@FreyaRidings) July 31, 2018
Closing out with this footage of Freya Ridings quite literally stopping the London Underground in its tracks with this truly stunning rendition of her hit single "Lost Without You." Why can't I come across someone like Freya during my London commute?! All I get is the occasional amateur busker playing "Wonderwall," or perhaps "Don't Look Back in Anger" if I'm lucky. *Sigh*
-
Follow We Are: The Guard on Twitter for more! x
Jess Grant is a frustrated writer hailing from London, England. When she isn't tasked with disentangling her thoughts from her brain and putting them on paper, Jess can generally be found listening to The Beatles, or cooking vegetarian food.