10 TWITTER MOMENTS: MARIAH CAREY WINS THE #BOTTLECAPCHALLENGE
I've seen a lot of viral challenges in my time – from people dumping buckets of ice over their heads to people eating real, actual Tide Pods – but the #BottleCapChallenge has to be the most incomprehensibly entertaining of them all. Like, why are we, the collective human race, suddenly so obsessed with watching celebrities tornado kicking lids off unsuspecting beverages?! What's wrong with using our bare, naked hands, exactly?! I don't know the answers to any of these questions, but one thing is for certain – I've definitely found the winning entry in the latest edition of We Are: The Guard's 10 Twitter Moments. Put your feet up, then, as it's time to scroll through the following 280-character highlights from Mariah Carey, Joe Jonas, Cardi B, Camila Cabello, Rihanna, and more.
-
MARIAH CAREY WINS THE #BOTTLECAPCHALLENGE
Challenge accepted! #bottletopchallenge pic.twitter.com/Rygijd6z5W

— Mariah Carey (@MariahCarey) July 7, 2019
It's time to put the #BottleCapChallenge to bed, Internet, as we officially have our winner! Forget John Mayer or Diplo's half-assed attempts – it's Mariah Carey who's claiming the #BottleCap crown with this glass-shattering video entry! What! An! Icon!
P.S. Maybe this was the cause of the California earthquake?!
JOE JONAS AND SOPHIE TURNER ARE MARRIED!
Mr and Mrs Jonas pic.twitter.com/uyoL5ywSpb

— J O E J O N A S (@joejonas) 4 July 2019
My inner tween may be heartbroken, but my outer adult is FULLY EXPLODING WITH JOY at the fact that Joe Jonas has finally married Sophie Turner! Their French château wedding last month was nothing short of goals! Can we also take a moment to appreciate how drop-dead gorgeous Princess Sansa Stark looks in her custom Louis Vuitton dress?! EEK!
CARDI B SNATCHES HER OWN WIG
I GOT CARRIED AWAY .......I want my wig back:/ Dm me . pic.twitter.com/YPAmSbb9uP

— iamcardib (@iamcardib) 6 July 2019
OMG! Cardi B snatching her own wig at London's Wireless Festival over the weekend is the definition of a MOOD! Something tells me that the "Press" rapper isn't getting her hair back anytime soon, though. That wig could fund a person's entire college tuition if sold on eBay!
LIL NAS X AND GORDON RAMSAY MAKE PANINIS
me & @gordonramsay made paninis pic.twitter.com/9nlX96t9c5

— nope (@LilNasX) July 3, 2019
It really, actually happened, you guys! Just a couple of weeks on from their initial Twitter exchange, Lil Nas X and Gordon Ramsay finally hooked up to make some tasty-ass paninis together at Gordon's Lucky Cat restaurant in London! Next up: Gordon Ramsay teaches Eminem how to make Mom's Spaghetti™?!
CAMILA CABELLO AND BILLIE EILISH HANG OUT
sweet human @billieeilish pic.twitter.com/GEE8U35UXb

— camila (@Camila_Cabello) July 9, 2019
Okay, so it's cool that pop stars Camila Cabello and Billie Eilish have been hanging out and all, but the only thing that really matters about this photograph (other than Billie's green roots) is Camila's T-shirt. SOMEBODY TELL ME WHERE I CAN BUY IT IMMEDIATELY?!
HALLE BAILEY #ISMYARIEL
dream come true... pic.twitter.com/sndjYUS6wO

— chloe x halle (@chloexhalle) 3 July 2019
I'M NOT CRYING, YOU'RE CRYING! No, really – was anyone else genuinely overcome with emotion when it was announced that Halle Bailey would be playing Ariel in the live-action remake of Disney's The Little Mermaid?! From her beautiful voice to her real-life mermaid looks, the Chloe x Halle singer couldn't be more PERFECT for the role. Haters gon' hate!
JAMES BLAKE IS A FUNNY GUY!
yeah out of context this doesn't make me look great https://t.co/rvmnKyj0WR

— James Blake (@jamesblake) July 4, 2019
LOL! James Blake being active on Twitter again is actually the best thing that's happened to me since Frank Ocean made his Instagram profile public. Okay, so I admit that he's mainly there to retweet his girlfriend, The Good Place actress and all-around feminist badass Jameela Jamil, but I'll take it!
Making your best art alleviates depression for about 12 hours

— James Blake (@jamesblake) July 4, 2019
TYLER, THE CREATOR BOYCOTTS SWEDEN
no more sweden for me, ever

— Tyler, The Creator (@tylerthecreator) July 8, 2019
#JusticeForRocky
Stand in support and request Rocky's release from Swedish officials! Sign the petition and join the movement at https://t.co/Yapx5a29of #JusticeForRocky pic.twitter.com/HNFVmwUDNi

— A$AP MOB (@ASAPMOB) July 9, 2019
SZA IS PRECIOUS
Even bigger goal is to uplift those who wronged me . Hater shit bad for ya spirit

— SZA (@sza) July 4, 2019
WHAT DID WE DO TO DESERVE SZA?! I mean it – Miss. Solána Imani Rowe is way too precious for this world and we must protect her at all costs. How can you not love this kind of energy?!
RIHANNA WOULD LIKE TO REMIND YOU
‍♀️ pic.twitter.com/mftXXvvncB

— Rihanna (@rihanna) July 6, 2019
Or, as I prefer to put it: "2020 is in 6 months time. Rihanna still hasn't dropped the album." JUST SAYIN', SIS.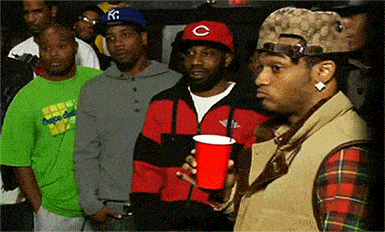 -
Don't forget to follow We Are: The Guard on Twitter for more! x
Jess Grant is a frustrated writer hailing from London, England. When she isn't tasked with disentangling her thoughts from her brain and putting them on paper, Jess can generally be found listening to The Beatles, or cooking vegetarian food.