10 TWITTER MOMENTS: RIHANNA CALLS OUT TRUMP
Hi, everyone, and thanks for joining me for the latest edition of We Are: The Guard's 10 Twitter Moments! How are you? How's your week going? Have you been making the most of this gorgeously sunny weather? As much as I'd like to say that I've been outside to catch some rays, sadly I've been far too busy scrolling through social media for that! Well, someone has to keep on top of the hottest celebrity happenings, don't they? While I quickly go and crank up the office AC, then, why don't you check out the following 280-character highlights from Rihanna, The Weeknd, Ariana Grande, and lots more?
-
RIHANNA CALLS OUT TRUMP
https://t.co/KeSkI3fk1C pic.twitter.com/IzjXncVbmh

— Rihanna (@rihanna) August 4, 2019
NOTHING BUT RESPECT FOR MY PRESIDENT.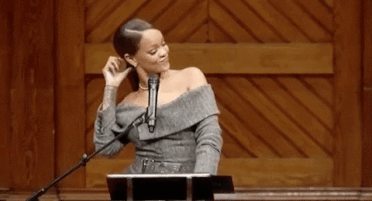 THE WEEKND IS IN ALBUM MODE
album mode full effect pic.twitter.com/ywnD18kF29

— The Weeknd (@theweeknd) August 6, 2019
Are you SERIOUSLY telling me that The Weeknd tweeted this on the day that it was announced that he'd broken up with Bella Hadid? Oh sh*t. This album is going to get me in my feels, isn't it? BRB, I need to mentally prepare myself.
TYLER, THE CREATOR FACETIMES A$AP ROCKY
*yelling* pic.twitter.com/d8YPgz0pZi

— Tyler, The Creator (@tylerthecreator) August 2, 2019
Tyler, the Creator FaceTiming A$AP Rocky after he was released from prison in Sweden is the most wholesome thing that I've seen this week (I'm talking even more wholesome than that YouTube video of that kitten sneezing that I watched yesterday). Maybe now we'll finally get the long-awaited WANG$AP?
HAIM ARE SUMMER GIRLS
fuck winter summer girls forever pic.twitter.com/RFpWeh9tuF

— HAIM (@HAIMtheband) August 6, 2019
Erm, mood, much? Don't get me wrong, I'm an autumn lover at heart, but HAIM are definitely winning me over with this whole "Summer Girl" vibe. I just wish that I was more "Paul Thomas Anderson" and less "thigh chafing and underboob sweat" during the warmer months.
CARDI B AND OFFSET STYLE KULTURE'S HAIR
Well at least I did the ponytails pic.twitter.com/5z3oTLUYiR

— iamcardib (@iamcardib) August 5, 2019
OMG! Did anyone else die at the toothy little grin at the end of this video? Can we also talk about the fact that Kulture is basically turning into a miniature Cardi B before our very eyes? My heart!
P.S. Offset's level of concentration is everything!
HALSEY AND YUNGBLUD ARE RELATIONSHIP GOALS
happy birthday squish
@yungblud pic.twitter.com/0mluZ5pdUk

— h (@halsey) August 5, 2019
I LOVE MY PARENTS! In all seriousness, this little video that Halsey made to celebrate YUNGBLUD's 22nd birthday on Monday is the cutest sh*t that I've ever seen. G-Eazy could never!
love you

— YUNGBLUD (@yungblud) August 5, 2019
MEGAN THEE STALLION PUTS MEEK MILL BACK IN HIS PLACE
Lol can't break a hot girl heart https://t.co/mhMvw8E2qc

— HOT GIRL MEG (@theestallion) August 3, 2019
PERIODT! Megan Thee Stallion putting Meek Mill – a grown-ass 32-year-old man – back in his place after he tweeted about breaking hot girls' hearts is nothing short of *chef's kiss*. What did we do to deserve this goddess in our lives?
ARIANA GRANDE IS THE QUEEN OF FESTIVAL SEASON
damn i really got to headline the two biggest festivals of the year. how tf did this happen. i feel so grateful & i thank u from the bottom of my heart. i dunno when i got here. but. thank u.

— Ariana Grande (@ArianaGrande) August 5, 2019
Ariana Grande officially SNAPPED at Lollapalooza over the weekend! To say that I had a massively proud stan moment while watching the live stream would be an understatement. I just hope that she's able to enjoy her success after such a painful couple of years <3!
LIL NAS X HAS A POOL PARTY
aye panini pic.twitter.com/b2ETNwCmSR

— nope (@LilNasX) August 4, 2019
I've just accepted the fact that I'm going to be featuring Lil Nas X in this column every week. The dude is literally hilarious on the daily, so it kind of feels like a disservice to NOT include him at this point. Plus, let's be honest, he's looking like a total snack in this video.
the pool is not green it's just mint flavored https://t.co/vVBNKtwYGA

— nope (@LilNasX) August 4, 2019
VINCE STAPLES LOVES HIS FANS
I love all 15 of my fans.

— Vince Staples (@vincestaples) August 2, 2019
WE LOVE YOU TOO, VINCE!
-
Why not follow We Are: The Guard on Twitter for lots more? x
Jess Grant is a frustrated writer hailing from London, England. When she isn't tasked with disentangling her thoughts from her brain and putting them on paper, Jess can generally be found listening to The Beatles, or cooking vegetarian food.