BEST CHILL MUSIC: 10 SONGS TO HELP YOU TAKE CARE
It's been a pretty damn intense few days in terms of news. While it's important we continue to campaign for justice wherever and whenever we can, it's also important we find time to take care of ourselves on occasion. With the weekend almost upon us, then, feel free to enjoy a moment of rest and recovery this Friday with the latest edition of We Are: The Guard's Best Chill Music. Featuring Flying Lotus, Harrison Lipton, Fred again.., and others, this playlist has something for everyone.
-
FLYING LOTUS (FEAT. NIKI RANDA) – BETWEEN MEMORIES
Buckle up, as Flying Lotus is taking us on one hell of a spiritual journey on his latest single "Between Memories." Lifted from the LeSean Thomas-created,  LaKeith Stanfield-voiced, Flying Lotus-soundtracked anime series Yasuke – which is due to drop on Netflix on April 29th – it's a deeply, deeply exhilarant listen featuring Niki Randa. Bringing together dazzling synths, pattering drums, and Niki's sparse lyrical meditations, "Between Memories" is an overwhelmingly inspiring piece that's certain to help you travel inward this Friday.
HARRISON LIPTON (FEAT. ALEX SIEGEL) – STRAWBERRYYS
Have you ever listened to a song that made you feel like you were being sucked into a vacuum of tranquility? As that's exactly how I felt listening to "Strawberryys" by Harrison Lipton. Featured on the New York artist's forthcoming EP of the same name, "Strawberryys" is a melancholy slice of psychedelic-pop that left me comfortably numb despite its lyrics about a love gone awry. Pairing smeary chords with soft vocal contributions from Harrison and Alex Siegel, "Strawberryys" is the aural equivalent of falling into a blissful abyss.
FRED AGAIN.. – ANGIE (I'VE BEEN LOST)
He recently sampled Kentucky dance legend The Blessed Madonna on "Marea (We've Lost Dancing)," and today, Fred again.. returns with "Angie (I've Been Lost)." The latest single to be unveiled from Actual Life (April 14 – December 17 2020) – available now! – hears Fred John Philip Gibson working with the folky dulcet tones of Australia's Angie McMahon. Listen as Fred again.. weaves her vocals through his indescribably emotive synthscapes, resulting in an equal parts sad and euphoric piece that feels like opening a door to the future in front of you.
DASTE. (FEAT. AKUREI) – EXPECTATIONS
"Dreamy" is an adjective used way too much by music bloggers – me included – but daste. really is the very definition of the word. Ahead of the release of their debut album dusk / dawn, the Australian outfit is continuing to immerse us in a near-lucid state on the Akurei-featuring "expectations." Written about the importance of defying stereotypes and living your absolute inner truth, "expectations" is a soft, soothing lullaby that also hears daste. effortlessly interpolating elements of groove and funk into their soundscapes.
ATTOM – OUR PLACE
Society if everyone listened to Attom:
Have a nice day and good mood everyone pic.twitter.com/vrjXmtsxxE

— Katya Shostakovskaya (@KShostakovskaya) August 5, 2020
Renew EP is out now!
BENNETT COAST – DEEP END
Bennett Coast takes time out from modeling for GUESS (no biggie!) to share his latest single "Deep End." Originally previewed at the beginning of his video for "Moonboy," "Deep End" is a nostalgia-swept piece of bedroom-pop that hears Bennett continuing to weave together memory and emotion into something almost intangibly gorgeous. "If I went off the deep еnd/Someplace else/Would you help?" asks Bennett over softly crashing drums on the cut, which has me longing for a moment I can't quite put my finger on. Beautiful!
MALI AMA – OH MY
Damn! This is smoother than nut butter. Up-and-coming Georgia artist Mali Ama is sure to have you licking your lips with delight throughout her latest single "Oh My." It's an opulent piece of R&B that oozes with the kind of confidence you'd expect from a far more fully formed soul veteran. Opening to a sweeping of lush orchestral strings, before locking into a satisfyingly sultry groove – over which Mali unleashes her desirous incantations – "Oh My" is a bedroom essential that you can file alongside Kehlani and Victoria Monét.
ANNIKA WELLS – LOVE SUCKS
Introducing Annika Wells, the Los Angeles singer-songwriter who's completely won We Are: The Guard over with her clever, incisive breed of sad-pop on "Love Sucks." "Watch another TED Talk, all I ever learn is lovе sucks," announces Annika in soaring falsetto on the follow-up to "Fuck Being Sober." Written about the difficulty of coming to terms with "the single life" after leaving a long-term relationship, "Love Sucks" is a digital-age breakup anthem that possesses the same kind of emotional intelligence as "drivers license" by Olivia Rodrigo. 10/10!
SPENCER WILLIAM – GOOD GRACES
It's no secret we're supermassive fans of Spencer William here at We Are: The Guard, with the New York singer-songwriter leaving us completely and utterly floored once again with "Good Graces." The closing cut from his debut EP Little Wars – out now! – is a sweeping piano ballad that might be Spencer's most Adele-level offering to date. That's not to say the rising artist loses any of his signature intimacy, with Spencer's deeply personal lyrics about self-doubt and the constant search for validation really hitting home. Ouch!
NIMINO – LIGHT UP
Every once in a while, a song comes along that completely stops me in my tracks. "Light Up" by nimino is one of those songs. Featured on the British producer's upcoming debut album Rooms on the Ark – which, according to niminio, will see each song represented visually in the form of a room on an ark – "Light Up" is four minutes of ecstatically lush, tranquil bliss. Bringing together dynamic club beats and vocal samples with mediative, transcendent flourishes of Indian classical music, "Light Up" is a Four Tet-esque journey into the depths of inner peace.
-
Why not follow We Are: The Guard's Weekly Chart on Spotify for more music to see you through the weekend? xox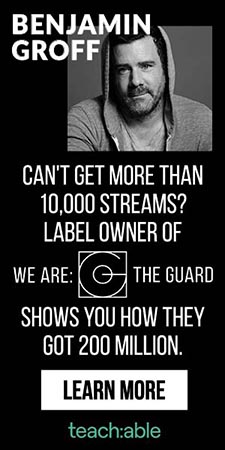 Jess Grant is a frustrated writer hailing from London, England. When she isn't tasked with disentangling her thoughts from her brain and putting them on paper, Jess can generally be found listening to The Beatles, or cooking vegetarian food.