THE BEST CHILL MUSIC IN THE WORLD THIS WEEK
Photo by ammar sabaa on Unsplash
Between the crisis in Afghanistan, the Haiti earthquake, and the continued rise of the Delta variant, it's been a heavy few days on the news front. While it's important to stay alert and engaged with the world around us, it's also important to love and look after ourselves during these intense times. With the weekend almost upon us, then, take a moment to take care this Friday with the latest edition of We Are: The Guard's Best Chill Music, featuring Weston Estate, tendai, 박혜진 Park Hye Jin, and more.
-
WESTON ESTATE – OUTSIDE
If you're like me and constantly feel the need to shrink yourself in life, Cary, North Carolina's Weston Estate is here to remind you it's okay to be your own hype man on the breezy "Outside." "This song represents an overarching lesson that all of us have learned this year: to take advantage of all the opportunities we have right now and live our lives to the fullest while we're still young," says Weston Estate of the sunny, sand-speckled bop – an ode to being unapologetic in every way.
TENDAI – NOT AROUND
Introducing tendai, the London act dialing us into his nocturnal transmissions on his debut single "Not Around." Written and produced by tendai, "Not Around" is a sweepingly epic, disarmingly intimate ballad about unrequited love and the toxic hold it can have on our feelings. "Just a bad girl at heart, I guess it's not your fault/That the city lights don't shine when you're not around," sings the 0207 Def Jam signee on the cut, which emerges from the shadows full of cinematic potential.
박혜진 PARK HYE JIN – I NEED YOU
There's an almost disarming frankness about 박혜진 Park Hye Jin's music, with the South Korea-born, Los Angeles-based house producer showcasing her most emotionally direct side to date on "I Need You." Lifted from her forthcoming debut album Before I Die – home to the previously featured "Let's Sing Let's Dance" – "I Need You" is a hypnotically deadpan declaration of desire, with 박 Park repeating the title phrase like a manifestation mantra over an off-kilter piano line and skittering beats.
MÍRA – APRIL
While a lot of coming-of-age anthems are often packed with a kind of gnarly angst, Atlanta's míra is offering a more reserved, melancholy spin on the genre on "April." Featured on his latest project Auburn Bleach, "April" finds míra looking up at the specter of adulthood with a certain fear and trepidation, as reflected in the subdued sadness felt throughout the song. "Growing up always felt so f*cking far from me/But now I'm 18," sings míra on the cut, which is reminding me of early Mac Miller.
GUS – CREO QUE TODO ESTARÁ BIEN
It's not often I get to feature non-English music in this column, but "creo que todo estará bien" by Gus is the kind of song that transcends language barriers. Even if you don't speak a word of Portuguese, you're going to feel something listening to this softly soaring acoustic ballad, the title of which translates to "i think everything will be fine." An ode to trusting in life's flow and motion, "creo que todo estará bien" shines down like the last rays of summer on an exposed shoulder.
BAYLI – 16
New York City's BAYLI pays tribute to her late mother on the deeply, deeply beautiful "16." The latest single to be unveiled from BAYLI's forthcoming debut EP stories from new york is a melodically searching piece of R&B that details her mother's journey from England to America at the age of 16 and the subsequent life she built for herself and her family. "'16' is about how strong, epic, and beautiful my mother is; she is the reason I know how to be a strong woman today," says BAYLI. Gorgeous.
ISAIA HURON – I'M IN LOVE
Isaia Huron has the voice of an angel, with the Nashville crooner taking us to the gates of heaven on "I'm in Love." Featured on his brand new EP Bound, "I'm in Love'' is – as the song title suggests – a passionate ode to love and the stability and domesticity that comes from being in a relationship. "I'm in love/Hope my mind don't disrupt me from finding the peace that it wants," coos Isaia, his voice sounding nothing short of divine atop a strummed guitar and very little else.
JADES GOUDREAULT – MINI FRIDGE
Adulting is hard work. Just ask We Are: The Guard favorite Jades Goudreault, who touches on the subject on the crushing "mini fridge." The follow-up to "go out there" hears the Los Angeles act getting vulnerable as she reflects on the difficulties of growing up and taking on responsibilities in life. "It's gettin' crowded in my mini fridge/There's somethin' special 'bout the lows we hit," sings Jades in the soft, synthy chorus, striking a devastating balance between the personal and the universal.
AMARIA – LOSE CONTROL
We Are: The Guard first discovered Amaria after her cover of "Nightrider" by Tom Misch and Yussef Dayes went viral on Twitter, and since then, the Tampa, Florida-based singer-songwriter has provided us with nothing but magical vibes. Case in point: "Lose Control." The opening song on her recent debut EP Bittersweet, "Lose Control" is a jazzy lullaby for sultry summer nights. With Amaria's breathy voice coming set against a backdrop of study beats, "Lose Control" is sonic sorcery through and through.
LANI ROSE – OVER AND OUT
Lani Rose keeps on thriving. The St. Louis act has been releasing music on a semi-regular basis of late, but never compromising on quality, with Lani showcasing his growth as an artist once again on "Over and Out." The follow-up to "Want To Be Wanted" hears Lani coming to terms with the fact a lover isn't who he first thought they were. "Playing with these thoughts of you/Another version that I made," laments Lani on the cut, which hears him continuing to develop as both a vocalist and a producer.
-
Follow We Are: The Guard's Weekly Chart on Spotify for more music. xo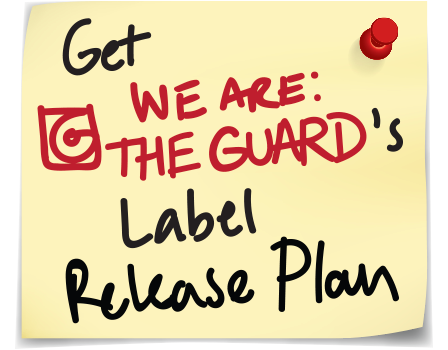 Jess Grant is a frustrated writer hailing from London, England. When she isn't tasked with disentangling her thoughts from her brain and putting them on paper, Jess can generally be found listening to The Beatles, or cooking vegetarian food.