THE TOP CHILL MUSIC TO SEE YOU INTO THE WEEKEND
Photo by Kinga Cichewicz on Unsplash
While it's great to see normality slowly returning, is anyone else struggling to get back into the swing of socializing? Perhaps it's due to being locked indoors for months, or perhaps it's simply due to being in my late 20s, but I need to lie down after the smallest social gathering these days! With the weekend almost upon us, then, feel free to join me in resting up to the tune of the latest edition of We Are: The Guard's Top Chill Music, starring Sufjan Stevens & Angelo De Augustine, Eyedress, Lucky Idiot, and many more!
-
SUFJAN STEVENS & ANGELO DE AUGUSTINE – REACH OUT
It's only been a few weeks since he shared Convocations – a five-volume album of instrumental music inspired by the death of his biological father – but Sufjan Stevens is already returning to our ears this Friday with "Reach Out." The first single to be unveiled from A Beginner's Mind – Sufjan's forthcoming collaborative album with Asthmatic Kitty's Angelo De Augustine – "Reach Out" is an unspeakably pretty folk ode to ancestral power that was reportedly inspired by the 1987 film Wings of Desire.
EYEDRESS (FEAT. TRIATHALON) – PRADA
Coinciding with the announcement of Mulholland Drive – his fourth album and the follow-up to 2020's Let's Skip to the Wedding – Filipino singer-songwriter Eyedress has shared the soft, sensuous "Prada." A collaboration with Triathalon – who featured here only recently with their late-night remix of "Pressure" – "Prada" is a perfect post-midnight slow-jam that hears Eyedress worshipping at the feet of his lover: "Smokin' big gas in the whip/She look better with Prada on/No makeup/She got it all."
LUCKY IDIOT – AGREEABLE
Composed of Golden Vessel's Maxwell Byrne, Rei So La's Kalem Woo, and Sweater Curse's Rei Sakakibara, Lucky Idiot is packed full of talent on their second EP Eat Up. Case in point: "Agreeable." The opening song on Eat Up EP starts out heady enough, with plucked acoustics and very little else backing Maxwell's double-tracked vocals. It's once the head-nodding drums hit that this tribute to escaping the city really takes off, though, with Lucky Idiot striving for the potent catharsis of Radiohead.
박혜진 PARK HYE JIN – LET'S SING LET'S DANCE
She recently joined forces with the likes of Blood Orange, Nosaj Thing, and Clams Casino, but 박혜진 Park Hye Jin is back in the driving seat on the hypnotic, captivating "Let's Sing Let's Dance." Featured on her forthcoming album Before I Die – a 15-song collection that consists entirely of material written by the Ninja Tune signee – "Let's Sing Let's Dance" is a bilingual banger that hears Park effortlessly moving between Korean and English with mantra-esque precision atop an intoxicating house beat.
MILOE – SOLO (LOUS AND THE YAKUZA COVER)
In honor of both Congolese Independence Day and Black Music Month, Miloe is returning this Friday with a cover of Lous and the Yakuza's "Solo." Born in the Democratic Republic of Congo and raised in Minneapolis, Miloe is lending a delightfully percussive touch to "Solo," a song about the loneliness and trauma felt by Black people as a result of colonization. "There is so much pride and love for our culture and our people, which will always fuel us in the fight for our humanity," adds Miloe. Joyful.
STEVE GUNN – OTHER YOU
This is completely, utterly gorgeous. Ahead of the release of Other You – an 11-song collection that was recorded at Mant Studios in Los Angeles alongside the GRAMMY Award-winning producer Rob Schnapf – Steve Gunn has shared the radiant title song. "Other You" is the kind of intricate piece of Americana that surrounds you like a warm summer's evening, with Steve's gentle vocals getting lost amid a coruscating mirage of acoustics. Beautiful, beautiful stuff.
MARAL (FEAT. PANDA BEAR) – ON YOUR WAY
And now for something completely different from Maral. The Los Angeles-based artist teams up with Animal Collective's Panda Bear for the fweaky "On Your Way." "Panda Bear and I started sharing sounds over quarantine and worked on a track together remotely. I really love the way Panda Bear drums, so I wanted that to be the central focus," says Maral. With Noah Lennox's wobbly percussion melting into Maral's Iranian samples, "On Your Way" is a brain-melting banger from an alien planet.
MASO – NOTES
Maso is delivering a love song with a devastating twist on "Notes." The latest single to be taken from his recent debut album For Loving Me begins dreamy enough, with Maso seemingly singing a girl's praises: "Never knew someone who love me this deep/Who kiss me on my forehead in my sleep/I'm sorry things be gettin' rough/Can't wait to see your face next month." It's once the chorus hits, however, that Maso reveals he's actually reading "notes from my ex-lover," lending a crushing note to this jazzy reverie.
BILLY FOX – IT'S A MESS
With summer in full flow, Billy Fox is providing us with the perfect soundtrack for long drives to no destination in particular on the smooth, seductive "It's a Mess." "'It's a Mess' was written for those times when you feel you are losing your footing; life is messy, and you're feeling the pinch, so to speak. This song is also about embracing the messiness and accepting it as much as you can," reveals the Australian of the cut, with Billy's falsetto cruising with ease atop a knotty array of beats.
HANNAH RUTH – FLOAT
Introducing hannah ruth, the Los Angeles-based act making her debut on We Are: The Guard with the gorgeous "Float." Citing Sylvan Esso and Lorde among her influences, "Float" is a reverberating, choral ode to drifting through the chaos of life. "I find it timely that I wrote 'Float' before the pandemic happened, but it was finished during it. I feel like a lot of people can resonate with the message of learning how to float when times are tough," says hannah ruth of the cut and stunning snapshot of resilience.
-
Don't forget to follow We Are: The Guard on Spotify for plenty more! xo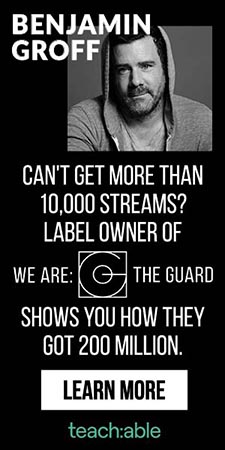 Jess Grant is a frustrated writer hailing from London, England. When she isn't tasked with disentangling her thoughts from her brain and putting them on paper, Jess can generally be found listening to The Beatles, or cooking vegetarian food.