BEST CHILL MUSIC: 10 SONGS FOR THE WEEKEND
Photo by Steevedreez
A big news story inevitably brings with it big feelings. Despite the rolling coverage here in my native UK, I'm still not entirely sure how to begin to talk about yesterday's events, so instead, I'm going to skip straight to this week's dose of We Are: The Guard's Best Chill Music. I hope you can find some peace this weekend via the following songs from Steevedreez, Portair, Arlo Parks, and more!
-
STEVEDREEZ – READY OR NOT
With the sun setting on the summer season, We Are: The Guard favorite Stevedreez is easing us into fall with the delectably smooth "READY OR NOT." The follow-up to his recent collaboration with veggi, "TONIGHT," "READY OR NOT" is a Miami Vice-worthy piece of yacht-rock that'll have you reaching for your white linen suit and RayBan Wayfarers. "Are you ready or not?/If you wanna make this last/After all this time has passed," sings Stevedreeze in the chorus as his voice practically drowns in luxe.
PORTAIR – LEARNING HOW TO DIE
Australian-born, Los Angeles-based producer and singer-songwriter Portair is reminding us to make the most of every moment on the breathtakingly hard-hitting "Learning How To Die." According to Portair, the ballad was inspired by the French Renaissance philosopher Michel de Montaigne's quote: "All good philosophers are learning how to die." "We're all dying from the second we're born, so how do I best live my life and in turn 'learn how to die,'" adds Portair of the song, a thought-provoking acoustic jewel.
ARLO PARKS – GOOD GUY (JULIA JACKLIN COVER) (TRIPLE J LIKE A VERSION)
It's no secret everything Arlo Parks touches turns to glittering gold, with the 22-year-old doing it all over again on this cover of Julia Jacklin's "Good Guy." "I chose to cover 'Good Guy' because there's this really distinct sense of melancholy mixed with a little touch of funniness, and I first saw her play just before I played my very first festival, so I feel like there's quite a sentimental attachment to Julia Jacklin and her voice for me," adds Arlo, with her pure, crystalline voice hanging in the night sky like a harvest moon.
LUKE WILD (FEAT. ALIX PAGE) – HALF THE STORY
Even though being a touring musician sounds like a dream, Luke Wild and Alix Page are showing us the lifestyle isn't all it's cracked up to be on their collaborative single, "Half the Story." "Luke Wild and I wrote a song called 'Half the Story' the first day we met, after we both got home from tour and felt weird and sad and lonely," reveals Alix on Instagram. A fragile, vulnerable acoustic ballad set after the stage lights have gone down and the audience has returned home, "Half the Story" finds its strength in silence.
CAROLINA SARTA & LUCIO FEUILLET – AVERÍO DE TI
Me listening to this song like summer isn't over: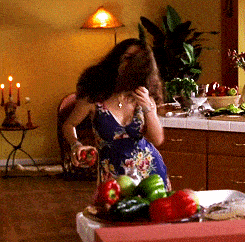 YUNA – FOOL 4 U
Diddy recently sparked controversy on social media by claiming R&B is dead, but Malaysian singer-songwriter Yuna is proving that couldn't be further from the truth on "Fool 4 U." Lifted from her recent EP, Y4, "Fool 4 U" is a sultry slow jam that sounds like it was pulled straight from a 90s MTV playlist. "I'm just a fool for you/Longing for a lost love/Asking the whole wide world/Baby, yeah, why can't I have you?" laments Yuna on the cut, all the while her airy, Aaliyah-esque voice gets up close and personal.
LUKE SITAL-SINGH – RATHER BE
The world is going to rack and ruin around us, but British singer-songwriter Luke Sital-Singh is seeking shelter in the arms of his lover on "Rather Be." Written during the peak of COVID-19, "Rather Be" hears Luke teaming up with "Jar of Hearts" vocal powerhouse Christina Perri to deliver a gorgeously moving ode to his wife. "With the world still shakin'/And you lyin' next to me/There's nowhere I'd rather be," sing Luke and Christina in the chorus, with their voices pirouetting like beautiful phantoms.
GEORGE FITZGERALD (FEAT. PANDA BEAR) – PASSED TENSE
Every once in a while, a song comes along that fills me with a deeply alien, strange feeling: Hope. Case in point: George FitzGerald's "Passed Tense." Featuring Panda Bear's Noah Lennox, "Passed Tense" is four minutes of feel-good that hears Noah's holographic voice coming paired with garage beats. George: "Working with Noah on this track was such a highlight. I've been a fan for a long time, and his unique voice and lyricism took my music to a completely new place emotionally and stylistically."
SFVEN – LOVE YOU
He recently made his debut in our Indie column with the heart-stoppingly joyous "don't jump the gun," and today, British artist Sfven is making his return to our Chill pages with "love you." Featured on his forthcoming EP, you, green, "love you" is described by Sfven as being about "a moment after a difficult conversation with someone you love where nothing needs to be said. And being grateful for what was, and beautiful moments shared." Candid, personal, and deeply human, "love you" is songwriting for the soul.
LUST. – GETTING OLDER
Finally, we conclude this Friday with a tranquil offering from Lust. While there's very little I can tell you about this artist, Lust. is most definitely letting the music do all of the talking on "Getting Older." Coming to us via ChillYourMind, a YouTube curation channel and independent record label, "Getting Older" is a desperately sad, melancholy ode to the passing of time as veiled in soothing melodic-house: "I feel I'm getting older/And the leaves all keep on falling/18 years already golden/And growing up is closer."
-
Follow We Are: The Guard's Weekly Chart on Spotify for more! xo
Sources:
Salma Hayek GIF
Jess Grant is a frustrated writer hailing from London, England. When she isn't tasked with disentangling her thoughts from her brain and putting them on paper, Jess can generally be found listening to The Beatles, or cooking vegetarian food.