TOP INDIE SONGS: THE 10 BEST BOPS OF THE WEEK
Photo by pierresnaps
The countdown to Beyoncé's RENAISSANCE is officially on, but before we spend the last few weeks of summer shaking our asses to "Thique," it's time for the latest edition of We Are: The Guard's Top Indie Songs! While I can't guarantee they're going to have quite the same cultural impact as Beyoncé's upcoming seventh album, I nevertheless recommend adding the following bops from Dylan Fraser, MorMor, Blondshell, and plenty more to your Booty Throwing Playlist!
-
DYLAN FRASER (FEAT. ALASKA REID) – VAMPIRE
Scottish star Dylan Fraser delves into his bloodthirsty side on his pulsating latest single, "Vampire." A duet with We Are: The Guard favorite Alaska Reid, "Vampire" is a song about loving somebody to death. "This song is about feeling like you're a bad person to someone you love. When you love someone, you show them every side of yourself, even the bad parts," says Dylan. With darkwave synths bathing Dylan and Alaska's cinematic vocal chops in neon, "Vampire" is a throbbing excursion through the shadows.
MORMOR – FAR APART
Just over four years on from making his breakthrough with "Heaven's Only Wishful," Canadian singer-songwriter MorMor is back this Monday with the strutting "Far Apart." Speaking in a press release, MorMor revealed "Far Apart" is "about the toxicity that occurs in a relationship when both people haven't yet faced their demons." With Seth Nyqist's falsetto voice piercing through a funky bassline, "Far Apart" has a playful bounce and flaunt about it that also hears MorMor serving up some spoken-word poetry.
BLONDSHELL – KISS CITY
She recently made her debut on We Are: The Guard and the blogosphere as a whole with "Olympus," and this Monday, Blondshell's Sabrina Teitelbaum is delivering on the promise of that song with the magnificent "Kiss City." "Kiss city/Just look me in the eye when I'm about to finish," sings Sabrina, her gently drawling voice coming set against a soft percussive backdrop. It's once the dam breaks in the second half that "Kiss City" really comes to life, however, with Sabrina riding the grand rush of love with aplomb.
MIYA FOLICK – NOTHING TO SEE
It's been three years since Miya Folick has put out solo music, but the Santa Ana native is back to full form on the shattering "Nothing To See." The follow-up to "Ordinary," "Nothing To See" is about the levels of desperation we often resort to in a toxic relationship. "I've been trying to change the way/I look so you like what you see/I've been losing weight so I can wear these Dollskill jeans," sings Miya in the crushing opening verse, with the 33-year-old sinking into sadness atop a grungy guitar puddle.
BEACH BUNNY – WEEDS
Beach Bunny's Lili Trifilio is melodramatic and proud of it on "Weeds." Coming after "Oxygen," "Fire Escape," "Karaoke," and "Entropy," "Weeds" is a punching, stomping piece of power-pop that hears Lili "taking ownership of my emotions instead of letting my emotions drive me into despair." "You're a diamond/Wish you could see you the way I see/You can't blossom if you keep growing gardens out of weeds," belts Lili in the chorus of "Weeds," before closing out with an epic sing-along primed for festival circuits.
GIRLPUPPY – WISH
Girlpuppy's Becca Harvey is back today with news of a debut album, When I'm Alone, and a brand new single, "Wish." According to Becca, "Wish" is a song about falling out with friends and the subsequent sense of loss. "This is the first shoegaze rock song I've made and I did that intentionally – the emotions in the song go from anger to sadness to nostalgia and all the other emotions that you feel when you go through a 'friend breakup,'" adds Becca of the cut, a melodically swirling, chugging exploration of grief.
JULIA JACKLIN – LOVE, TRY TO NOT LET GO
We've already heard "Lydia Wears a Cross" and "I Was Neon," and today, Australia's Julia Jacklin continues the rollout to PRE PLEASURE with "Love, Try Not To Let Go." "'Love, Try Not To Let Go' was written one night during the recording period in my apartment in Montreal," says Julia. "It's the first song I've ever written fully on piano. It's the first time I've played piano on a record." A softly glowing ode to overflowing with emotion, "Love, Try Not To Let Go" really takes off come the distortion-caked chorus.
FAZERDAZE – COME APART
Following five years of radio silence, Fazerdaze's Amelia Murray is back and sounding bigger than ever on the fuzzy "Come Apart." Discussing the song in a statement, Amelia explained: "'Come Apart' is an angsty surrender to growing apart from people in my life. I wrote this at a time when I wasn't accepting that some of my closest relationships were just not working." With a Pixies-indebted guitar blowout backing Amelia as she strives for relief and catharsis from negativity, "Come Apart" is scuzzy and gigantic. Crank it up.
SFVEN – DON'T JUMP THE GUN
Having caught our attention earlier this year with his debut album, forest avenue, British producer and singer-songwriter Sfven is making his heart-stoppingly joyous return this July with "don't jump the gun." "Writing songs can feel like a bit of an uphill battle sometimes and that feeling of just trying to keep going and pushing through is where 'don't jump the gun' stems from," explains Sfven. An ode to going easy on yourself and accepting life isn't perfect, "don't jump the gun" is a delightful dose of indie-pop thrills.
SEAN KENNEDY – KATE
While it's impossible to imagine what kind of songs Kurt Cobain would be releasing in the age of TikTok, it feels like Los Angeles artist Sean Kennedy is taking us close to the answer with "Kate." According to Sean, he set about writing "Kate" after his girlfriend complained there weren't enough love songs named after her. The resulting product is a sweetly melodic acoustic cut, like Nirvana's equally mononymous "Polly" with a twinkle in its eye: "Kate/Likes to hear her name out loud/Kate/Likes it when I use my mouth."
-
Follow We Are: The Guard's Weekly Chart on Spotify for plenty more! x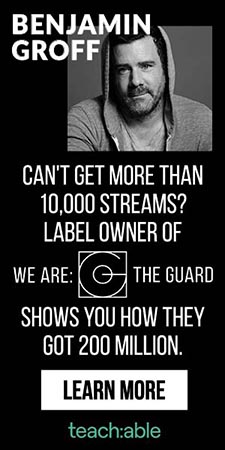 Jess Grant is a frustrated writer hailing from London, England. When she isn't tasked with disentangling her thoughts from her brain and putting them on paper, Jess can generally be found listening to The Beatles, or cooking vegetarian food.