BEST CHILL MUSIC: THE 10 SONGS YOU NEED TO HEAR THIS WEEK
Photo by allison christine on Unsplash
While it's been autumn for a few weeks now, it's only recently I'm really starting to get into the fall feels. Perhaps it's because the cold temperatures are finally beginning to take hold, or perhaps it's because I managed to make some pumpkin soup a couple of days ago, but I'm ready to hunker down for the dark nights ahead. The songs featured in the latest edition of We Are: The Guard's Best Chill Music are definitely helping matters, of course! As the weekend approaches, then, grab the blankets and enjoy the following chill vibes from Noah Gunderson, Bathe, Ber & Charlie Oriain, and even more.
-
NOAH GUNDERSON (FEAT. PHOEBE BRIDGERS) – ATLANTIS
This is completely, utterly spine-chilling. Noah Gunderson enlists Phoebe Bridgers for his latest single "Atlantis." Featured on the Seattle singer-songwriter's recent album A Pillar of Salt,  "Atlantis" is a gorgeously storied meditation on a life replete with struggle, despair, and regrets. "I learned about love in American cars/A rusted-out frame and a lot of spare parts," sing Noah and Phoebe in the third verse – their voices intertwining like apparitions as fingers slide up and down fretboards behind them.
BATHE – BOLERO
Meet Bathe, the New York City outfit consisting of Devin Hobdy and Corey Smith-West immersing us in a dreamily soft sound bath on their latest single "Bolero." "'Bolero' is a therapy session with my ancestors and a love letter to the Black and Brown communities that made me," says Hobdy. Bringing together bilingual vocals and lush lashings of reverb, "Bolero" is a rich, radiant tribute to heritage, with guitars dappling like sunlight before Hobdy delves into a Kendrick Lamar-esque stream of consciousness.
BER & CHARLIE ORIAIN – MEANT TO BE
It's a sad fact of life that not all loves are made to last. Minneapolis singer-songwriter Ber and English artist Charlie Oriain understand this more than most on their brand new collaborative single "Meant To Be." A tender acoustic ballad that was first teased on TikTok in August in a clip that's since gone viral, "Meant To Be" is an ode to that moment when a relationship starts to come apart at the seams, with Ber and Charlie confessing in the crushing chorus: "We're meant to be/Not made to last."
FAR CASPIAN (FEAT. SOMOH) – OUR PAST LIVES
Every once in a while, a song comes along that feels almost too pure and delicate for words. Case in point: "Our Past Lives" by Far Caspian's Joel Johnston. Featured on the Irish artist's recent debut album Ways To Get Out, "Our Past Lives" is an intangibly ethereal, spectral listen about the cyclical nature of life and the passing of time. "Don't you ever feel/How could this be real?" questions Joel in the opening verse, with English songstress SOMOH delivering backing vocals in the form of a distant echo.
BIG THIEF – CHANGE
As the leaves start to turn a fiery, golden hue around us, Big Thief is returning today with an autumnal embrace in the form of "Change." The follow-up to "Certainty" is a loose ramshackle that finds Adrianne Lenker reflecting on the impermanence of both love and life. "Change, like the wind, like the water, like kin/Change, like the sky, like the leaves, like a butterfly/Would you live forever, never die/While everything around passes?" signs Adrianne – her voice cracking like campfire flames.
MOKITA – LONELY CITY
Mokita is taking us on a stroll through the rainy streets of Nashville on his latest single "Lonely City." Opening to a flourish of fingerpicked acoustics before a beat enters to take the song in a more electronic-tinged direction, "Lonely City" has a haunting nocturnal soul about it, like staring into an Edward Hopper painting. "It's a lonely city when the neon's bright/And you're not with me to shine your light," sings Mokita in the chorus, which comes topped off by a quietly jazzy swirl of saxophones.
CATIE TURNER (FEAT. JORDY) – (WISH I DIDN'T HAVE TO) LIE
Just a few months on from sharing Heartbroken and Milking It EP, American Idol's Catie Turner is back today with a brand new rendition of "(Wish I Didn't Have To) Lie" featuring JORDY. "Catie Turner is a force to be reckoned with and I am immensely honored to be a part of her project," says JORDY, who helped to write the original over FaceTime in 2020. "'Lie' is a true diary of our real experiences and it means the world to me to be on a song with someone I care so much about." Kleenex at the ready!
1TBSP – REST
Australia's Maxwell Byrne takes time out from making indie-tinged bangers as Golden Vessel to return this Friday as 1tbsp. The follow-up to "Dhollandia" and "Circles," "Rest" and its accompanying single "Stay Up" are lo-fi house heaters that melt in the hands like soft putty. "As I was putting this release together, I realized how well the two songs worked together, in that they were kinda opposites," says Maxwell. "To me 'Stay Up' feels like a night out and 'Rest' is a night in." Tune in and drop out.
ANSON SEABRA – KEEP YOUR HEAD UP PRINCESS
He shot to viral fame on TikTok in 2019 with a teaser clip of the song, and today, Anson Seabra is finally releasing the full version of "Keep Your Head Up Princess." The piano ballad hears the Kansas City act doubling down on the tender, emotive storytelling heard on previous singles such as "Magazines" and "Walked Through Hell," with Anson addressing a lover struggling with mental torment: "So keep your head up princess 'fore your crown falls/Know these voices in your head will be your downfall."
ORCHID MANTIS – CHANGE YOUR MIND
Orchid Mantis, the Atlanta purveyor of "pop songs about forgetting," is making his debut on We Are: The Guard today with "Change Your Mind." Featured on his recent album Visitations, "Change Your Mind" is a sparkling ode to heartache inspired by Boards of Canada, Rei Harakami, and Khotin. With Orchid's bleary-eyed vocals coming submerged beneath electronic glint, "Change Your Mind" feels like the audio equivalent of taking a drive through the city late at night, with streetlights refracting all around you.
-
Follow We Are: The Guard's Weekly Chart for even more chill vibes. xo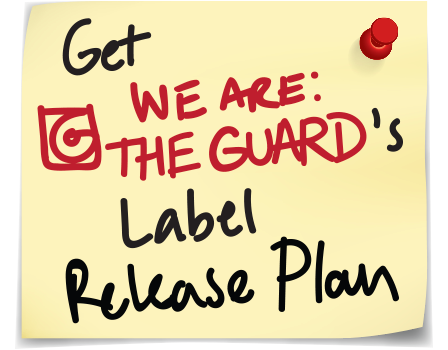 Jess Grant is a frustrated writer hailing from London, England. When she isn't tasked with disentangling her thoughts from her brain and putting them on paper, Jess can generally be found listening to The Beatles, or cooking vegetarian food.