BEST CHILL SONGS: THE 10 TOP TRACKS OF THE WEEK
Photo by Jack McKain
While I'll always push for self-care during times like this, we mustn't forget the urgency of our current situation. Change is needed, and it's needed now:
Together, we rose up 4 years ago. 1 million of us demanded change. We built a movement. We voted for new leaders.

And the gun deaths increased.

Now is the moment we march again. Can we count on you to be there June 11?

Text MARCH to 954-954 to RSVP and learn more. pic.twitter.com/XsfbXBQWei

— March For Our Lives (@AMarch4OurLives) May 25, 2022
Scroll through the latest edition of We Are: The Guard's Best Chill Songs, featuring FKJ, Bubble Tea and Cigarettes, Hollow Comet, and lots more, below.
-
FKJ (FEAT. TORO Y MOI) – A MOMENT OF MYSTERY
He recently teamed up with Carlos Santana on "Greener," and this Friday, FKJ's Vincent Fenton is unveiling another big-name collaboration in the form of the Toro y Moi-featuring "A Moment of Mystery." Written in San Francisco, "A Moment of Mystery" is a smooth, softly longing ooze of ambient neo-soul that could have easily come from Chaz Bear's recent seventh album, Mahal. "I ended up writing about the moments of desire and the tension we feel when we're away from loved ones," reveals Chaz. Enjoy.
BUBBLE TEA AND CIGARETTES – LEAP
Every now and then, a song comes along that makes you feel like the lead in your own romantic movie. Case in point: "Leap" by Bubble Tea and Cigarettes. With a sweepingly cinematic sound reminiscent of the similarly named Cigarettes After Sex, Bubble Tea and Cigarettes turns despair and melancholy into big main-character energy on "Leap." "We've drifted too far and full of scars/There's no one could find us/Just leap with me into the dark," sing the Los Angeles duo – their voices adrift amid filmic fifties guitars.
HOLLOW COMET – WAITING FOR TODAY
Earlier this year, Hollow Comet's Isaac Eiger came to our attention when he produced Shamir's bold, brilliant Heterosexuality, and today, the Strange Ranger founder is making his return with "Waiting for Today." Clocking in at just over two minutes, "Waiting for Today" is a soft, gentle lo-fi lullaby that appears to be a meditation on the passage of time. "Light falls in the garden/Hardened clay," sings Isaac with Trevor Powers-esque delicacy. "Raindrops through our alcoholic haze/Waiting for today."
COLYER – RESET
Born in the South, raised in the Midwest, and currently based in Los Angeles, Colyer's Steven Colyer is introducing us to the sound of bedazzling heartbreak on "Reset." Featured on his recent debut album, Lonestardom, "Reset" is a retro-tinged depiction of the collapse of a relationship, with Colyer channeling the cosmic crooner schtick of Alex Turner circa Tranquility Base Hotel & Casino over resplendent Spector-pop: "Don't tell me it's too late/No need to shut it down/'Cause we just need a hard reset."
FIJI BLUE – DANCE WHEN YOU CRY
The BTS-cosigned Fiji Blue is the kind of band that comes alive during the summer season, with the Los Angeles duo getting ready for the balmy days ahead with "Dance When You Cry." "This song is about learning to embrace the lows and highs that come in life and to remain hopeful that happiness can always find a way through," reveal Trevor Dering and Valentin Fritz. A disco-pop groover of the highest order, "Dance When You Cry" is made for those sultry nights spent with the sand between your toes.
WILL ORCHARD – WONDER
Having recently lent his production skills to his Austin-based girlfriend Jess Kerber's self-titled third album, Will Orchard is returning to our column in a solo capacity this Friday with "Wonder." Lifted from his recent EP, Go Home Instead – a five-song set described as "sort of a collection of odes to self-trust" – "Wonder" is a dappling folk beauty that hears Will's Neil Young-esque tenor quivering slightly atop an acoustic mirage: "I wonder, are you dreaming/As the great waves come cascading on us all."
TWO LANES – ASCEND
Berlin-based duo TWO LANES continues to blend the analog and the electronic on their latest single, "Ascend." Coming a few months after "Eyes," "Ascend" is another gliding offering that TWO LANES reveals began its life on the ivories. "We like to start new track ideas on the piano and then build around it," says TWO LANES. "Here everything fell into place very naturally." With steelpan-esque synths and house beats lending the song an air of summer, "Ascend" more than lives up to its breezy title.
AVERY LYNCH – LOVE OF MY LIFE
It turns out Harry Styles wasn't the only artist who dropped a song called "Love of My Life" last Friday. While Pennsylvania's Avery Lynch may not have generated the same amount of headlines as the ex-One Directioner, however, she's nevertheless earning a place in our hearts with this sweepingly tender ballad. "I wanted to write something that people could play at their weddings and create special moments and memories with," reveals Avery of the cut, which reminds us to be unafraid to feel.
44 ARDENT – NOMOREHEAT
Ahead of the release of his debut EP, Into the Deep – a four-song set about the climate emergency – Australia's 44 Ardent is sharing "nomoreheat." "Climate change and the surrounding extreme weather events make me feel a bit hopeless, but I just try to stay positive and do what I can to make a positive change," says 44 Ardent. "This song reflects on keeping a positive outlook when things are bleak." With reggaeton-esque beats lending a dose of pep to the clinical house vibes, "nomoreheat" is an ode to hope.
GHOST ORCHARD – INVISIBLE STRING (TAYLOR SWIFT COVER)
Coinciding with the announcement he's signed to Winspear, ghost orchard's Sam Hall is offering up his delicately fractured cover of Taylor Swift's "invisible string." The follow-up to 2019's Bunny, "invisible string" hears Sam putting a translucent, trip-hop-like spin on the folklore highlight. "I've loved and resonated with this song for a long time so it felt right. A nice kind of shift in perspective away from the projects I was working on at the time," says Sam of his cover, which could be built from the fragile slivers of a memory.​​
-
Follow We Are: The Guard's Weekly Chart for lots more music. xo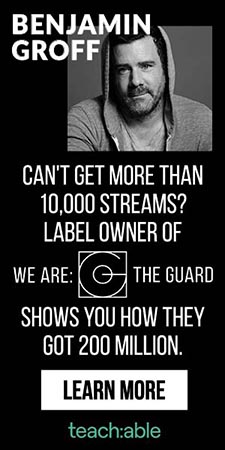 Jess Grant is a frustrated writer hailing from London, England. When she isn't tasked with disentangling her thoughts from her brain and putting them on paper, Jess can generally be found listening to The Beatles, or cooking vegetarian food.