TOP CHILL SONGS: 10 TRACKS FOR A SOOTHING BLACK FRIDAY
Photo by Amaurys Puello Martinez on Unsplash
Hi, everyone! How was your Thanksgiving? If you're still recovering from your food coma, or having to listen to Uncle Jim rant about COVID-19 conspiracy theories, then don't worry! I'm once again back to help you escape into a tranquil, soothing place of sanctuary with the latest edition of We Are: The Guard's Top Chill Songs! On that note, before you turn your attention to the Black Friday sales, not to mention that pile of leftovers in your refrigerator, check out the following selection of tracks from NIKI, Fiji Blue, salem ilese, and seven other favorites!
-
NIKI – SPLIT
This is absolutely devastating. Following on from her recent performance at  Head in the Clouds Festival, 88rising signee NIKI comes to terms with living two different lives on her brand new single "Split." "I wrote it about forever having to split myself between Indonesia and Los Angeles, and feeling like I have to constantly 'split the difference,'" says NIKI. With her retro vocals coming backed by surf guitars and dusty beats, "Split" is a crushing confessional that feels like NIKI's masterpiece.
FIJI BLUE – GOODBYE
Just a month on from picking up the pace on "Flower in the Dark," Los Angeles two-piece Fiji Blue is back to delivering sweeping love notes on "Goodbye." Featured on their recent four-song collection of the same name, "Goodbye" is a big, bold, emotional ballad that sounds like a sixties classic straight out of Phil Spector's Gold Star Studios. With grandiose strings backing Trevor Dering as he sings about a relationship lost in time, "Goodbye" goes out to bleeding hearts everywhere this Black Friday.
SALEM ILESE – HEY SIRI
From "Ben & Jerry" to "Mad at Disney," salem ilese isn't afraid to call out brands in her clever, thoughtful pop music, with the Mill Valley musician doing it all over again on the existential "Hey Siri." "I've always enjoyed incorporating brand names into my music because I find them to be such an integral part of our lives, weaving themselves into pop culture, and the ways in which our generation communicates," explains salem of "Hey Siri," a melancholy acoustic ode to Apple's virtual assistant.
SHALLOU – HERE
He recently teamed up with Emmit Fenn on "Hollow," and today, Shallou is making his beautiful return to We Are: The Guard with "Here." The latest single to be taken from Joe Boston's forthcoming EP The Long Way Home is a song about loneliness and the importance of human connection in our times of need. "We could fly together/Feel alive again/I can feel the pressure/Heavy on my neck," sings Joe in the first verse, his vocals blowing like an ocean breeze across plucky melodic house. Gorgeous.
MANILA KILLA & SAN HOLO (FEAT. NICK LOPEZ) – MEAN IT
It's no secret we're huge, gigantic fans of Manila Killa and San Holo here at We Are: The Guard, with both producers coming together this Friday to deliver "Mean It." A collaboration with Nick Lopez, "Mean It" is an uplifting anthem about learning to navigate everyday life following a painful breakup. Featuring Nick's soulful croon coming backed by Manila Killa and San Holo's euphoric four-on-the-floor fireworks, "Mean It" is the kind of song that fills its listeners with real hope.
THUY – UNIVERSE
As far as I'm concerned, there aren't enough love songs about dogs. Los Angeles singer-songwriter thuy is putting that right, however, on her lush latest single "universe." "It started out about my dog, then it turned into a love song. Love for your significant other, human or not. Furbaby or not," reveals thuy. Featured on her recent EP i hope u see this, "universe" is a pillowy soft tribute to unconditional love, with thuy's Ariana Grande-like vocal runs and tricks coming set against a tender bed of R&B.
HYBS – DANCING WITH MY PHONE
In October, Thailand duo HYBS made their debut on We Are: The Guard with the torrid, sultry "Ride," and this Friday, Alyn Wee and Karn Kasidej are back with the ethereal "Dancing With My Phone." With 1 million Spotify streams under their belts with "Ride," HYBS is looking set to continue their success with this radiant slice of dream-pop. Featuring Alyn and Karn's longing vocals intertwining with dappling guitars, "Dancing With My Phone" is an otherworldly tech ballad that can be filed alongside Fiji Blue.
KENI – YOU'RE LEAVING SOON
Earlier this year, Keni completely won us over with the Lindsay Lohan-esque pop banger "Proximity," and today, the Los Angeles artist is showcasing a more weepy side to her sound on "You're Leaving Soon." Produced by Jake Weinberg, "You're Leaving Soon" is a rock-tinged ballad packed full of wistful nostalgia. "Can you just be honest for once?/You're leaving soon/Back to New York/I can't wait to forget about you," sings Keni in the emotionally charged, melancholy chorus. Kleenex, anyone?
TWO LANES – EYES
Following on from the announcement of their first North American tour, German sibling duo TWO LANES has shared the sedative "Eyes." Coming after their recent EP Reflections (Piano Versions), "Eyes" is a tranquilizing lullaby about lust and obsession that feels as vast as the Pacific Ocean. "With each track, we try to explore something new that we haven't done before," writes TWO LANES. "The emotive lyrics inspired us to experiment with new sounds, analog delays, textures, and piano recordings."
CLN – REDEEMED
Australia's cln can't stop replaying a breakup on his heartbreaking latest single "REDEEMED." According to cln, "REDEEMED" was originally written for another artist, but Callan Alexander ended up connecting with the instrumental so much, he decided to keep it for himself. Listening to "REDEEMED," it isn't hard to hear why. A sparse, cavernous electronic lament about being plagued by the end of a relationship, "REDEEMED" hears cln delivering perhaps his most personal, painful offering to date.
-
Why not follow We Are: The Guard's Weekly Chart on Spotify for more? xo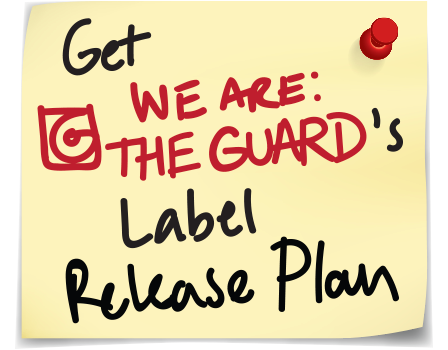 Jess Grant is a frustrated writer hailing from London, England. When she isn't tasked with disentangling her thoughts from her brain and putting them on paper, Jess can generally be found listening to The Beatles, or cooking vegetarian food.