THE 10 BEST CHILL SONGS IN THE WORLD THIS WEEK
Photo by birder.king
Happy Friday, everybody! How are you? Earlier this week, we experienced a record heat wave here in the UK, which basically felt like being a main character in Don't Look Up. Depressing times. Anyways, while temperatures may be dropping as we head into the weekend, we're still keeping it cool with the latest edition of We Are: The Guard's Best Chill Songs. Just grab some headphones and enjoy the following chill vibes from Cal in Red, beabadoobee, ODESZA, and more!
-
CAL IN RED – WITH YOUR HANDS
Having made their debut on We Are: The Guard on Christmas Eve with the dreamy fantasy "Got What You Wanted," Grand Rapids sibling duo Cal in Red is returning this Friday with another reverie in the form of "With Your Hands." Written and produced by Connor and Kendall Wright, "Got What You Wanted" is an ethereal, otherworldly escape that I can only describe as Tame Impala circa Currents if imbued with more soft-boy feels: "Teach me how/And tell me when/Holding my head with your hands again."
BEABADOOBEE – SUNNY DAY
beabadoobee sheds her tough, grungy skin to reveal something softer underneath on "Sunny day." Lifted from her recent sophomore album, Beatopia, "Sunny day" is a soft, featherlight lullaby about emerging from a dark period, mentally, in order to reconnect with friends. beabadoobee: "It was easy, and I just wanted something quite poppy and hooky and just that sticks in your head, almost like a fun lullaby to dance to. I love Nelly Furtado, I love Corinne Bailey Rae. I was like, 'I need something like that.'"
ODESZA (FEAT. ÓLAFUR ARNALDS) – LIGHT OF DAY
Every time I listen to ODESZA, I feel an overwhelming sense of inner peace, with Harrison "Catacombkid" Mills and Clayton "BeachesBeaches" Knight continuing to search for a route out of the darkness on their brand new single, "Light of Day." A collaboration with Icelandic musician Ólafur Arnalds, "Light of Day" is a vastly cinematic electronic odyssey as built around a mantra-like vocal sample from the 1972 song "Mary" by Stephen Ambrose: "If I reach the light of day now/If I reach the light, I'm okay."
STEVE LACY – GIVE YOU THE WORLD
It's only been a week since he dropped Gemini Rights, but Compton's Steve Lacy is showing us why his sophomore album is already receiving cosigns from the likes of SZA and Kanye West on "Give You the World." The closing song on Gemini Rights, "Give You the World" is a sultry slow jam that hears Steve making use of the airiest reaches of his voice. "Baby, I want a chance to get you close, right next to me," begins "Give You the World," with Steve proceeding to pull us into his cosmically funky electric ladyland.
TOLEDO – CLIMBER
They recently opened our column with "L-Train," and today, TOLEDO's Dan Álvarez de Toledo and Jordan Dunn-Pilz are making their return to We Are: The Guard with the hazy, sunlit lullaby "Climber." Featured on their forthcoming debut album, How It Ends, "Climber" is a gentle acoustic ballad that brushes against the skin like a midsummer breeze. "We wanted it to sound like a 'love song' à la Michelle Branch or Sixpence None the Richer," add TOLEDO of the cut, which drops a revelatory key change around 3:00.
ALEX LUSTIG & KIKI VIVI LILY – RUNAWAY
Just a few weeks on from producing not one, not two, but five songs on Drake's Honestly, Nevermind, Canada's Alex Lustig is returning the focus to his original music with "Runaway." The first single to be unveiled from Fate, "a project inspired by anime and ambient music," "Runaway" is a chilly expedition through the wintery streets of Japan. With J-pop singer-songwriter kiki vivi lily's vocals forming like perfect blankets of snow over twinkly street lamps, "Runaway" emits a warm glow deep into the soul.
MICHL – PROMISE
Back in June, Michl unveiled the equal parts crushing and compelling "y," and today, the Los Angeles singer-songwriter and producer is making his return with "Promise." "Thank you all for the continued support, I'm extremely grateful for you all," wrote Michl in a note accompanying "Promise," with the mysterious artist continuing to explore love, relationships, and the human condition via his through-the-looking-glass spin on soul music: "Promise you'll be here tomorrow/'Cause mine is yours to keep/Not borrowed."
EMBRZ – LET ME IN
He recently announced a headline tour, and this Friday, EMBRZ is back with the deeply emotional "Let Me In." Coming to us via This Never Happened, "Let Me In" is a tenderly soaring dance epic that hears Jack Casey making use of his own voice for the first time. "This song is about trying to be there for someone who's going through a hard time," says EMBRZ. "If there's someone you care about who you think might be struggling, always good to check in with them and let them know you're here if they wanna talk."
YDE – PEOPLE CAN CHANGE
With a continual stream of distressing news flooding our synapses, it can be easy to lose hope in humanity. Australian-American singer-songwriter YDE is reminding us to keep the faith, however, on "People Can Change." "'People Can Change' is an honest conversation with myself about how I can maintain hope for the future," says YDE of the gripping, emotionally intense string-swept ballad. "We are facing immense division and only through conscious growth and change will we find our way through together."
FOUR TET – SCYTHE MASTER
CHILL FOUR TET IS BACK!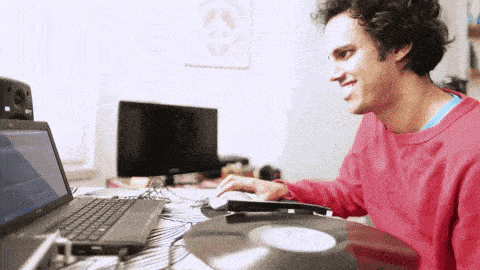 -
Follow We Are: The Guard on Spotify for more! x
Sources:
Four Tet GIF
Jess Grant is a frustrated writer hailing from London, England. When she isn't tasked with disentangling her thoughts from her brain and putting them on paper, Jess can generally be found listening to The Beatles, or cooking vegetarian food.