THE 10 BEST INDIE SONGS OF THE WEEK ARE HERE
Photo by Mike Palmowski on Unsplash
Between Ted Cruz, Cruella de Vil, and Kanye West and Kim Kardashian, it's been another exhausting seven days in This Thing Called Life. And here we were thinking it was starting to quieten down around these parts. As the world continues to spin at overwhelming speed, We Are: The Guard is once again helping you cut through the noise with the latest edition of Best Indie Songs. Just don't forget to donate anything you can to Texas before checking out the following tracks from Artist Name, Artist Name, Artist Name, and seven other favorites.
-
HAIM (FEAT. THUNDERCAT) – 3AM
While everyone was losing their minds to HAIM's duet with Taylor Swift, We Are: The Guard was busy getting down to this groovy take on "3am" featuring Thundercat. Listen as the "Dragonball Durag" funnyman sends the Women in Music Pt. III cut into deeply cosmic territory, with his magical bass licks bringing a sense of swagger to proceedings.
STILL WOOZY – ROCKY
Still Woozy's Sven Eric Gamsky is beckoning us down the rabbit hole on his latest single "Rocky." Clocking in at under three minutes, "Rocky" is a psychedelic-pop wonderland packed full of melting clocks and talking flowers, with the lyrics touching on the Oakland native's proclivity for diving into his imagination when he needs an escape.
EXUM – DARK KEPT SECRET
Introducing Antone Chavez Exum Jr., the former NFL safety inviting us into his world of inky melancholy on "Dark Kept Secret." "I am a dark kept secret/I am with you on the weekends/I am the voice of your demons," sings EXUM on the cut – an angst-riddled banger that exhibits the free agent's poetic flair and ear for gothic-steeped opulence.
STEADY HOLIDAY – SUNNY IN THE MAKING
It isn't easy choosing or embracing optimism in these deeply tumultuous times, but all that matters is we try. Steady Holiday singer-songwriter Dre Babinski understands this more than most on her latest single "Sunny in the Making" – a sanguine, chugging dose of posivibes that hears Dre striving for hope against a glistening wash of synthesizers.
REYKO – UNBELIEVABLE (EMF COVER)
"Unbelievable" by EMF gets an unmissable cover this February courtesy of Spanish two-piece REYKO. While the original remains a much-loved party anthem, REYKO transform the cut into a Nine Inch Nails-esque ripper far more suited to life during quarantine, with the mix of moody, hushed vocals and distorted bass going the heck off.
P.S. Did I mention this is out now on our label?
SHURA (FEAT. ROSIE LOWE) – OBSESSION
Ahead of the release of the deluxe edition of her sophomore album forevher next month, British queer icon and Twitch streamer Shura has shared "obsession." As the title suggests, it's a pillowy soft ode to infatuation, with an 80s-esque palette of pastel hues backing Shura and guest artist Rosie Lowe as they trade whispery sweet nothings.
THE BLOSSOM – HARDCORE HAPPY
THE BLOSSOM has got the quarantine blues on the eruptive "HARDCORE HAPPY." "I'm stuck inside and terrified/So press rewind in this 1999 Mercedes," sings Lily Lizotte on the cut, with the New York City musician touching on everything from anxiety, to gender dysphoria, to missed opportunities over an urgent thrash of grunge and hip-hop.
MYKEY (FEAT. MARINELLI) – MAZDA5
Just in time for summer road trips and ocean drives with friends, MyKey returns this Monday with the marinelli-featuring "Mazda5." Lifted from his forthcoming EP Welcome To the Witching Hour – due out in March on Warner – it's a dreamlike ode to late his clementine whip, with MyKey flicking through his memories against a blissful indie haze.
JACKIE HAYES – EYE 2 EYE
Chicago musician Jackie Hayes has her banger klaxon at the ready on her gigantic latest single "eye 2 eye." "This song is about feeling lost and not knowing what to do with my life," explains Jackie of the Billy Lemos-produced cut, which could bring down walls with its distortion-caked bass and supermassive sing-along chorus. What. A. Slap.
SERPENTWITHFEET – SAME SIZE SHOE
We Are: The Guard favorite serpentwithfeet sounds more content than ever on his angelic latest single "Same Size Shoe." "I was just thinking about the beauty and wonder of dating Black men," explains Josiah Wise of cut, which hears serpentwithfeet celebrating the joy of finding a lover that matches him right down to his shoe size. Bliss.
-
Why not follow We Are: The Guard's Weekly Chart for more? x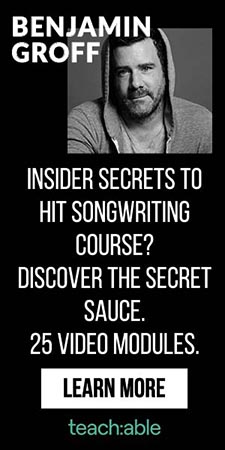 Jess Grant is a frustrated writer hailing from London, England. When she isn't tasked with disentangling her thoughts from her brain and putting them on paper, Jess can generally be found listening to The Beatles, or cooking vegetarian food.