BEST INDIE SONGS - WEEK 10
Okay, so – it's Sunday afternoon at the time of writing, which means that the Oscars haven't even AIRED for us yet, but we won't lie, we're actually kind of excited to see Jonny Greenwood and Sufjan Stevens repping our little indie world at the ceremony later tonight. That, and Warren Beatty erroneously announcing Fifty Shades Darker as the winner of Best Picture, but we digress... The awards season may be in full swing, but the only victors that REALLY matter this week are the artists featured in the latest edition of We Are: The Guard's Best Indie Songs. As we turn our attention to March, give your playlists a much-needed spring clean with the following tracks from Zola Jesus, Cheat Codes, Young Fathers, CHVRCHES, Jack White, and plenty of others.
-
YUNO – NO GOING BACK
He recently signed a deal with Sub Pop after catching the attention of Ishmael Butler of Shabazz Palaces, and this March, Yuno makes his debut on the blogosphere with "No Going Back." Lightweight, mellifluous psych pop, with an aura that you'll want to drift in for the rest of spring, "No Going Back" comes paired with a soft-hued video that was directed by Yuno and shot in his home town of Jacksonville.
ALICE GLASS – STILLBIRTH (ZOLA JESUS REMIX)
Following on from the announcement that they're set to head out on a co-headlining tour later this spring, goth queens Alice Glass and Zola Jesus have teamed up for a remix of "Stillbirth." Originally released by Glass in 2015 after her departure from Crystal Castles, it tells the story of a person trying to remove themselves from an abusive relationship, with Jesus lending the already heavy song an added sense of weight with her echo chamber atmospherics.
CHEAT CODES (FEAT. KIIARA) – PUT ME BACK TOGETHER
There's something about Kiiara. Everything the Wilmington native touches turns to, ahem, "Gold," and her latest single is no exception. Featuring the 22-year-old's lush, effortlessly cool voice coming set against the Billboard-charting production of Los Angeles trio Cheat Codes – who previously collaborated with Demi Lovato on "No Promises" – "Put Me Back Together" is already shaping up to be one of the biggest power ballads of the festival season.
YOUNG FATHERS – TOY
Young Fathers never fail to leave us breathless... Following on from the positively life-affirming "Lord" and "In My View," the Edinburgh experimentalists return this March with the driving, frenetic "Toy" – a song that, though avant-garde in terms of production and arrangement, proves that the Mercury Prize winners still haven't lost touch with their rap roots.
AU/RA – PANIC ROOM
We Are: The Guard favorite Au/Ra confronts her demons on her throbbing latest single. "It's about something I don't feel like a lot of songs talk about, which is anxiety," writes the emerald-haired singer-songwriter of "Panic Room" – an eerie, unsettling slab of synth pop about facing fears that comes accompanied by a video that sees Au/Ra making her way through an abandoned hospital that could be the one from Danny Boyle's 28 Days Later.
LUME – SKIN
Having allured us with her previous single "Tip of Your Thumb," LUME returns to do it all over again this March with the poised follow-up. Deeply intelligent sophisti-pop as headed by the London artist's assured vocal performance, "Skin" also acts as a showcase for LUME's lyrical prowess: "Give me, give me a piece of this/Bright-eyed with the rhythm of him/Skyline and horizon please/We'll find out, finding our own skin."
VOKES – EXPECTATION
MOOD.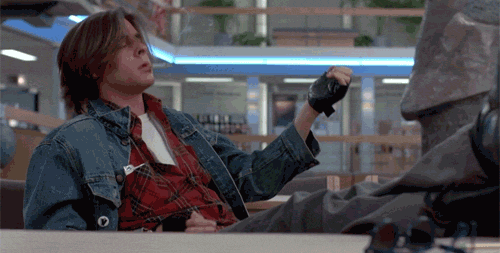 MOBY – THIS WILD DARKNESS
If you listen to one album today, make it Moby's Everything Was Beautiful, and Nothing Hurt. The 12-song collection finds the outspoken producer exploring the brokenness of humanity in these apocalyptic end times, with the highlight coming in the form of "This Wild Darkness" – a hymn-like composition during which Moby puts existential lines like "I can't stand on my own anymore" to a gospel choir, who subsequently respond with a message of love and light.
CHVRCHES (FEAT. MATT BERNINGER) – MY ENEMY
CHVRCHES and The National's Matt Berninger?! IS THIS REAL LIFE?! No, really – this song from Love Is Dead, the forthcoming album from CHVRCHES, is everything that we hoped it'd be and more. Featuring Lauren Mayberry and Berninger – who first connected through the 7-Inches for Planned Parenthood campaign – trading lovelorn lyricism over a melancholy synth pop swirl, "My Enemy" is nothing short of a dream-come-true collaboration.
JACK WHITE – OVER AND OVER AND OVER
Ahead of the release of his forthcoming album Boarding House Reach, Jack White has shared the blistering "Over and Over and Over." The follow-up to "Corporation" is three-and-a-half minutes of sweaty, swaggering rock and roll as centered around a dirty-as-hell blues riff, while bongos and a backing choir lend the whole thing some serious Frank Zappa-meets-The Mothers of Invention vibes.
-
Until next week, don't forget to follow We Are: The Guard on Spotify for lots more music! x
Photo by Paige Muller on Unsplash
Jess Grant is a frustrated writer hailing from London, England. When she isn't tasked with disentangling her thoughts from her brain and putting them on paper, Jess can generally be found listening to The Beatles, or cooking vegetarian food.